#Based #digital #transformation #location #intelligence #service #enterprises #Jietai #Tianyu #launches #intelligent #map #GeoQ #location #intelligence #platform


In recent years, offline physical industries such as retail and real estate have developed rapidly. As the number of physical stores continues to grow, market competition intensifies, and the scope of the regional market continues to expand, how to formulate a macro planning strategy, locate the city's focus area, plan new store locations, investigate and analyze the costs of properties and existing stores, and optimize the logistics and transportation network. The important issues of rapid expansion, formation of brand clustering effects, and occupation of new markets also have higher requirements for the development and management of physical stores. In addition, the physical industry retains a large amount of store and business data, but it is in a decentralized state. These data usually contain location information, which is a valuable data asset. How to open up information islands, activate location information, and build an enterprise-level map system is Problems to be solved urgently in the digital transformation of enterprises.
Established in December 2011, "Jietai Tianyu Information Technology Co., Ltd. (GISUNI)" is a geographic location intelligent service provider. Jietai Tianyu is the world's largest geographic platform company Esri's most important strategic partner in the Chinese business field. The core team members are from Esri China. Jietai Tianyu focuses on the research and development of the local product GeoQ platform and the application of location intelligence in the industry. It faces retail, real estate, fast-moving consumer, logistics, finance, insurance, automotive, media and other industries, providing companies with strategic development and location planning. , Market and consumer insights, investment decision-making, business management, risk control, IT empowerment and digital transformation services.
Picture source of benchmark customers: Jietai Tianyu
Offline to online delivery model expansion
Jietai Tianyu currently serves more than 100 companies, including McDonald's, Starbucks, L'Oreal, Walmart, Watsons, Gome, Lego, Mondelez, Laoxiangji, Mercedes-Benz, Yanchang Shell, Vanke Real Estate, Times Real Estate, Ping An, China Life , China Merchants Bank, Bank of Beijing and other enterprises.
In order to meet the needs of the To B market's location intelligence solutions and the digital transformation of enterprises, Jietai Tianyu independently developed the Zhitu GeoQ location intelligence platform, which integrates map visualization business analysis applications (GeoQ Ana) and massive multidimensional spatial data (GeoQ Data). ) And nearly a hundred types of industry models.The Zhitu GeoQ location intelligence platform has the advantages of adapting to business scenarios, flexible architecture, and easy expansion. It is committed to helping companies solve business problems such as development planning and marketing, and assisting companies in their digital transformation with geographic thinking.
Focusing on the Zhitu GeoQ platform, Jietai Tianyu currently has two delivery modes: online and offline. The offline traditional model mainly focuses on enterprise-level applications and delivery, and dispatches professionals to provide customers with face-to-face services and support, and help customers build customized location intelligence platforms. The online model is to quickly copy and deliver the platform and business model with proven requirements through big data and cloud technology, and expand to more companies in need with the SaaS service model.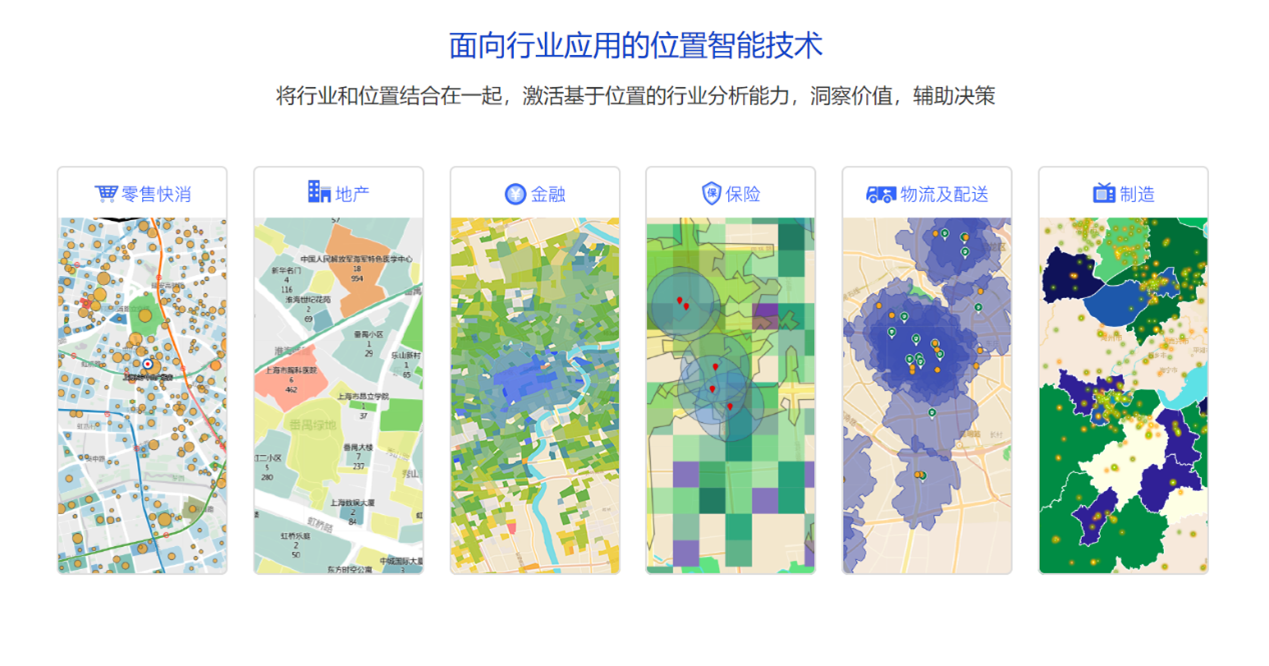 GeoQ is mainly for the industry. Image source: Jietai Tianyu
Facing large customers, stable revenue growth and good market expectations
Chen Xin, CEO of Jietai Tianyu, told 36Kr that despite the impact of the epidemic in 2020, Jietai Tianyu's revenue still achieved growth. This was due to the early development strategy of Jietai Tianyu mainly for large industry customers.Major customers in the retail, real estate, logistics, finance, insurance and other industries have a strong demand for digital transformation. Although the epidemic has a serious impact on the social economy, it has also inspired companies to use digital means to change their work patterns, improve operating efficiency, and adapt to environmental changes. The demand for digital transformation has also accelerated the application and landing of location intelligence in business scenarios. .
In the past decade, China's consumer market has achieved explosive growth. A cup of coffee and milk tea, in-depth rural e-commerce services, densely distributed logistics networks, and actively transforming bank outlets are all signs of commercial economic development, stimulating business demand for location-based intelligent services.
In the future, can this demand and growth rate continue? Chen Xin, CEO of Jietai Tianyu, gave an affirmative answer and two reasons:
1. Technology-driven: Digital transformation based on location intelligence is a necessary process for the development of commercial enterprises. With the gradual decline of the demographic dividend, how to drive the refined management and operation of enterprises through digital transformation is the core concern of enterprises. Whether it is the national strategy of the 14th Five-Year Plan or considering the competitiveness of the company's own development, digital transformation will continue to be carried out in the next ten years. How to link customers' business pain points and location intelligence across borders and stimulate new growth is the direction and goal of Jietai Tianyu's exploration. This market is currently in its infancy and still needs the joint development of the industry.
2. Industry-driven: With the country's effective control of the epidemic and the recovery of national consumption power, the size of the economy will continue to increase steadily. According to the market analysis of the catering industry by consulting agencies, the growth momentum of my country's catering industry will continue in the next five years, and the overall level will increase year by year. It is the only way for all enterprises to adapt to industrial upgrading in the development process to enhance their competitiveness and seek sustainable development through digital transformation.
The drive of these two ends is an opportunity for the development of location intelligence innovation.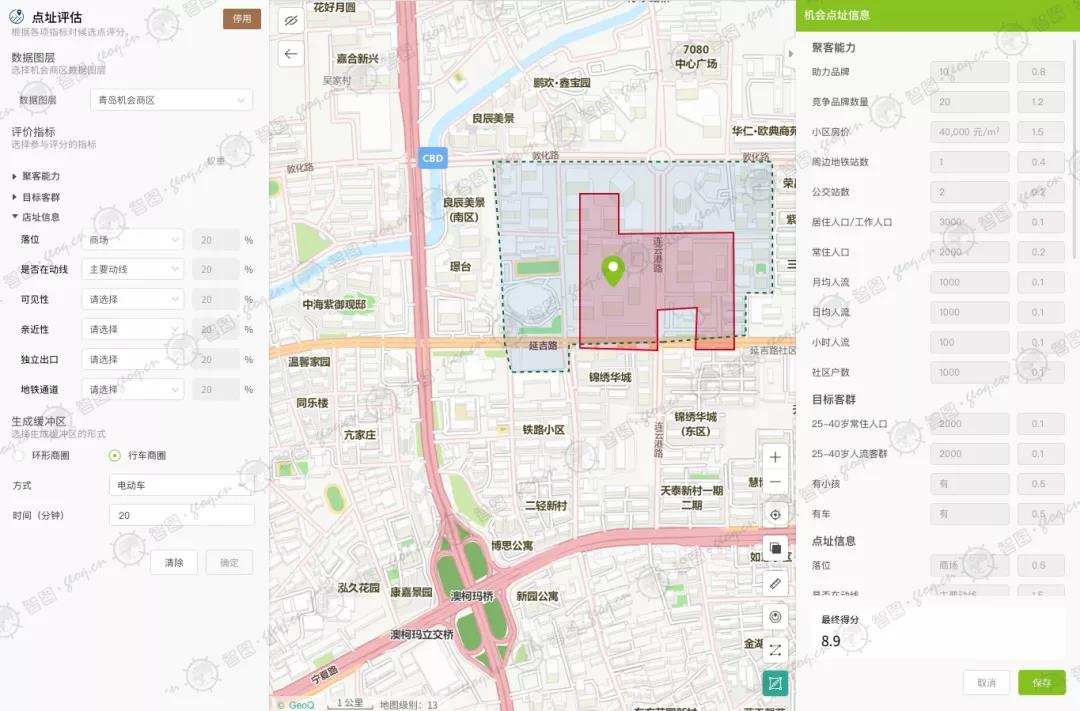 Image source of site evaluation: Jietai Tianyu
Industry characteristics and pain points
The GIS industry has been developing for decades, and its main market has always been to provide GIS platforms and services to the government. The location intelligence application for commercial enterprises is an emerging field of GIS that has risen rapidly in the past decade.
Jietai Tianyu CEO Chen Xin believes that the location-oriented smart To B market for commercial enterprises, compared with the traditional To G market, the biggest difference lies in the form of services provided by the enterprise. The To G market has developed for a long time and is relatively mature. It has basically formed a model for GIS platform vendors to provide platform technologies and products, and industry partners to develop industry applications in different fields on the platform.In the location intelligence To B market, the core demand of customers is to solve business problems. The location intelligence service provider must first understand the customer's business, and then combine its own GIS platform capabilities to integrate diverse products, platforms, data, and technologies to create a whole The solution directly provides customers with a simple and easy-to-use one-stop service.
The traditional GIS government market is mature, and market participants often have clear business directions and market positioning. In the field of business-oriented location intelligence, competition and cooperation are the norm at the moment. Each supplier has its own advantages. As the market changes and develops, the positioning of each company will continue to be clarified. How to complement each other's advantages, form a synergy, and establish a benign cooperative ecology, so as to provide customers with better services, is the development direction that the industry is looking forward to.
The biggest pain point of the industry currently lies in how to truly integrate professional technology with market demand. The difference between location intelligence service and interconnection and map service is that it needs to deeply communicate and integrate with customers' business to create visible and tangible value for customers. Every area of ​​the commercial market is producing a large amount of data every day, from point distribution to supply chain management, from attracting customers to increasing repurchase rate, financial and insurance business analysis and risk control management, etc., each business has its own location How to make location intelligence subtly infiltrate the business and allow enterprise managers to simply understand efficient decision-making is the development goal of Jietai Tianyu.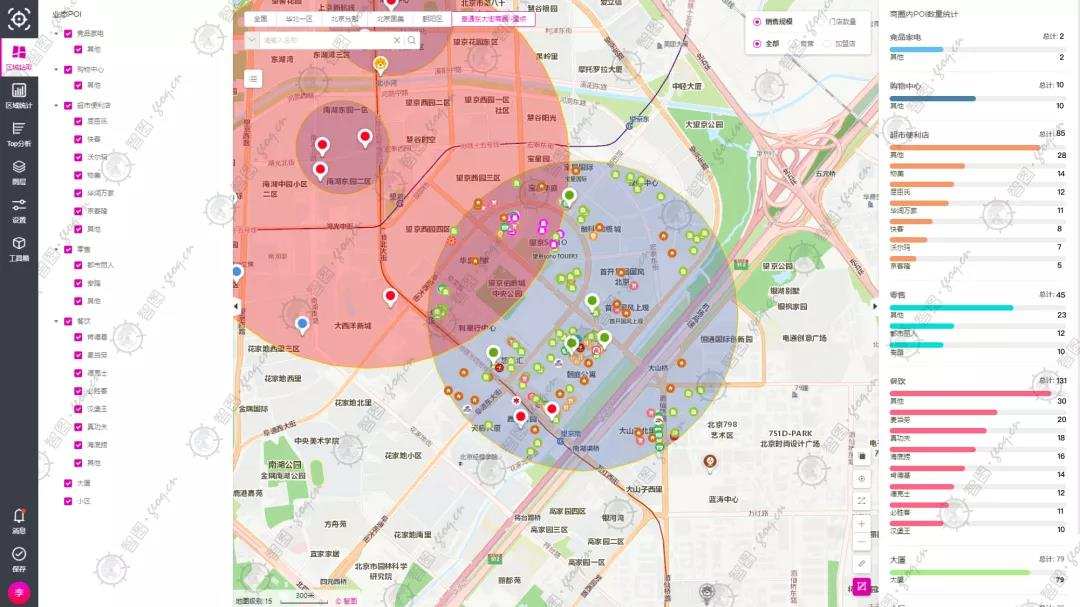 Image source of network planning: Jietai Tianyu
Business growth points and advantages
Chen Xin, CEO of Jietai Tianyu, told 36Kr that Jietai Tianyu will not actively invest in new industries for the time being, but will increase investment on the basis of existing industries and expand its business depth. At present, the market volume of several major industries in which Jietai Tianyu is located is large enough, and there are many unknown business growth points.Jietai Tianyu hopes to create more business application models through in-depth services to customers, and at the same time use technological innovation, such as the integration of SaaS, BIM, Internet of Things, AI and other technologies with location intelligence to explore new business growth point.
Chen Xin believes that the current main advantage of Jietai Tianyu lies in location intelligence technology, years of experience in key customer service, diversified business data, and understanding of the integration of location and business. At the same time, Jietai Tian also hopes to continue to improve through market cooperation and technological innovation on the basis of the past, and to provide help to more customers.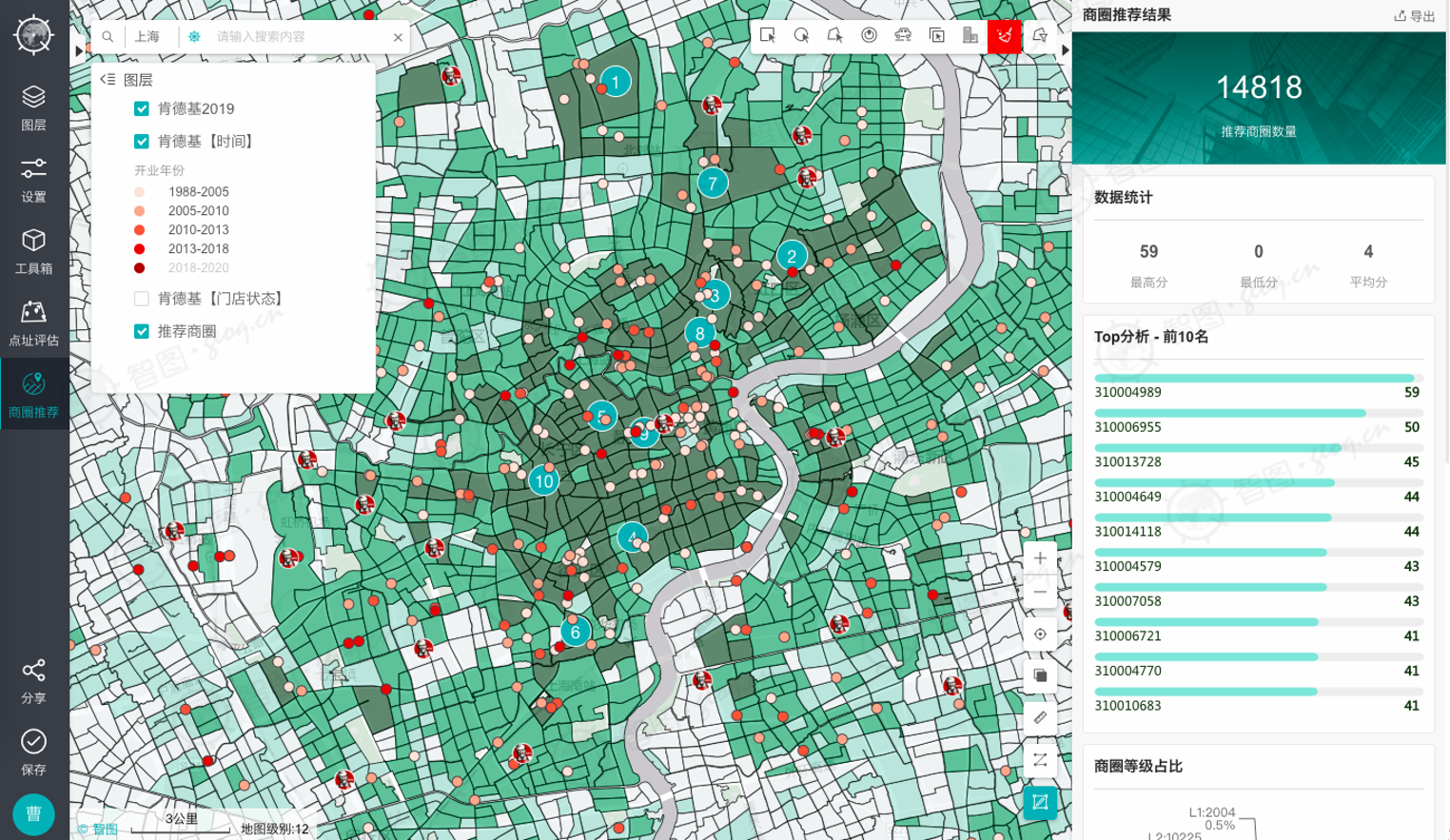 Recommended image source for business district: Jietai Tianyu
Development history and planning
Esri is the leading company in the global GIS platform and the company with the largest GIS market share in the world. Jietai Tianyu is the world's largest geographic platform company Esri's strategic partner in the Chinese business field. The core team members are all from Esri China and have many years of development advantages in GIS technology and platform capabilities.
The original goal of Jietai Tianyu incubated from Esri China is to provide Chinese localized data and services for ArcGIS Online. After ten years of development, in the cooperation and discussion with Esri, Jietai Tianyu started a new model of commercialization. At present, Jietai Tianyu and Yizhirui after the restructuring of Esri China are both brother companies. Jietai Tianyu is positioned in the To B market, and Yi Zhirui is positioned in the To G market.
At present, Jietai Tianyu has a total of about 80 employees, mainly in research and development. The company has basically achieved commercial profitability.
In order to meet the needs of the rapid development of the market, Jietai Tianyu currently has a financing plan and hopes to find a suitable strategic partner.Jietai Tianyu hopes to quickly replicate the commercialization ideas and cases that have been successfully verified, expand the scale of the market, and help more users achieve location-based intelligent digital transformation at a lower cost.
.