Barca liquidated "blockbuster" instead of Neymar, about to be expelled to Leicester
Sunday, May 31, 2020 19:24 PM (GMT + 7)
Barcelona had high expectations for Ousmane Dembele. But until now, the fifth most expensive player in the history of world football is just overwhelming disappointment.
Event:
Summer transfer 2020, Barcelona, ​​Leicester City


Video of Dembele's performance in Barca colors
In the summer of 2017, Neymar Junior made a historic escape: 222 million euros for the contract release fee, not missing a penny. Although Barcelona received a huge amount of money, but at the same time, this team also fell into instability.
Dembele was brought to Barca to replace Neymar
How to replace Neymar, which is not an easy question to answer. At that time, Barca's management immediately spent 125 million euros to bring Ousmane Dembele from Dortmund to the Nou Camp. So far, Dembele is still ranked 5th in the list of the most expensive players in football history in the world.
However, Ousmane Dembele has never been worth the money that Barcelona has spent. In early February, the Nou Camp team health team reported a sad news: Dembele will have to leave the season due to injury. It has been the youngster's ninth injury, and since 2017, Dembele has taken 320 days off to recover.
This 2019/20 season, Dembele has just started 9 times on all fronts. Last season, Dembele played 42 games and scored 14 goals – his best performance at Barca. In the debut season, the number of games stopped at only 23. Fans expect Dembele to replace Neymar but until this time, it is not too much to say that 125 million euros has been poured into the river.
At Barca, Dembele has repeatedly offended former coach Enersto Valverde because of the lack of discipline. He often goes to practice late, team meetings late. Particularly in November last year, once the whole Barca team trained for half an hour and Dembele was still silent and diving.
Slipping at the Nou Camp due to injury and undisciplined behavior, Ousmane Dembele is at risk of being thrown by Barcelona to Leicester. To be more precise, Dembele himself needed a new environment to save his career, which was only budding at the age of 23.
According to the Daily Mail, Dembele's future at the Nou Camp is gradually closing, partly because of the Covid-19 pandemic. The salary of the French player is 12 million euros / season. And in the past two and a half seasons with Dembele, Dembele only had only eight matches of 90 minutes.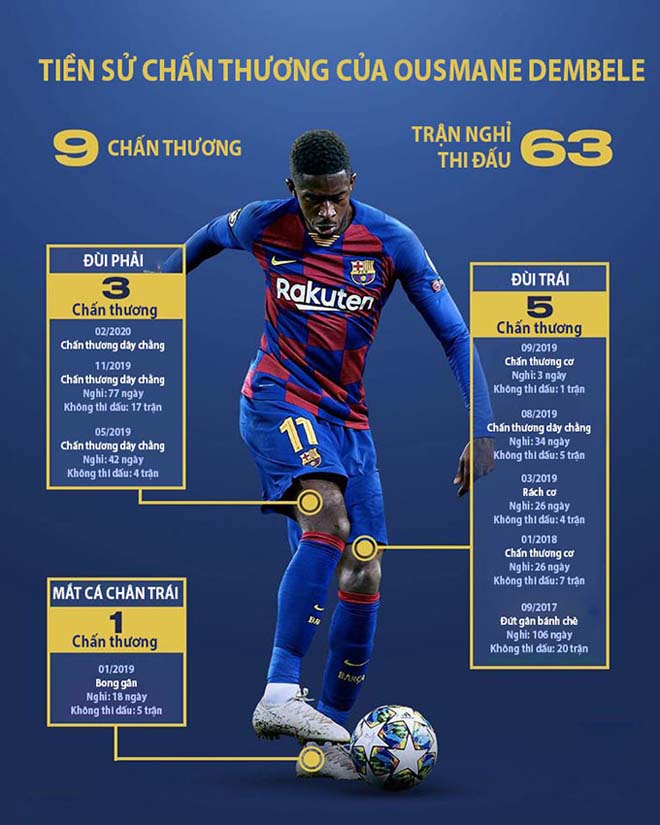 Dembele got injured too much
8 matches in a total of 74 appearances, this is clearly not what Barca waited at Dembele. Thus, to have a full match Dembele, Barca must spend 15.6 million euros. A really crazy number!
Liverpool and Man City had been in contact with Ousmane Dembele, before the youngster chose Barcelona as a dock. But now, the ideal docks for Dembele is only Leicester. Accordingly, this young player is ready to come to King Power's team on loan on the terms of a purchase.
Barcelona is currently the team that holds the record for salary fund. The Nou Camp team is currently paying a salary bill of up to 453 million euros for the 2019/20 season. No team in Europe has such a terrible salary fund. Therefore, do not be surprised when Barca accepts to sell Dembele, which is just to get rid of this debt from the Nou Camp.
Source: http: //khampha.vn/the-thao/barca-thanh-ly-34bom-tan34-thay-neymar-sap-bi-tong-khu-den-leicester -…Source: http://khampha.vn/the-thao/barca-thanh-ly-34bom-tan34-thay-neymar-sap-bi-tong-khu-den-leicester-c9a765952.html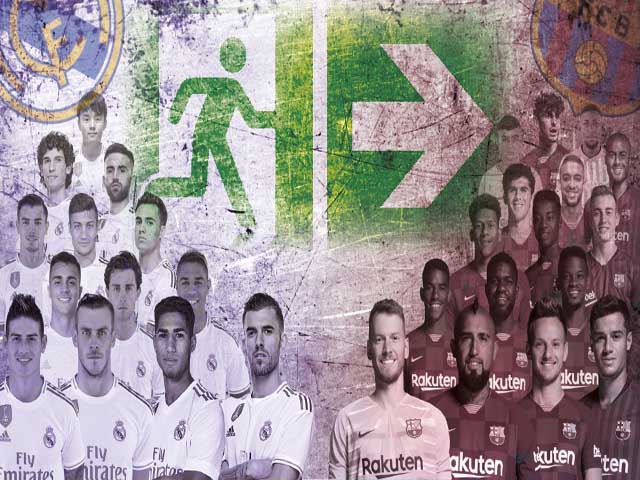 Real – Barca suffered losses because of Covid-19: Type 30 stars, Europe was torn apart
Summer transfer 2020 promises to witness a mass "discharge" of two giant Barcelona and …
Click see >>
.