On the evening of January 25), Baiao Family Interactive, a Hong Kong-listed company, issued an announcement stating that Tencent had purchased 326 million shares of the company through its wholly-owned subsidiary THL H Limited. After the completion of the acquisition, Tencent will hold 12% of the company's shares and will become the company's major shareholder.
After the explosive news was exposed, Baiao Family Interaction opened high today, and its stock price soared by more than 80%, setting a new high after listing. As of today's close, Baiao Family Interactive has risen 41.40% to HK$2.22, with a market value of HK$6.032 billion.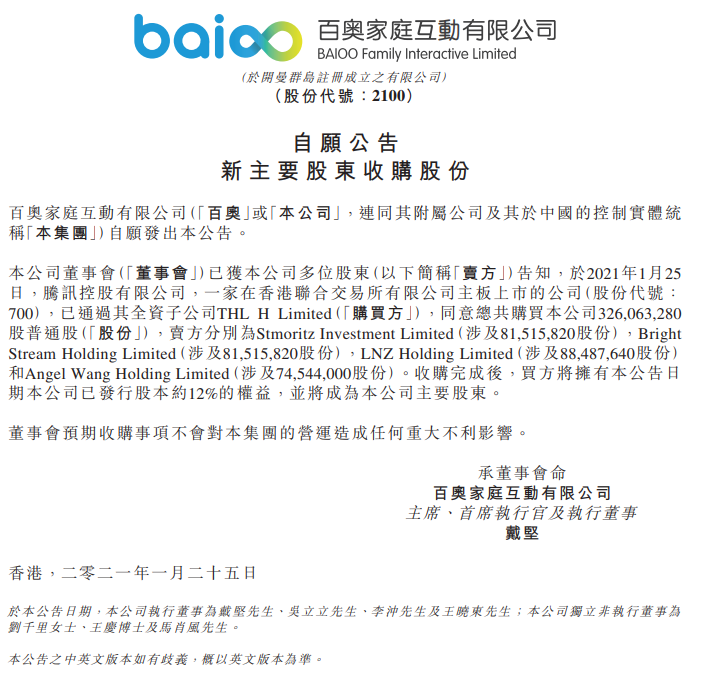 Looking back at the whole year of 2019, the revenue of Baiao Family Interactive has increased year-on-year. During the period, BIO Family Interactive achieved revenue of 681 million yuan, a surge of 140% over the same period last year. In addition, as of June 30, 2020, the company has achieved revenue of 658 million yuan, and the revenue scale is close to the full year of 2019.
Behind the rapid revenue growth are the three mobile games "Food Language", "Ola Star Mobile Games" and "Law of Creation 2: Pioneer Heroes", which were launched one after another in the second half of 2019, contributing new growth points for the company. . Among them, women performed the most brilliantly in the game "Food Language". According to Sensor Tower data, "Food Language" has an estimated global iOS revenue of US$400,000 in December.
Baiao Family Interactive also stated in the 2020 mid-year report that the company actively expanded overseas markets in the first half of the year and achieved many breakthroughs. The company launched "Food Language" and "Law of Destiny: Infinite Crossing" in Hong Kong, Macao and Taiwan in February and April respectively (the domestic version is "Law of Creation II: Pioneer Heroes"), and in May in Singapore and Malaysia. Food Language.
These mobile games have been welcomed by local users after they were launched in overseas regions, and have greatly increased the overseas business income of Baiao Family Interactive. During the period, overseas business income accounted for 17% of the total income of Baiao Family Interaction, compared to only 4% last year.
The listed company stated in the 2020 mid-year report that it will continue to actively develop more new mobile games and enrich its product line, including "Oki Legend Mobile Games" and "Obi Island Mobile Games". Both games use the company's classic IP, each with more than 200 million registered users. Among them, "Legend of Aoqi Mobile Games" is a turn-based role-playing game with elves as the theme. It has been open for reservations in various channels in April this year. As of June 30, 2020, this new mobile game has nearly 5 million reservations.
In addition to continuing to explore the game segments that the company excels at, such as female-oriented games, two-dimensional games, and pet collection and development games, Baiao Family Interactive is also trying to develop other game products that are popular in the international market, such as strategy games and Action games.
Source: Something about mobile games
Address: https://mp.weixin.qq.com/s/odPjL5osfzVU7iHtoQytTw
.