If you love board games, you probably know Ticket to Ride, one of the famous games of this genre. Now, with the Epic Games Store event, you can own this game without spending any money.
Ticket To Ride (Digital Game) – English Trailer
The goal of Ticket to Ride, is to complete the secret routes divided at the beginning of the game. To complete such a trip, you need to build multiple train tracks connecting each city. The further a route is, the harder it is to complete, but for more points; Otherwise the close route will give you few points. During the game you can still draw new goals. Be careful because if you fail to achieve the goal of snowing a certain road, you will be deducted points corresponding to that route.
So how do you build a railway? You need to have a number of cards of the same color and the number of paths you need to build. A road always connects from one city to another. For example, if a route requires you to have 4 pink cards, then you need to play 4 pink cards to build your 4 trains on that road. At this point, you will receive points based on the number of vehicles built – the more you build, the more points you'll earn. This is the second way for you to earn points – build a railway track. In addition, when the game is over, the person who owns the longest path will receive an additional 10 points.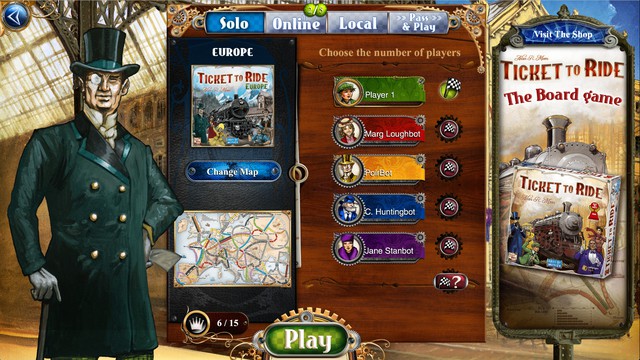 In one turn you draw 2 cards or build the train track as above. To draw cards you choose from the cards facing up or the card at the top of the draw. You don't have a hand limit, so you can choose to accumulate cards and wait for the opportunity to build a path.
During the game, you always have to set the calculations that are most beneficial, choose which card, and build the route, even you have to predict the opponent's intention through the cards they choose. . At the end of the game, a map with many routes, the striking color trains on the chessboard will be extremely interesting to see.
To download the Ticket to Ride 100% free. You can access it here.