An accident with minor damage to your automobile; to declare or not?
When we take our car on the road we are subject to being involved in an automobile accident, which we obviously do not want, sometimes minimal accidents and others which can be much more serious. If in the second case, it becomes obvious to submit the file to his auto insurer so that he can investigate, assess the damage and then proceed to pay the damage if necessary. In the case of minor clashes, some drivers believe that, given the minimal damage, this does not deserve to be declared to the insurer. Is such a decision a good one or not?
Watch out for auto insurance claim history!
There is a good reason why drivers in the case of skirmishes prefer not to claim reimbursement from the insurance company. In fact, all insurers have access to the claims history of their policyholders through the central automobile claims file which is managed by the Groupement des assureurs automobiles (GAA). This is a file which lists all the claims in which an insured has been involved during the last six years. Depending on the state of his history, an insured may benefit from preferential rates for his auto insurance premiums or, on the contrary, undergo increases with regard to the risk incurred. The aim of such a process is to establish a system of fairness which rewards the motorists and drivers who are the most responsible and therefore the least involved in claims.
Isn't it better to report the crash to your car insurance?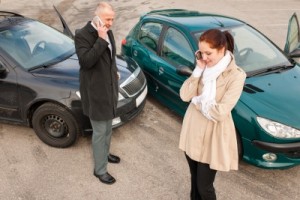 Assuming the repair costs alone so as not to be listed in the FCSA (central file), can be a risky decision because not only the driver pays out of his pocket without the possibility of being reimbursed one day, but there is also the risk that the other motorist will report the incident to his insurer, which implies that both parties will be registered with the FCSA in the end. And even worse, by consulting the file the insurer will have only one version of the facts, that of the second driver. So the best thing to do is to report the incident to the auto insurance company even without making a claim, which at least allows the insurer to determine the degree of liability.
It is important to point out that any driver has the possibility to request a copy of his FCSA complaint file to know his history and to request corrections if necessary. The request for a copy of the file is made to the group of automobile insurers (GAA).