Comparing Audi A4 and Mercedes C250, with many outstanding upgrades, both models are attractive options in the small luxury sedan segment.
Introduction of Audi A4 and Mercedes-Benz C250 Exclusive
The segment of luxury sedans has always been a fierce competition between major brands from Germany. Especially when comparing Audi and Mercedes can not ignore two rivals such as Audi A4 and Mercedes-Benz C250. The price of Audi A4 and Mercedes C250 are similar in the range of about 1.7 billion dong, both have impressive design, 4-cylinder turbocharged engine and impressive design. Let's find out the details below to decide whether to buy an Audi A4 or a Mercedes C250.
Compare Audi A4 and Mercedes-Benz C250 Exclusive in terms of exterior
Comparing Audi A4 and Mercedes C250 in terms of design, it seems that both luxury cars have shown very well the brand characteristics of each model. At first glance, users can identify these 2 models in each design line. If the Audi A4 has a healthy and generous sport style, the members of Mercedes create a soft, extremely fashionable feel.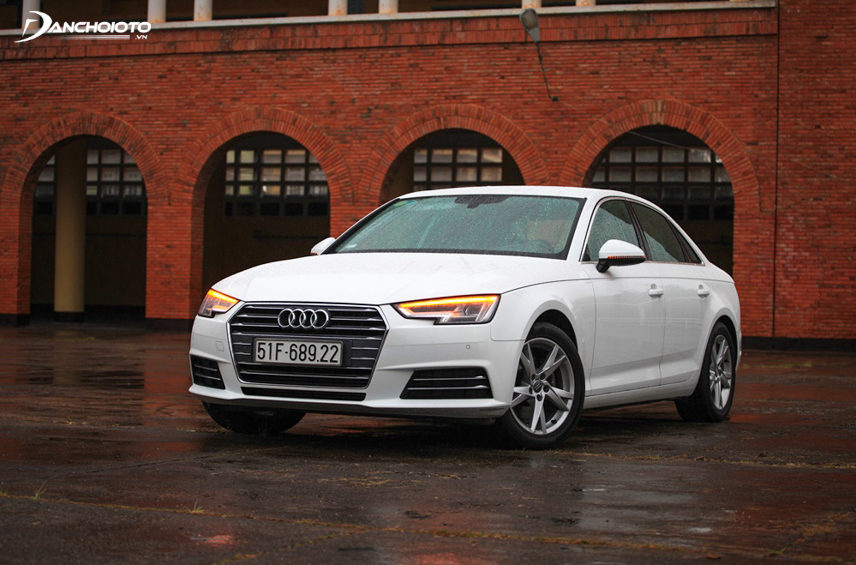 Audi A4 has a youthful and sporty appearance
At the front, Audi A4 owns LED matrix system, L-shaped design, hexagonal grille with many shiny horizontal chrome bars. Visible A4 is made up of straight and folded lines sharp and strong. In contrast, the design language of "sexy purity" gives the Mercedes C250 flexibility and sensuality. From vivid LED headlights to a grille that opens and closes automatically.
In terms of dimensions, the Audi A4 specifications are 4,726 x 1,842 x 1,427 (mm), long and wide but lower than the overall dimensions of 4,686 x 1,810 x 1,442 (mm) of Mercedes-Benz C250 Exclusive. Experts also rated the Audi A4 as the longest car in the segment. Both 2 own 17-inch wheels but 5-spoke dual-spoke design of C250 Exclusive looks more eye-catching.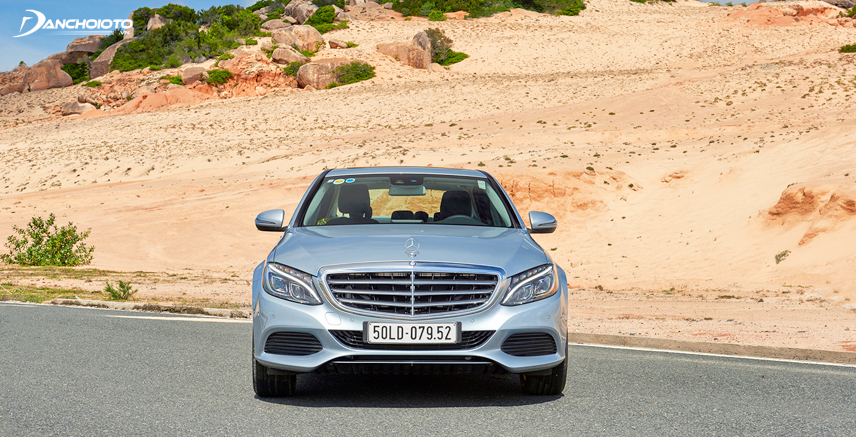 Mercedes representative inherited the soft, flexible design that is extremely attractive
Similar to the design at the front, the rear of the Audi A4 is still square and definite. The long, angular taillights embrace the body, prominent rear wing and sporty round shape exhaust pipes. The rear of the C250 is still soft, from the round tail lights like wings to the flat exhaust pipes integrated with the rear bumper. In addition, Mercedes cars also score points before the opponent thanks to the trunk that can open and close automatically with the key or button, Audi A4 can only open but must close manually.
Compare Audi A4 and Mercedes-Benz C250 Exclusive in terms of interior
Judging by the Mercedes C250 and Audi A4 in terms of interior, it seems that two German sedans have brought the design language of the exterior into the car. Audi A4 still owns neat straight lines, black interior with many silver-plated details exuding a youthful and modern look. Countryman C250 Exclusive scores points again with an elaborate, classy and classy interior compartment with streamlined wood and leather details. Not only that, the wheelbase of 2,840 (mm), though only marginally better than the opponent of 20 (mm), is enough for users to rate the Mercedes C250 higher.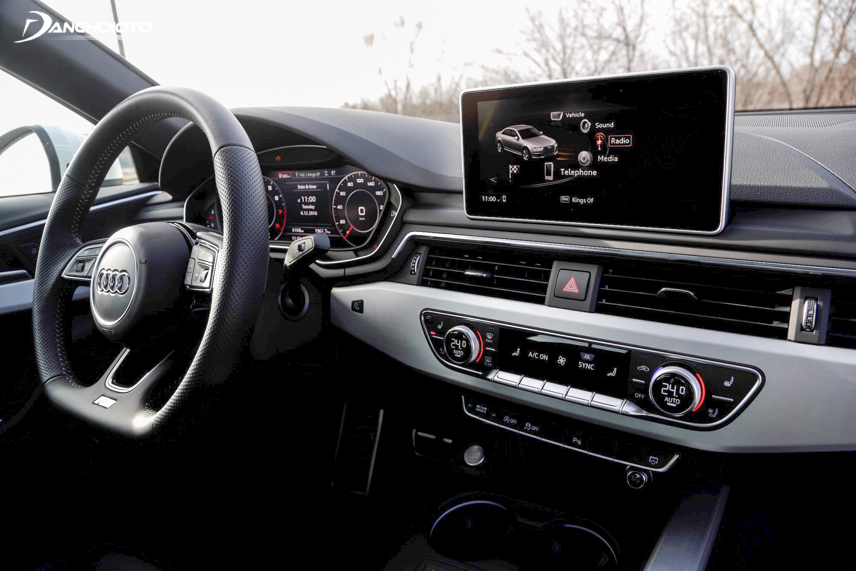 Neat, spacious and modern are advantages in the passenger compartment of Audi A4
Taplo board of Audi A4 has a neat and simple layout, with accents of air-conditioning doors, easy to get used to and used. It is equipped with a leather-wrapped steering wheel, which is rated for good grip and grip. The C250's taplo creates a sense of expansion, the details are located on a wood paneled center console. Nappa leather steering wheel is sophisticatedly designed with nice function keys.
The seats on the Audi A4 are quite sporty, hugging but still inferior to the seats of C250 Exclusive. In return, the Audi A4 has the most spacious and comfortable rear seat space in the segment. The driver's seat of the A4 is electrically adjustable and has 4-way backrest, with side armrests and heating in the winter. Opponent C250 allows to adjust power 16 directions and remember 3 positions.
Equipped with abundant facilities and luxurious design, C250 Exclusive "overwhelms" rivals
Assessing the Audi A4 and Mercedes C250 in terms of comfort and equipment, it can be said that the C250 almost "overwhelms" the opponent, demonstrating the typical advantages of Mercedes cars. C250 is equipped with more features and amenities than the competition. It has a Thermatic 2-zone automatic air conditioning system, an air filter with an ultra-modern oxidation and aroma function. The entertainment system includes a 7-inch TFT color screen, Bluetooth and Internet connectivity, a 13-speaker Burmester high-end audio system with a capacity of 590W and a CD player. In addition, electrostatic sun blinds, armrests in the back seat are also noticeable points on the C250.
Meanwhile, the equipment on the compatriot A4 is the MMI Radio Plus infotainment system, Radio Concert system, 7 inch non-touch screen, Audi Media interface. Independent 3-zone air-conditioning system, system for rear seats can adjust wind speed and temperature. Sunroof, storage compartments, glass containers, phone charging port, … are the equipment present on both rivals.
Compare Audi A4 and Mercedes-Benz C250 Exclusive in terms of engine / performance
At the heart of the Audi A4 is the TFSI 2.0 engine block, which comes with a 7S-Tronic automatic transmission and front-wheel drive that allows free navigation. Total capacity that A4 owns is 190 horsepower, maximum torque of 320Nm, in addition to a fuel consumption of only 4.9lit / 100km.
The 2.0-liter I4 engine block of the Mercedes C250 Exclusive proved to be superior to the opponent with 211 horsepower and maximum torque of 350Nm. Vehicles equipped with 7G-Tronic 7-speed automatic transmission and rear drive system. The parameters of C250 show the driving experience of sports car and "loading" than the competition. Actual driving experience also shows that the C250 only needs 8 seconds to accelerate to 100km / h, while the A4 needs 10 seconds.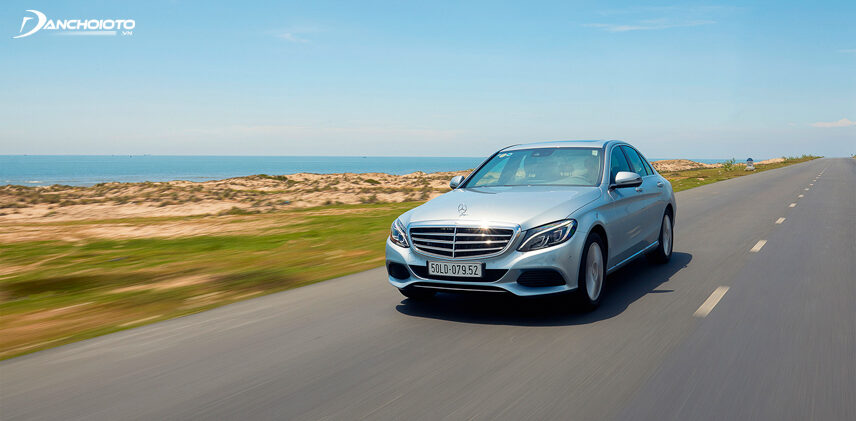 Exclusive C250 once again "scored" on performance
Compare Audi A4 and Mercedes-Benz C250 Exclusive in terms of safety equipment
Safety is always the most important factor that German carmakers care about when producing a car. Both the Audi A4 and Mercedes-Benz C250 embody this motto. C250 Exclusive is equipped with Aglity Control suspension system to help effectively dampen, anti-lock braking functions, stabilize the body, start steep, anti-slip when accelerating unexpectedly. In addition, there are a range of advanced features such as Collision Prevention Assist Plus, distraction warning, tire pressure warning and active parking.
In addition to the basic safety equipment, features such as Cruise Control and Stop & Go adaptive throttle, reversing camera and parking assist are noticeable on the Audi A4.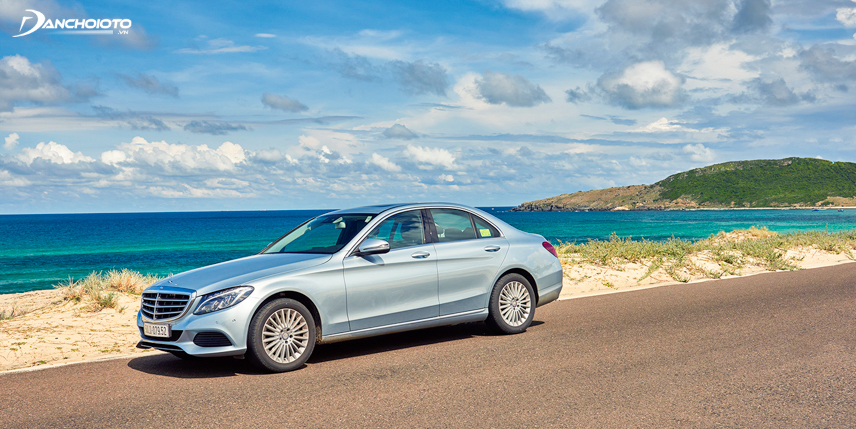 Audi A4 features a reversing camera with parking assist
Should buy an Audi A4 or Mercedes-Benz C250 Exclusive?
Overall, the Mercedes-Benz C250 Exclusive and Audi A4 are currently the two most expensive luxury sedans in the small sedan segment. Although the car is locally assembled, the Mercedes C250 shows many outstanding points compared to the Audi A4 imported CBU.
Exclusive Mercedes C250 car possesses the luxury from design, comfort to driving experience, truly a "luxury car". However, the Audi A4's car also has the advantage of being cheaper, though not much, in addition to a sporty, youthful style with a different level than Japanese and Korean cars.
Vu Minh