With Atelier Ryza, the first of its name, studio Gust has embarked on an enterprise of diversifying its audience, by trying to make its license more attractive to the greatest number of people. In this sense it is not to say, the bet was won hands down since with more than 500,000 sales, it is an undeniable success for an episode of the franchise, offering to Atelier Ryza 2 the perfect cocoon to develop.
However, you certainly know it as much as we do, whatever the field, when a so-called "niche" element tries to gain popularity by modifying the basic formula a little, it is the most hooked fans who cry scandal. . Everything went as planned, and if Atelier Ryza has become a game adored by newbies discovering more or less the license, it has also become a controversial episode among early fans.
As far as we are concerned, we had loved the direction taken by this new formula and we were only waiting for one thing, to see what would happen to the rest of this story arc. Spoiler alert, Atelier Ryza 2 persists and signs in the furrow dug by its predecessor, but is that enough for all that? Weren't we expecting more? This is what we are going to see now!
(Atelier Ryza 2: Lost Legends & the Secret Fairy review performed on PS4 / PS5 from a version provided by the publisher)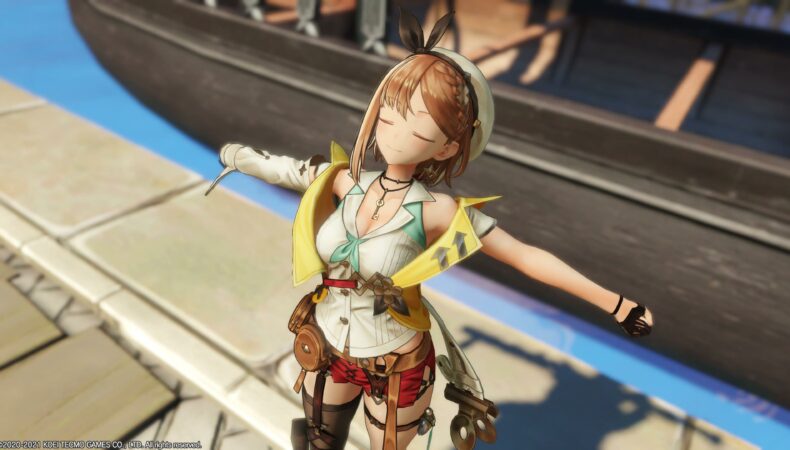 Atelier Ryza 2 is part of the perfect continuity of the first opus
The beginnings ofAtelier Ryza 2 will certainly be a little sluggish for the players who made the first opus, since we spend a moment to explain to us what could have happened in the latter. This naturally goes hand in hand with the desire to open up the license to as many people as possible, but for those who made the previous game, this only amplifies the feeling of returning to the starting point.
Indeed, if Ryza and his associates logically ended the previous adventure by being powerful as gods after having lived various adventures, finding themselves again in the first field to come to kill sheep and slimes brings a rather strange feeling at the beginning. adventure. To make a second opus with the same characters, we would have liked the previous adventure not to be swept aside like that.
We begin our adventure with a Ryza finally leaving her native island to come and discover life in the capital, and like a good little farmer, our heroine will soon understand that to find a place here, you will naturally have to adapt. . Fortunately, upon our arrival we will meet old acquaintances, including little Tao, now grown up, who will be able to guide us and make us discover the cool places of the city.
Like a newly arrived student, you will have to settle in, find accommodation, take your marks, and of course find a small job to finance your Thursday night pints.
Overall the story holds up, but sorely lacks strong new characters in terms of narrative impact. On the side of the known heads there too, we lack a bit of depth and the game is sometimes a little too the minimum union at this level. The events can therefore be followed without problem, but a stronger main frame is missing, which could then consolidate everything and keep us more going, rather than guide us calmly on a long quiet river.
Also, if the story struggled to thrill us as much as in the first opus, it is perhaps also because in this Atelier Ryza 2, we saw it as a kind of version 1.5. Thereby, if you are about to discover this episode while being completely virgin of the first one, your feelings could well be very different, and you would risk in the end to discover this second opus with the look that we had by discovering the first one.
Once launched, there is as always a certain delay in terms of graphics, but let's be clear, this was never the strength of the license, and like a YS, we are below the current standards. However, as usual the artistic direction happily makes up for this defect by offering us superb varied and colorful decorations.
However, what bothered us the most was the instability of the framerate, even on PS5. We then turn around 30 fps with more or less significant drops, and it is all the same a shame to have a game benefiting on the one hand from a total elimination of loading times, but from a jagged fluidity on the other. On a PS4 at the end of its life we ​​could at a pinch accept it without too much complaint, but on PS5, while we have games like God of War which run at 4K / 60 fps, we are less and less successful. .
But if visual fluidity is unfortunately not there, As is often the case, the OST is perfectly positioned in all areas of the adventure, to offer us an auditory journey with a flavor that is still "feel good". Without making a bad pun, there is absolutely no wrong note concerning the music, an excellent point that this episode has inherited from the previous one, but more generally the license in general, which has rarely disappointed. in this domain.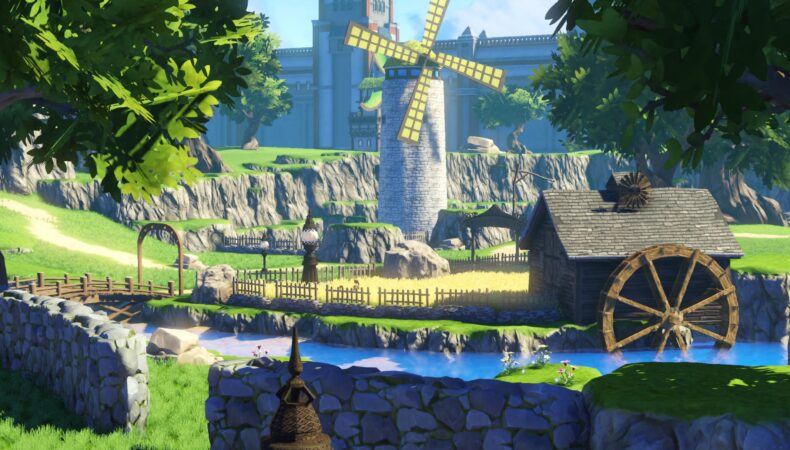 A very intuitive alchemy / exploration combo for newcomers
As we have seen, even if the story will not have us as passionate as in the first game, we should not believe that there is nothing to save here. In Atelier Ryza 2 and as in all the episodes of this license, the gameplay has a central place which gives all its flavor to the game. If in a Persona, you must have a ratio of 70/30 in favor of the social phases, in a Workshop it is more or less the same ratio but in favor of the phases concerning alchemy, that is to say if this aspect has a significant importance in the game.
On this side we keep the good basics of Atelier Ryza while making everything even more accessible and less laborious in terms of menu navigation. The alchemy used to create everything you need, from your harvesting tools to your offensive items, including your various remedies, it was important to make the process intuitive, but above all to make sure that the progression was do it smoothly. To summarize as simply as possible the gameplay loop concerning alchemy, this is basically how most of your gaming sessions will unfold.
First you will have to choose what you want to do, follow the story or complete side quests. In the second case, there is nothing special, it is often Fedex quests allowing you to make money, but what is nice is that if you have achieved the objective or that you have the resources requested upstream, you can instantly complete these quests, which saves time if you are the type to farm as soon as you are outside.
But in case you want to follow the story, this is where the loop gets interesting and addicting as everything is connected. You have a tree of alchemy recipes that are unlocked with points that you earn either through side quests, or especially through alchemical creation. As soon as you learn a new recipe, you put your recent knowledge to use, which earns you points to spend on learning more recipes and so on.
On the way to harvesting the necessary resources, you will take the opportunity to advance the scenario and it is this advancement that will allow you to unlock certain key recipes, imperative to continue the progression, and in the end, the circle is complete.
This forward race that constantly prompts you to go harvest new resources and explore the different environments makes the game really addicting, and with the passage on PS5 this feeling is increased tenfold thanks to the absence of loads. Fast travel therefore becomes instant travel, so everything you have to do is never held back by a 30 or 40 second screen. Comfort that you get used to very quickly, so much so that you really wonder how you could stand that before.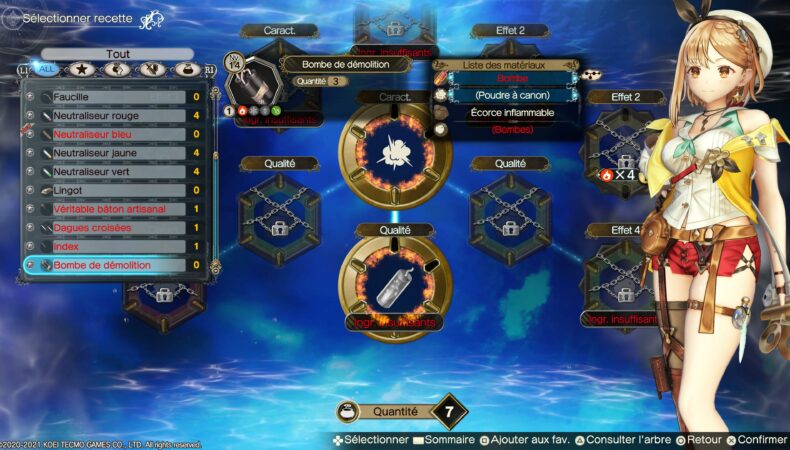 An exploration that lacks ambition
In terms of the combat system, the element that will bring action during your exploration, there has also been a slight evolution since the first game, once again in order to make things more intuitive, which for once also rhymes a little with easier. If the fights in the first opus had greatly seduced us, those of Atelier Ryza 2 have been able to keep their dynamism in terms of visual, but have unfortunately become a little softer in terms of feel.
If you played the first game you must remember the level of Tactics, it was an element that lives up to its name and which allowed you by accumulating points (AP) via standard attacks, to pass to the Tactics level higher, and to change the face of a fight thanks to actions usable only in this level or higher still.
But this tactical component which required you to manually manage your Tactics level, it was replaced by an automatic leveling up. So yes, in a way it makes the fights more dynamic, and you can perform more impressive actions without even having to think about it, except that backlash, the fights are ultimately less interesting.
Finally, we'll finish by touching on exploration a bit. This is an important element in the license, and Atelier Firis had also brought great things to this level. In Atelier Ryza 2, Gust wanted, once again, to make his license more accessible, that the player scatter less, and that he spend more time playing than hiking. On this specific point, it is certain that opinions will diverge, but as far as we are concerned we especially had the impression that the game was stuck between two chairs.
Atelier Ryza 2 wanted to highlight a certain taste for adventure accompanied by more "fun" exploration phases, thanks in particular to the possibility of exploring the seabed, or even to use the famous grapin which is now found in an incredible flock games for a few years. But where there is a catch is that the way the levels are laid out doesn't always showcase the new features of the game very well, not to mention the fact that the areas would really benefit from being more twisty and crowded. of things to discover.
---
From the first opus, Atelier Ryza 2 will not have really succeeded in surprising us, and that ultimately makes it a bit lacking in its qualities. We find ourselves very clearly on familiar ground, which places us directly in this atmosphere that we had adored in the past. However, by wanting to satisfy both those who liked the first opus, and continue to encourage new players to discover the license, we end up with a title a tad awkward.
We therefore end up with a combat system that is more accessible but less interesting, a scenario which extends the adventure but without necessarily convincing over the length, and the exploration ultimately lacks slightly in ambition compared to what we would have. could hope.
Despite everything, the formula has kept this ability to make itself perfectly addictive and this is obviously due to the alchemy which in our opinion has never been so pleasant to experience. Very well calibrated, perfectly integrated into the overall gameplay loop, the chemistry will very clearly be what you want to play in Atelier, but above all what you will come back to the game over and over again.
If in our case, coming from the first opus, we lacked a little something to makeAtelier Ryza 2 an excellent title like its predecessor, it should however be perfectly suited to neophytes, and despite everything remains a good game no matter what. Better yet, it is certainly the perfect title to discover the series smoothly, hoping that the sequel keeps the same course while gaining in ambition.
---


Danceteria