As mentioned earlier, on July 7, ASUS officially introduced the series ASUS X570 motherboard Support for new AMD Ryzen 3000 series processors in Vietnam market.
Own a new chipset with the most advanced features available today, the ASUS X570 motherboard promises to bring a new wind to the community of gamers and high-end user groups.
---
Compared to the X470, the ASUS X570 motherboard possesses many advanced technologies to better support the AMD Ryzen 3000 Series platform, most notably to support the trend of "cramming" more and more cores processing into the CPU, the motherboard has begun to support 8 + 4pin CPU power supply configurations with regular products and 8 + 8pin models with "deep" overclocking motherboard models.
As an all-new chipset with many advanced technologies, the X570 is AMD's most power-efficient chipset to date with a design temperature of up to 15W, forcing manufacturers to add a cooling fan. specifically for chipsets. As for ASUS, the company took advantage of the airflow from the cooling fan chipset on these ASUS X570 motherboard to blow cool air for M.2 standard flash drives mounted nearby for "dual cooling" for both chipsets and hard drives.
---
One of the most remarkable points on these ASUS X570 motherboard this time the system of PCI Express 4.0 slots with the ability to support twice the bandwidth of the previous generation.
Although with modern graphics cards, this speed advantage is not really clear, but with standard M.2 flash drives using 4 PCI Express lanes that are about to hit the speed with PCI Express The old 3.0 is a powerful "release" for these hard drives, enabling them to overcome the limit of 4000MBps on existing boards.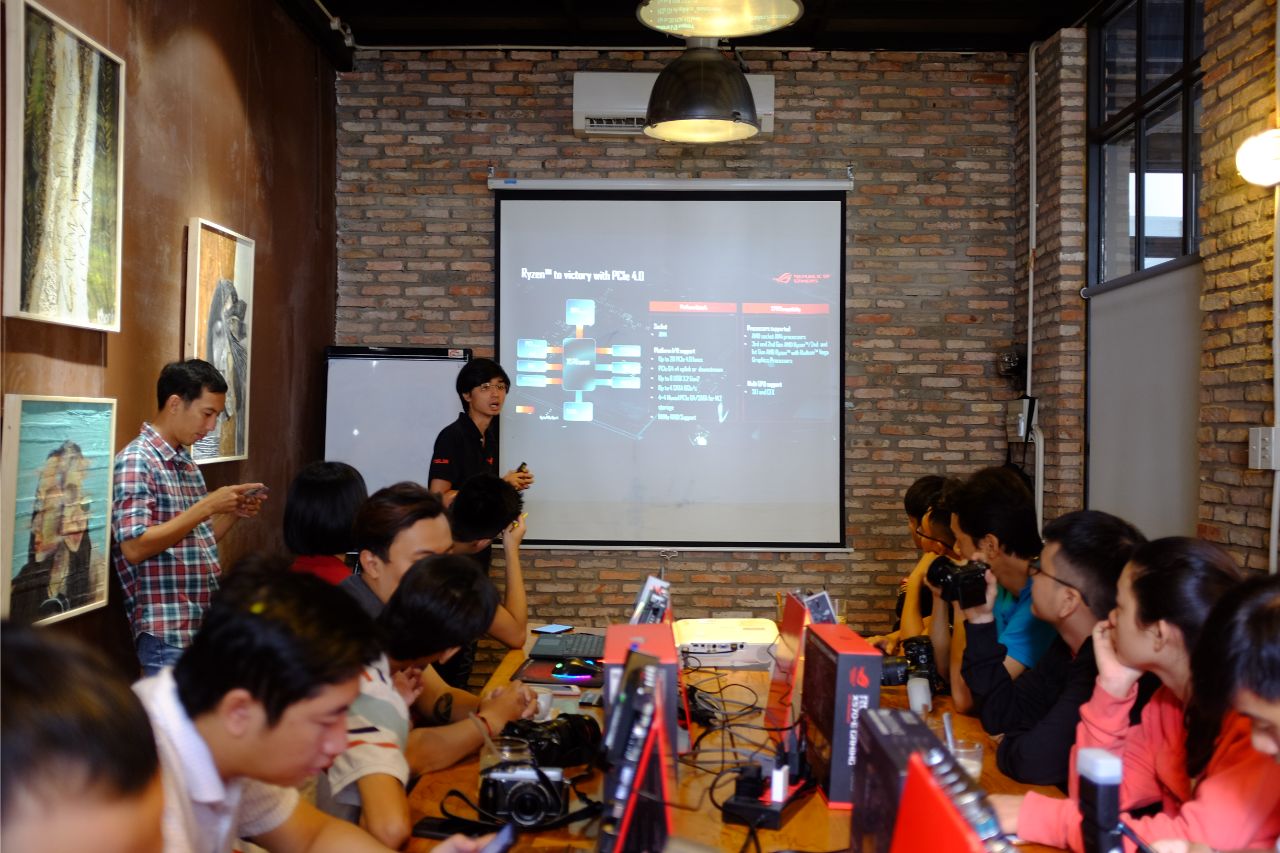 In this launch, the ASUS X570 motherboard turn out with versions "Pro"For general users, PRIME Dedicated to professional users while stream TUF Gaming has a simple design but is equipped with components with high durability and warranty period of up to 5 years.
Series of motherboards ROG Strix will still be the main circuit board for gamers with RGB "full LED" design supporting Aura Sync technology and advanced extensions. Meanwhile, the product line ROG Crosshair will be the company's most advanced product line for users who require high quality and technology.
In high-end product line like ROG Crosshair, ASUS will also "exclusively equip" the product with some outstanding features such as screen LiveDash OLED Capable of displaying system information through software settings, buttons USB BIOS Flashback Allows quick flash BIOS from external USB. This is an extremely important feature because the X570 chipset products are still quite new and quite often receive updates.
The most advanced version in the group ASUS X570 motherboard This release is ROG Crosshair VIII Formula With Tom's water cooling capability for not only the CPU but also the power phases, it helps stabilize the current and enhance the CPU overclocking capability to operate at higher levels.
Most of these launches support advanced Wifi 6 with transfer rates up to 9.6Gbps and more stable in multi-user networks 4 times more than the older generation.
---
In this launch, ASUS has introduced a wide range of products to satisfy the needs of a wide range of user groups to deliver the highest performance for new generation AMD Ryzen CPUs.
Vietgame.asia will update the latest reviews for you in the future.
(Visited 1 times)


Truong Thanh