Newly launched at CES 2021, ASUS ROG Strix G17 (2021) is currently a gaming laptop that receives a lot of attention from gamers and the technology world. With the changes in performance inside, this new ASUS laptop promises not to disappoint you. Join me in your hands ASUS ROG Strix G17 (2021) now.
See also: ASUS ExpertBook B9450F detailed review: World's lightest and all-day battery life?
ASUS ROG Strix G17 (2021) conquers every game with high graphics
This year, ASUS has decided to choose AMD as the supplier of processors for its Strix laptops. ASUS ROG Strix G17 (2021) comes with the following performance:
17.3 inch screen, Full HD resolution.
CPU: AMD Ryzen 7 5800H.
Discrete graphics card: GeForce RTX 3070.
RAM: 16GB DDR4 (upgradeable to 32 GB).
SSD: 1 TB PCle.
The performance of the ASUS ROG Strix G17 (2021) is compared to a 'beast' after the tests, evaluating the performance with very good results. A few in-game tests illustrated below will show you how powerful the performance prowess of ASUS ROG Strix G17 (2021) is.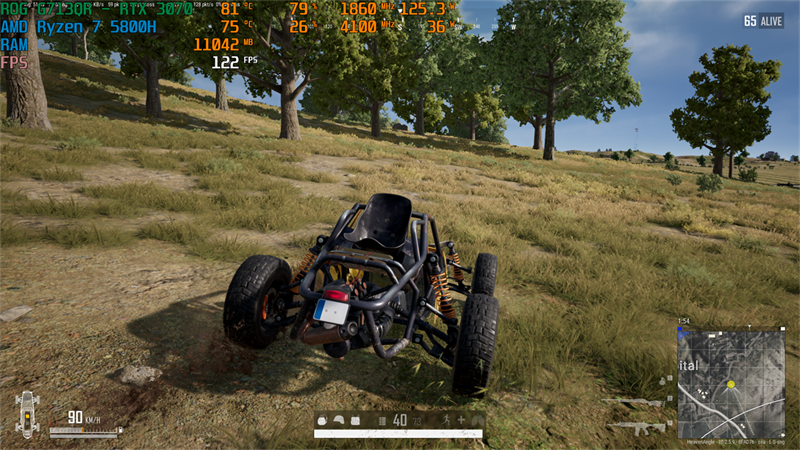 This is an image when I experience the PUBG game, which is a graphics-heavy game, so ASUS ROG Strix G17 needs a powerful CPU and GPU to reach 122 FPS. It gives me a smooth gaming experience, with no lag, stutter or lag. Everything I feel is the feeling of being impressed and satisfied when playing games on the ASUS ROG Strix G17 (2021).
The game CS: GO also offers a smoother experience than ever, vividly every moment and for an attractive virtual space. You should also note that with gaming laptops that is: When playing games, you must plug in the charger continuously for the device to switch to gaming mode (Performance).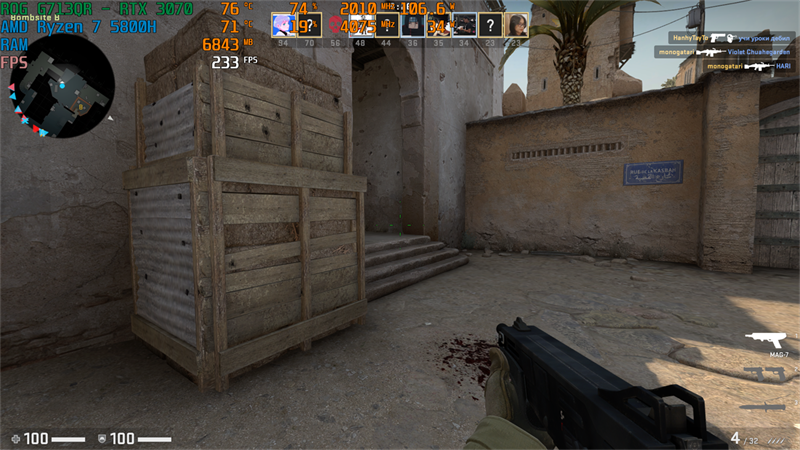 Not only that, but it also integrates reliable Wi-Fi 6 connectivity to increase efficiency and reliability on crowded websites, while helping to reduce latency when playing games and surfing the web. Along with the ROG RangeBoost feature, the laptop enhances the device's reception, reducing dead spots and increasing range by up to 30%.
In addition, I also try to experience some other games on ASUS ROG Strix G17 (2021) and also get very good gaming experiences, from speed, to visuals, sound in the game. This machine is very impressive. I will send you a detailed review soon, please remember to look forward to it.
Design ASUS ROG Strix G17 (2021): sporty, powerful combined with luxury
ASUS ROG Strix G17 (2021) has an improved design score over the Strix version. Instead of the brushed A face, this year has been coated with a matte finish and the left corner is designed with a triangle formed from lots of small ROG letters.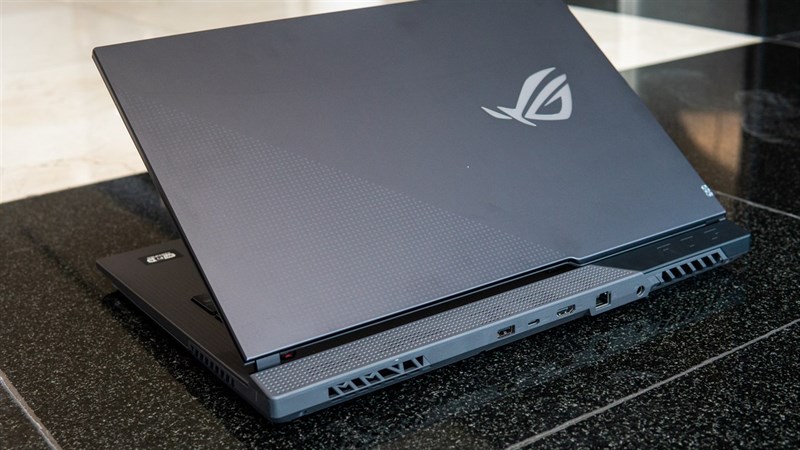 The ROG logo is skewed to the right, and I personally and other reviewers appreciate the back design of this year ASUS ROG Strix G17 (2021) compared to older generations. Prying below you will immediately see a fish-bearing radiator that gives the machine a gaming feel and a pit. The heat dissipation part has also been optimized by ASUS to help with a smaller design, taking up less area. Besides, it also helps bring heat dissipation efficiency higher.
ASUS ROG Strix G17 (2021) is equipped with up to 4 heat sinks to ensure and increase its cooling efficiency.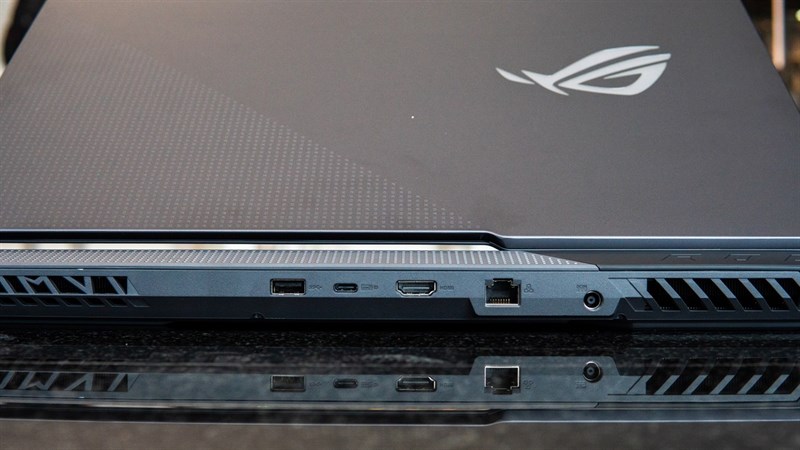 In terms of connectivity, ASUS ROG Strix G17 (2021) is equipped with LAN port, HDMI port, USB-C 3.2 Gen 2 port (supports Display Port, PD charging), USB-A 3.2 Gen 1 port and The charging port is on the back edge, while the left side will have two USB-A 3.2 Gen 1 ports and a 3.5mm headphone / mic port.
The size of the device is also optimized to be 5.7% smaller than the previous version, the screen-to-body ratio increases to 67%, making ASUS ROG Strix G17 (2021) more compact and easy to move by users. .
When holding ASUS ROG Strix G17 (2021) in hand, it feels sturdy, heavy-handed, slightly smaller than the old version, as well as giving me a sporty and strong feel.
ASUS ROG Strix G17 (2021) monitor: Beautiful display and amazing refresh rates up to 300 Hz
The first highlight on the screen of ASUS ROG Strix G17 is the incredible scan speed of up to 300 Hz / 3 ms, but be aware that this scan speed is only available at Full HD resolution. Also at WQHD resolution the machine will have a scanning speed of 165 Hz and a response time of 3 ms, although not as high as 300 Hz, such a scanning speed has also given a very impressive experience.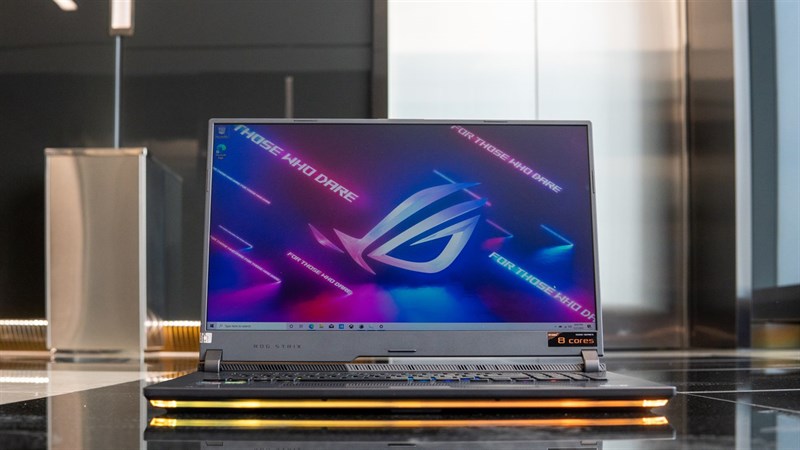 I feel that the screen of ASUS ROG Strix G17 (2021) is upgraded quite strongly compared to its predecessor. Display colors also reach 100% sRGB standard, brilliant and eye-catching.
The ASUS ROG Strix G17 (2021) monitor is also great for high-resolution movies and entertainment, and it can also be used for graphic design tasks.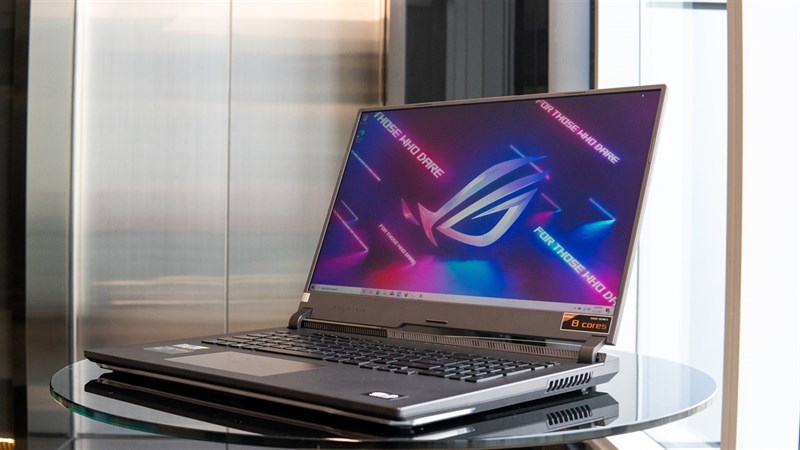 To explore the ASUS ROG Strix G17 (2021) monitor, I tried playing games and watching movies on it. Both bring impressive experiences to me. One point you should note is that if you use a QHD screen version, you can reduce the resolution to Full HD to achieve a scan speed of up to 300 Hz for the smoothest game play on the machine. When watching movies, you can choose the QHD resolution to watch the movie sharper.
Keyboard and trackpad on ASUS ROG Strix G17 (2021): Inheriting the best of its predecessor
ASUS ROG Strix G17 (2021) still uses the same full-size keyboard as its predecessor, the typing experience on the ROG Strix G17 (2021) feels very good. The ASUS ROG Strix G17 (2021) keyboard light is upgraded from 4 zones to RGB each key. ASUS ROG Strix G17 keyboard for great typing promises an unforgettable experience.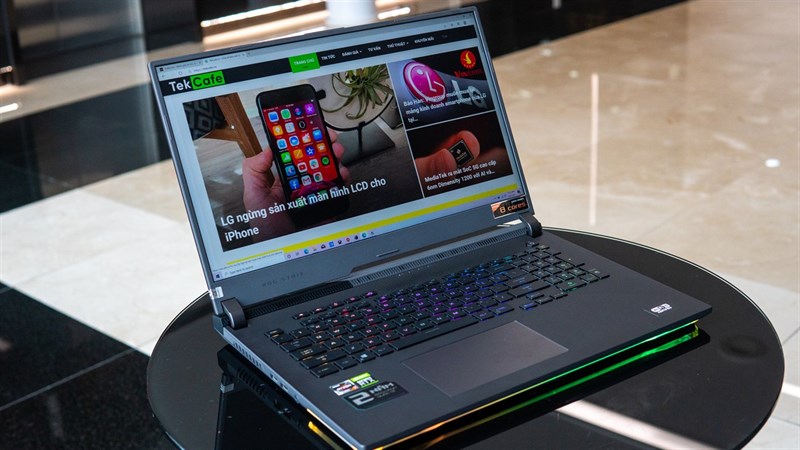 The touchpad is also improved to increase the horizontal size, the touchpad is covered with glass and will not have 2 buttons. Experience swiping, touching on the trackpad is very smooth and fast.
ASUS ROG Strix G17 (2021) is enhanced with enhanced heat dissipation
To accommodate the powerful configuration of the ASUS ROG Strix G17 (2021), the ASUS manufacturer has added liquid metal thermal grease to its devices, in addition to increasing the number to 4 Heat dissipation slot on the device, helping to enhance heat dissipation on the device (as I mentioned above).
The machine also gets an improved fan system up to 12 V, increasing heat dissipation up to 18% compared to a 5 V fan. Along with the 84-blade Arc Flow fan with a new design that pushes more air and less noise, makes your ASUS ROG Strix G17 (2021) cooling system even more efficient.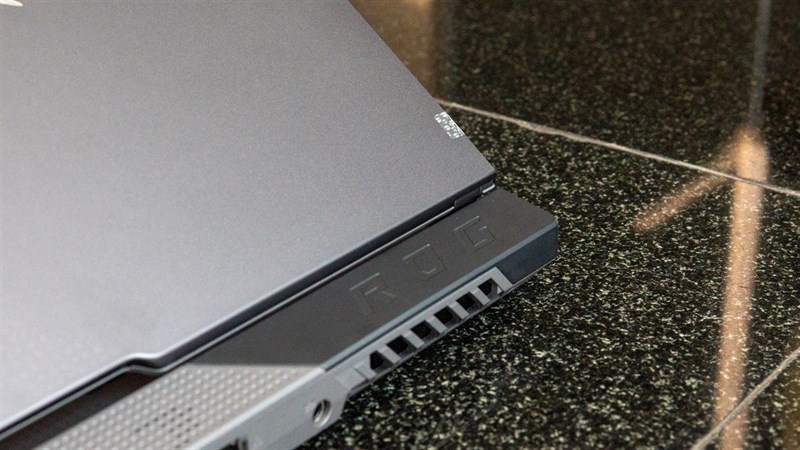 It's nice to leave the ASUS ROG Strix G17 (2021) fan-idle on Silent mode and provide absolute silence, but the temperatures are very cool, proving the passive cooling system works. pretty good.
summary
ASUS ROG Strix G17 (2021) is a quite comprehensive gaming laptop from design, performance to user experience, although there are still some limitations, especially the absence of Webcam but this is still a The machine is worth choosing.
What about you. How would you rate the ASUS ROG Strix G17 (2021)? Don't forget to leave a comment below to let me know. Thank you for reading my article.
See also: A detailed review of ASUS ZenBook 30 Edition (30th Anniversary): Full of charm and charm!
Edited by Vu Truong An
Not satisfied with the article
124 views
Related posts
ASUS ROG Phone 4 – Gaming Smartphone equipped with a 6,000mAh battery has just revealed the actual image on the user's hand


19/01

The dedicated smartphone for gamers ASUS ROG Phone 4 will have a battery capacity of up to 6,000mAh, fast charging 65W


17/01

ASUS ROG Phone 4 is revealed to have an edge-to-edge display, Snapdragon 888 chip and professional gaming features


16/01

ASUS VivoBook X515MA detailed review: Cheap version but the experience is not cheap at all


04/01

In hands ASUS ROG Zephyrus Duo 15: Breakthrough with two-screen design at the same price as 70 million


03/01

In the hands of ASUS ZenBook Flip 13 UX363: In addition to the OLED touchscreen, what else does the device own?


23/12/20
.