Asus launches new ZenBook dual-screen notebook overseas
July 29, 2020 09:54
Author: Zhang Zhihui
Editor: Zhang Zhihui
Article source: Paobao.com original
According to news on July 29, the official website of South Africa has now launched Asus' new ZenBook dual-screen notebook. It is reported that the new Asus ZenBook dual-screen notebook will be equipped with i7-1165G7 processor, equipped with 16GB of memory and 512GB SSD, and MX 450 is also optional. Compared with the Asus Zenbook 13, the processor is even better. Although its Intel Core i7-10510U CPU is disappointing, it also provides a higher speed and is also equipped with a separate Nvidia Geforce MX250 GPU.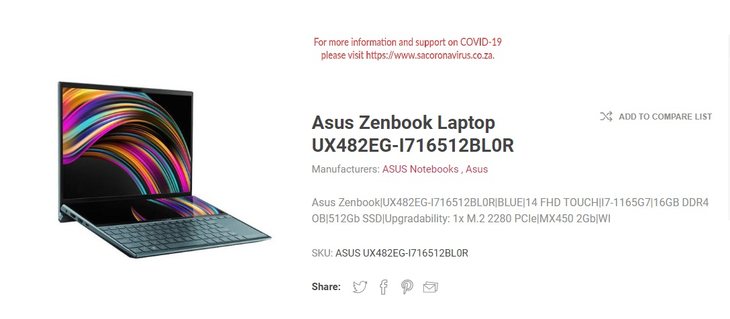 In terms of display, the ASUS Zenbook 13 is equipped with a 13.3-inch FHD LED display, while the new ASUS ZenBook dual-screen notebook is equipped with a 14-inch 1920X1080 touch screen, the secondary screen is 12.65 inches, and the resolution is 1920 x 515. It's a little ugly. In addition, this notebook is also equipped with two Thunderbolt 4 ports, which is relatively complete in terms of external devices compared to the previous generation.
Not surprisingly, Intel is expected to officially release the 11th-generation Core processor in September of this year, and subsequent production of new products may be equipped with this processor, let us look forward to the birth of ASUS follow-up new work.