Apple's new app tracking regulation App Tracking Transparency (ATT) is currently being pushed as part of the iOS14 update. This means that users need to choose whether to allow app tracking after installation. Only after the user's permission, the application manufacturer can access the user's IDFA identifier for advertising positioning and attribution analysis.
App marketers and advertisers have worried that the push of ATT will hinder the tracking and optimization of app marketing activities on iOS devices. As users' privacy awareness grows stronger, people have predicted that the proportion of users who choose to allow tracking will remain low, only between 2-20%.
However, AppsFlyer's recent analysis of 300 applications shows that this number will be much higher than previous assumptions.
Data source: AppsFlyer
Percentage of users allowed to track various iOS applications (weighted average)
Overall, 41% of iOS users allowed apps to track personal data in March. On average, 28% of users per app allowed tracking. This is great news for app marketers who want to deliver personalized ads.
In addition, the study also found that there is a big difference in the percentage of allowable tracking between game applications and non-game applications, and the allowable percentage of non-game application users is much higher (30% for games and 41% for non-games). AppsFlyer said that the higher the affinity of the application vendor's brand, the greater the possibility that users will allow tracking.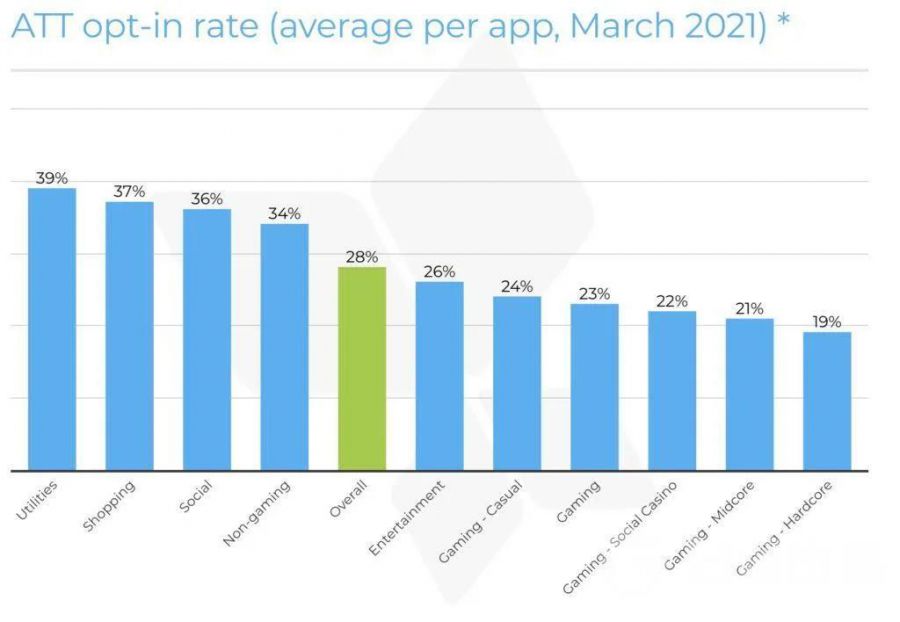 Data source: AppsFlyer
Percentage of users allowed to track various iOS applications (average value of a single application)
AppsFlyer said that many non-gaming applications have high brand appeal, so more users will allow tracking.
Although the current statistics are limited, AppsFlyer also pointed out that the percentage of large applications that allow tracking users will be higher. The top 10% apps with the largest number of installed devices account for half of the allowable tracking percentages than the least 10% apps.
本文编译自 Opt-in for app tracking on iOS 14 much higher than previously thought。


Source: Beluga Whale Going to Sea
Address: https://mp.weixin.qq.com/s/WOWkORrcYR1k98dpLLXNCg
.