Themes are predefined combinations of colors, fonts, and effects. Different themes also use different slide layouts. Sure, you used a theme, even if you didn't know it: Default Office theme. You can choose from multiple new themes at any time, apply it to your entire presentation to give it a consistent, professional look.
Apply a theme in PowerPoint 2016
What is a theme?
Apply the theme
How to apply a theme
Practice!
What is a theme?
In PowerPoint, themes provide users with a quick and easy way to change the design of presentations. Theme controls the main color scheme, basic fonts, slide layouts, and other important elements. All elements of a theme will work together. That means you won't have to spend a lot of time formatting your presentation.
Each theme uses its own set of slide layouts. These layouts control the way your content is arranged, so the effect can be dramatic. In the examples below, you can see that the placeholders, fonts, and colors of the themes will be different.


If you use a single slide layout, such as Quote with Caption or NameCard and then switch to a theme that doesn't include the layout, which may produce undesirable results.
Each PowerPoint theme, including the default Office theme, has its own unique theme elements. These factors are:
Theme Colors: There are 10 main theme colors, along with darker and lighter variations, available from the menu Color.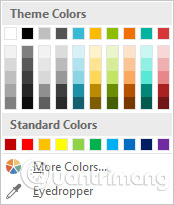 Theme Fonts: There are two fonts available at the top of the menu Font in Theme Fonts.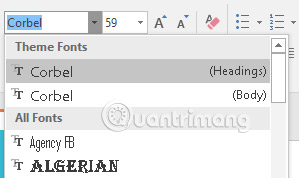 Theme Effects: These effects affect Shape Styles predefined. You can find these Shape Styles this on the tab Format whenever you choose a shape or graphic SmartArt.


When you switch to another theme, all of these elements will update according to the new theme. You can dramatically change the look of your presentation with just a few clicks.
If you apply a font or color that is not part of the theme, it won't change when you choose a different theme. This includes colors chosen from the options Standard Colors or More Colors and the font is chosen from All Fonts. Using non-theme elements can come in handy when you want a certain text with a specific color or font, for example a logo.
You can also customize the theme and define the elements for that theme yourself.
Apply the theme
All themes included in PowerPoint are in the group Themes on the tab Design. Theme can be applied or changed at any time.
How to apply a theme
1. Select the tab Design on Ribbon, then find the group Themes. Each image represents a theme.
2. Click the dropdown arrow More to see all available themes.


3. Select the desired theme.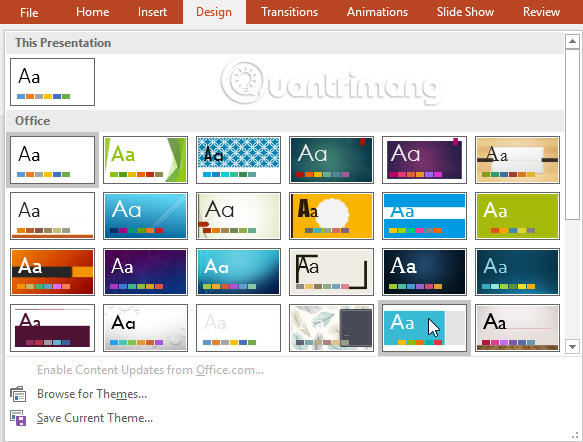 4. The theme will be applied to the entire presentation. To apply another theme, just select it from the tab Design.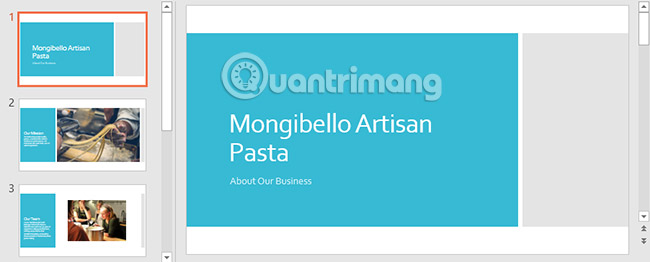 Once you have applied a theme, you can also choose a variation for that theme from the group Variants. Variations use different theme colors while preserving the overall look of a theme.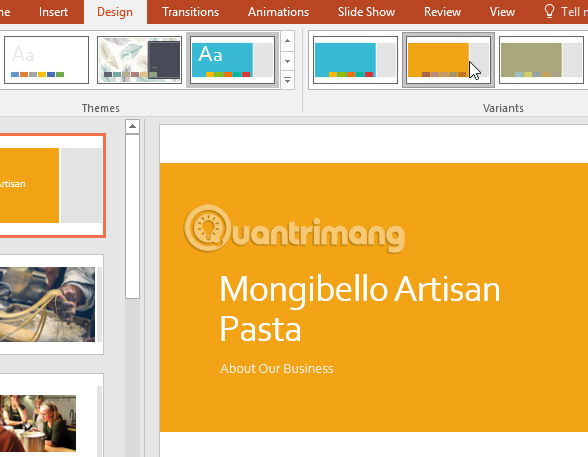 Practice!
1. Open the sample presentation.
2. Apply the theme Gallery, including a light background with a wood grain pattern at the bottom.
Note: The theme name will appear when you hover over them.
3. Choose a variation of the theme.
4. Here's an example of what your presentation will look like: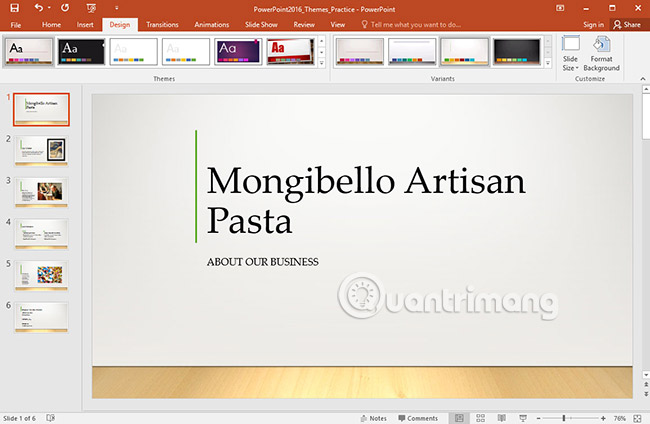 See more:
How to work with text in PowerPoint 2016
Slide basics in PowerPoint 2016
How to save presentations in PowerPoint 2016