According to ICTnews, many ride-hailing applications have started implementing surcharges incurred per trip or orders in the past nearly a week. This surcharge is applied to car trips or orders during the Lunar New Year and will remain during Tet. Dung, an office worker in Hanoi said: a few days back , the fare I have to pay for each trip increases. Same distance traveled, but the price per vehicle is 20-30% higher, or even 1.5 times higher, if traveling during rush hour. Travel expenses in the days bordering Tet are more expensive, when traveling a lot due to job requirements.
In early February, Grab announced a surcharge for its services, including GrabCar, GrabBike, GrabExpress, GrabFood and GrabMart during New Year's Day 2021 from February 4, 2021 to February 14, 2021 ( from December 23 to March 3 of the Tan Suu New Year).
Accordingly, from February 4 to February 7, there will be an additional surcharge of VND 10,000 / Grabcar trip; increase VND 5,000 per GrabBike trip and orders for GrabExpress, GrabFood and GrabMart.
The surcharge rate is higher during Tet. Specifically, from February 8 to February 14, each GrabCar trip will incur an additional surcharge of VND 15,000; GrabBike trips and GrabExpress, GrabFood and GrabMart orders have an additional surcharge of VND 10,000.
This means that along with the fare per trip or order, users will have to add 5,000-15,000 VND per trip, or order depending on the type of service or the time of the trip. That is not to mention that if the pick-up or order arises during peak hours, the fare will also increase a lot, as the number of drivers running during Tet will also decrease.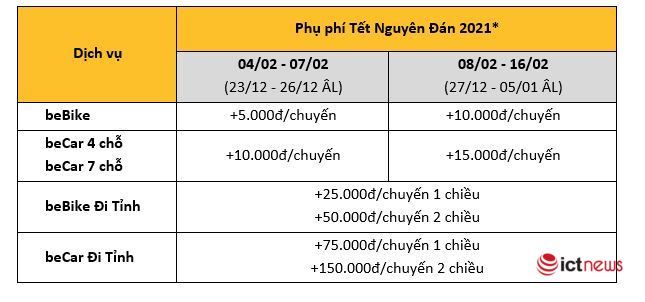 Surcharge of be
Not only Grab, the be app also announced to charge extra for trips. This application charges an additional 5,000 VND for each beBike trip and 10,000 VND per beCar trip (4 seats, 7 seats) from February 4th – 7th. The additional revenue rate corresponding to the service is 10,000 VND and 15,000 VND from 8 – 16/2 (ie 27th to 5th lunar month).
For services to the province, beBike to the province will collect an additional fee of 25,000 VND / way and beCar to the province will collect another 75,000 VND / one-way trip. This surcharge is added directly to the price displayed on the user application.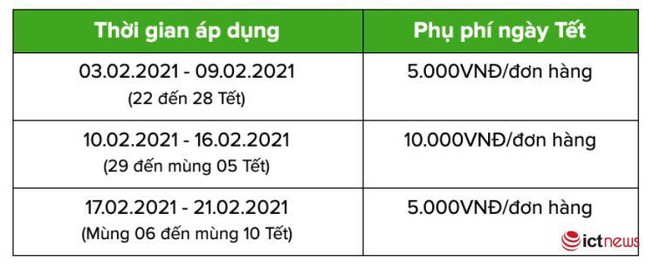 Gojek Vietnam also charges a similar surcharge
Gojek Vietnam also increases the surcharge during Tet. Unlike the previous year, Gojek Vietnam also implements a hard surcharge per trip and order, not on the distance traveled.
Specifically, from February 3 – 9 (ie from the 22nd to the 28th of the lunar calendar), each ride or Gojek order will be charged an additional 5,000 VND. From February 10-16 (ie from 29 to 5 of the new year) this application will surcharge an additional 10,000 VND / order or ride.
From February 17 – 21, the surcharge rate for each bus trip is VND 5,000. The surcharge rate for all existing Gojek services is GoRide, GoFood and GoSend.
In fact, this is not the first time that ride-hailing apps have implemented this kind of surcharge. The form of surcharges has been carried out by ride hailing applications in the past few years to meet the increasing travel demand during the Lunar New Year and ensure income opportunities for drivers who stay for Tet. . As usual, Tet is also a time when vehicles are scarce because drivers come home to celebrate Tet. So, this is a way to ensure income for drivers serving the holidays.
However, the feeling of many users when the trips become more expensive compared to the previous year has another reason, when many ride-hailing applications have just made a price increase adjustment from the end of the month. 12 years ago and early January 2021.
For example, Grab raised the price of GrabCar services from December 5 with an increase of VND 2,000 for the first 2 km and from VND 500 – VND 1,000 / km to the next.
The cost of GrabFood service increased by 3,000 VND, from 12,000 VND to 15,000 VND / 3km and kept the same price of 5,000 VND for each next km. At the same time, Gojek also increased the prices of all passenger services, delivery and delivery of GoFood food. The increase is from 1,000-2,000 VND compared to the previous one.
Some frequent moving customers said that the price of ride-hailing applications is no longer as cheap as it was a few years ago, especially when there were subsidies and promotions to attract customers.