In the market of SmartWatch today, the names of Apple Watch and Galaxy Watch must be no stranger to being developed by two technology giants, Apple and Samsung. But if you compare the two high-end watches, whether you will choose the Apple or Sam factions?
See more: Should choose Seiko or Citizen watches: Two opposing colors, two completely different styles!
Preliminary statistics
Before comparing the Apple Watch and Samsung Galaxy Watch, I did a small poll on the prestigious page on Facebook. After a few hours of posting, both polls produced unexpected results. Specifically, I created a small poll with the content "Should choose Apple Watch or Galaxy Watch" in the Genuine Android enthusiast community.
In the first vote, the majority of users voted for Apple Watch with 63 votes from users, while Galaxy Watch only achieved 42 votes. What is worth mentioning here is that this poll was posted in the group of users who love Android, but the majority still voted Apple SmartWatch. That is enough to show that Apple Watch brings a lot of sympathy and influence from Vietnamese users.
I continued to do another small survey "When buying a SmartWatch, what do you think the factors that influence the decision to buy a product?" After many hours passed, I had a very convincing result with 33 votes for the feature element. Prices and redesigns mean little to influence the decision to buy a SmartWatch.
So in the end, we should choose to buy Apple Watch or Galaxy Watch and why should we choose this product line? Find out right in the article below.
Brand value
The first factor we need to mention is brand value. During the past several years, Apple and Samsung have been the major players in the world technology industry and dominated many different fields. However, Samsung still has not been able to outperform Apple in terms of brand value, as the giant from the Americas has dominated the global brand value rankings for 8 consecutive years.
Typically, after the end of 2019, Apple still leads the list of the top 100 most valuable brands on the planet with more than 234 million US dollars (USD) published by InterBrand – the global brand rating organization. Meanwhile, Samsung is still outside the top 5 with a brand value of more than US $ 61 million (USD).
To rank and evaluate the brand, InterBrand relied on a list of criteria such as transparency, governance, commitment, feedback, interaction, differentiation, consistency, competition and ability. create loyalty. This is also the 20th year InterBrand has announced this list.
Talking about technology and specifically the SmartWatch segment, Apple Watch was first introduced in September 2014 after the launch of the iPhone 6 and until April 2015 was officially sold. Since then the Apple Watch has become an indispensable device on the wrist of every iPhone user.
It was not until August 2018 that Samsung officially launched the Galaxy Watch with more advanced technology than the previous SmartWatch Gear line. So, we choose Apple Watch or Galaxy Watch here?
Evaluation of the design
Throughout the years, Apple Watch and Galaxy Watch have always been two prominent names in the smartwatch segment in the technology market. However, the popularity of Apple Watch is marginally better thanks to the sophistication but full of elegance in outer style.
The Apple Watch has a traditional square face design with a screen that is about 30% larger due to the reduction of the surrounding edges. From the first to the fifth generation, the Apple Watch has a distinctive design style that makes it easy to identify with just a glance. The Galaxy Watch, meanwhile, follows the original design with a round face, adding a mechanical watch face with a depth effect.
Products from the Apple home are made up of a combination of exquisite Digital Crown buttons with tactile feedback and menu buttons. For Galaxy Watch, this watch has 2 Home and Back buttons. However, few people use the Back button on the Galaxy Watch because the Home button is too handy already.
I don't know how you think, but I like the design of the spin button on Apple that makes it special and attractive. As for the Galaxy Watch, it seems the Korean giant only prefers a style that is the simplest and easiest to get used to.
I personally prefer the design of the Apple Watch series thanks to the distinctive style that has been through the models for years. Apple does not seem to want to change this design, because this factor makes the Apple Watch different, unique and attractive. What do you guys think?
The Apple invests in a well-planned feature
Both the Galaxy Watch and Apple Watch have calling features when they are connected to the user's phone via Bluetooth. The Phone app on Apple Watch and Galaxy Watch looks quite similar to the app on iPhone and Samsung Galaxy.
As a SmartWatch, of course, Apple Watch also owns all the features of a regular smartwatch such as: Monitoring heart rate, stress level (stress level), counting steps, receiving notifications, weather, positioning, .. Thanks to the built-in electronic heart rate sensor, the watch has been able to deliver more accurate results, helping to detect abnormalities as well as early cardiovascular diseases, Protect a healthier heart.
Particularly on the Apple Watch Series 5, there is an Always On Display feature – something that did not exist on the Apple SmartWatch line, although this feature has appeared on other SmartWatch products. In normal mode, the screen will show full brightness and when you put your hand away or do not operate immediately, the screen will automatically change the light tones to black tones, the motion effects will no more.
Speaking of interfaces, the Apple Watch has a honeycomb-like interface with lots of interesting and useful applications. On Apple Watch, it is fully integrated with applications for making calls, listening to music, entertainment, surfing the web, … Especially in the Apple Watch series, it also integrates both camera and mobile phone photography. .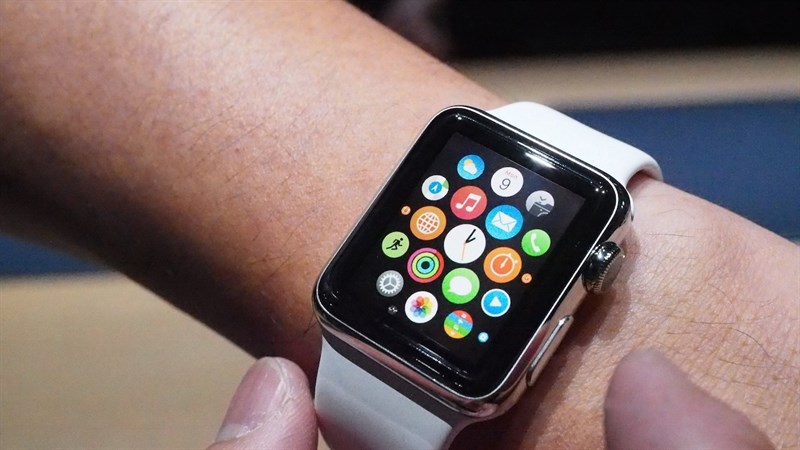 Regarding Samsung products, Galaxy Watch models are equipped with simple but sophisticated OS TIZEN operating system. Like other smartwatch devices, these devices are supported with all features such as: Sleep monitoring, Heart rate measurement, Calories consumption, Counting the number of steps, Counting the running distance, Mode practice,…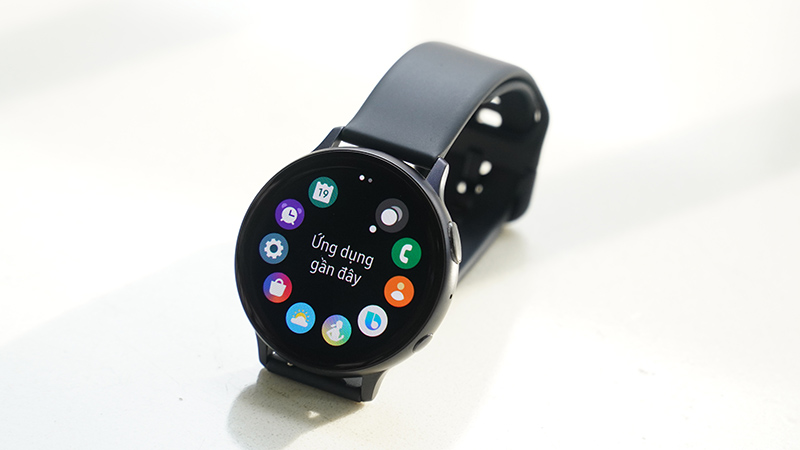 Especially in Galaxy Watch Active 2, not only is the call recognition not only the device but also allows you to dial and make phone calls easily. No need to attach additional SIM cards, all you need to do is connect Bluetooth to your phone and you can use the watch as a second communication tool.
In addition, a few other useful features include: Alarm, Listen to music with Bluetooth headset, Reject call, Weather forecast, Stopwatch, Watch face, Find phone, Call Bixby, View The calendar is also available on Active 2.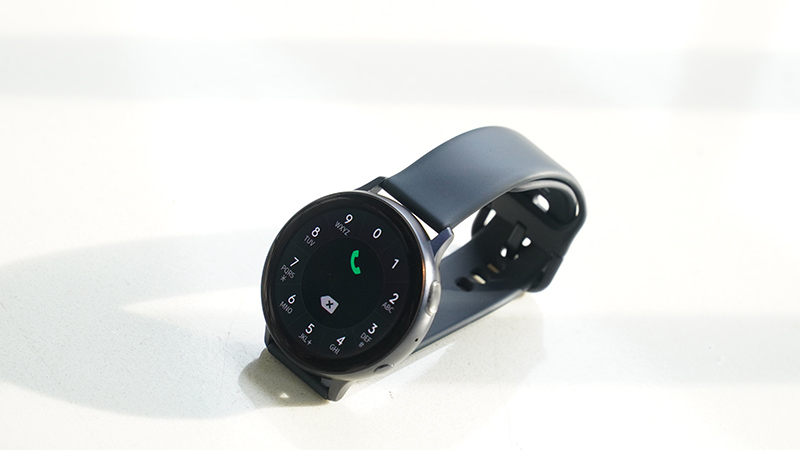 Price difference
In general, the prices of these two product lines are much different and will cause you a headache when choosing. Specifically, the latest products are Apple Watch S5 (the most advanced product) of Apple with genuine prices as follows:
44 mm aluminum Apple Watch S5 + rubber bands cost about 16 million (with LTE) and 13 million (GPS only).
42 mm aluminum Apple Watch S5 + rubber bands cost about 15 million (with LTE) and 12 million (GPS only).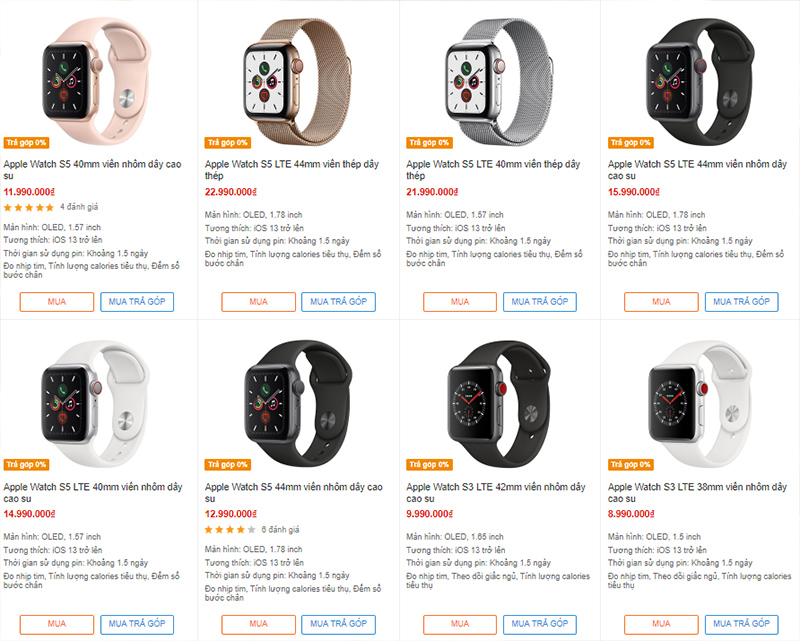 Meanwhile, the most advanced version is Samsung Galaxy Watch Active 2, which has genuine prices as follows:
Samsung Galaxy Active 2 44 mm aluminum + silicone cord costs about 9 million (with LTE) and 7.2 million (GPS only).
Samsung Galaxy Active 2 20 mm aluminum + silicone wire costs about 8.5 million (with LTE) and 6.7 million (GPS only).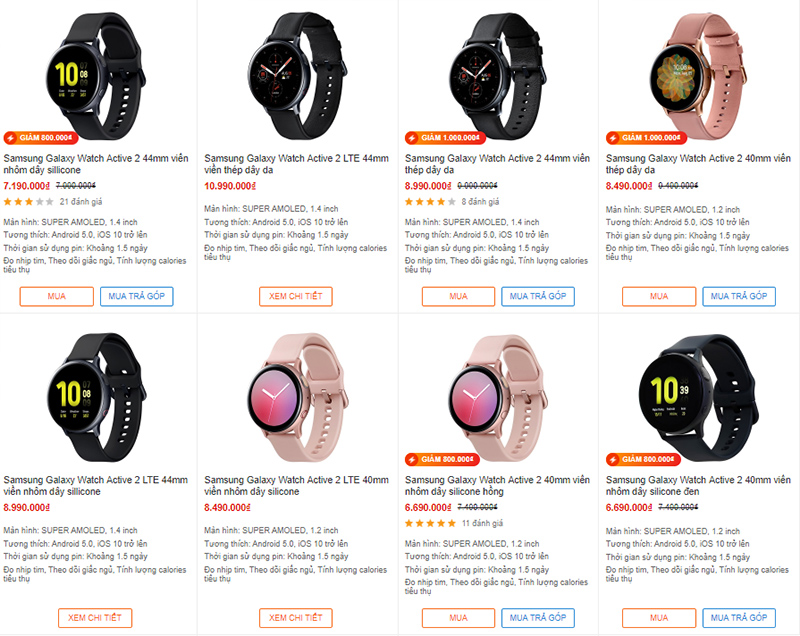 In addition, we will have more advanced versions made of steel, leather strap and have a higher price. Let me tell you easily, the price above is the genuine price at large retail stores, but if you choose to buy a laptop, it will be much more affordable.
Through the small statistics above, I want to show you the difference in price of these two product lines and specifically, the Apple watch line has a higher price. Understandably, Apple's brand value is large, the design is unique and has a richer interface, so the majority of users still choose Apple Watch over Samsung Galaxy Watch.
If given the option, I would still choose the Apple Watch, although it is a bit expensive. What do you think about the Apple Watch and Galaxy Watch? What are your options when deciding to buy a SmartWatch? Leave your comments below and let me know.
See more:
Should choose Seiko or Orient watches: The story of eternity is not own!

In your opinion, should we choose mechanical watches (Automatic) or electronic watches (Digital Watch) here?
Edited by Vuong Gia Bao
Not satisfied with the article
158 views
Related posts
How to force boot, restore and enter DFU mode on every iPhone


3 hours ago

This is how iOS 14 version leaked and circulated many months before its official release


11 hours ago

Unexpectedly, iPhone sales in China soared in April, iPhone SE 2020 contributed significantly


11 hours ago

Apple has transferred part of its production activities to Vietnam, this is evidence that AirPods Pro is manufactured in our country.


1 day ago

Rendering image of Samsung Galaxy Note 20 design, large screen and back camera like S20 Ultra


2




1 day ago

Besides iOS 13.5, Apple did not forget to release the new version of iOS 12.4.7 for old iPhone and iPad devices to improve security.


1 day ago
.