The new report on "mobile phone value amortization" has just released shows many interesting findings when comparing between phones using Android and iOS operating systems.
Specifically, in 24 months, the top Android mobile devices have lost twice the price of the iPhone.
But after four years, the gap narrows slightly, with iPhones losing an average of -66.43% of the original acquisition value, compared with -81.11% for Android.
On average, Android devices that start at $ 350 or less lose half of their exchange value in just one year. Owners of popular low-cost smartphone brands such as Samsung, Motorola, LG, HTC and Google lost on average -52.61% of their commercial value in 2019-2020.
The findings appeared in a report by commercial website BankMyCell, after tracking the value of 310 devices resold from multiple vendors. The report finds smartphones that are more likely to reduce resale value by brand, model, and operating system.
iPhone and Samsung
The report said 9 months after the release of the Samsung Galaxy S20 Ultra, the acquisition price was -64.71% of the original retail value. For comparison, in the same 9-month period since its release, the iPhone 11 Pro Max only lost -32.22% of its original retail value.
But things didn't always go well for Apple, iPhone SE 2020 did not follow the average drop of -16.70% in the first year. Like low-end Android devices, iPhone SE 2020 loses an average of -38.32% of its resale price in 8 months.
Low-segment Android devices with a retail price of $ 350 or less will lose an average of -52.61% of their resale value in the first year, -73.61% second year, -85.15% for the third year and -94.90% in the fourth year.
The most common example is the Samsung A50, which lost -79.94% of its exchange value between March 2019 and December 2020. Another example is the Motorola G7 series, which lost -79.17% of its exchange value in nine months in 2019, followed by an additional -61.97% between January and December 2020.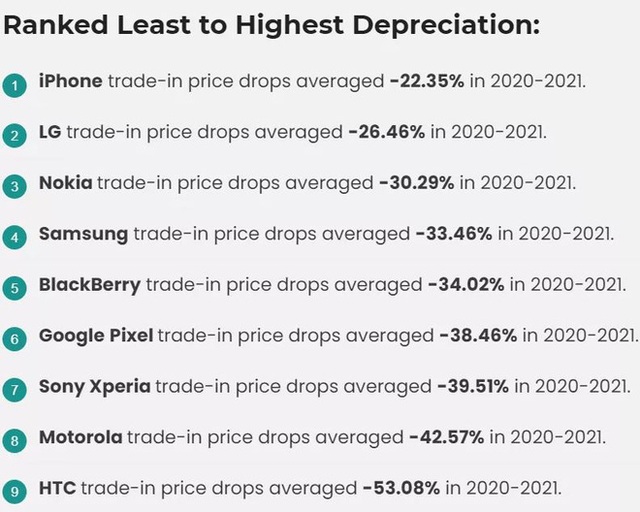 Google Pixel phones are down an average of 40.17% in a year
Consumers who own one of the top 10 most-traded Google Pixel phones in 2020 lose an average of -40.17% of the device's value over the 12 months, the report says.
By 2020, the average commercial drop in value of all Google Pixel phones will be -38.46% across all models and memory sizes. Google's Pixel 4 and 4 XL lost $ 154-163, which is quite significant with their initial transaction values ​​ranging from $ 380 to $ 490 in January 2020. Google Pixel 4 and 4 XL 2019 made the top 10 highest depreciation list too, -40.06% Pixel 4, -34.64% Pixel 4 XL.
As well as being on the list of highest loss of value in general, Google Pixel 4 and 4 XL in 2019 are in the top 10 list of phones with the highest depreciation, -40.06% with Pixel 4 and -34.64% with Pixel 4 XL.
HTC devalues ​​the most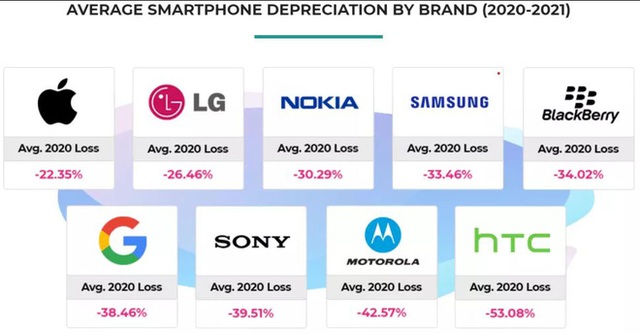 The report tracked the discounts of nine popular phone brands to see which ones lose the most in 2020.
The commercial selling price of HTC smartphones dropped by an average of -53.08% between January and December 2020. HTC U11 Life (2017) saw the highest drop, at -81.82%.
Motorola smartphones dropped an average of -42.57% between January and December 2020. Motorola G7 (2019) is the highest, down at -61.97%.
Sony phones dropped an average of -39.51% in the period from January to December 2020. Sony Xperia XA2 (2018) was the highest decrease, at -72.22%.
Consult Techradar