With the launch of 3000 Ryzen CPU series and CPU series Ryzen 2000 being discounted, AMD Ryzen Dominate the ranking of the best-selling CPU products on Amazon.
The newly released series of Ryzen 3000 CPUs has "flattened" the CPU market.
Returning to the market in 2017 with the Ryzen 1000 CPU line, AMD has had two years of positioning through two CPUs with Zen / Zen + architecture. Although there are obstacles in the way, but thanks to Intel's efforts, great prices, and mistakes in security, AMD Ryzen has gradually become a much-mentioned name in the technology world.
Now, with the introduction of the Ryzen 3000 CPU, AMD is determined to beat Intel on every aspect, at any price. And the ranking of best-selling CPUs of the famous online retailer Amazon is a testament to that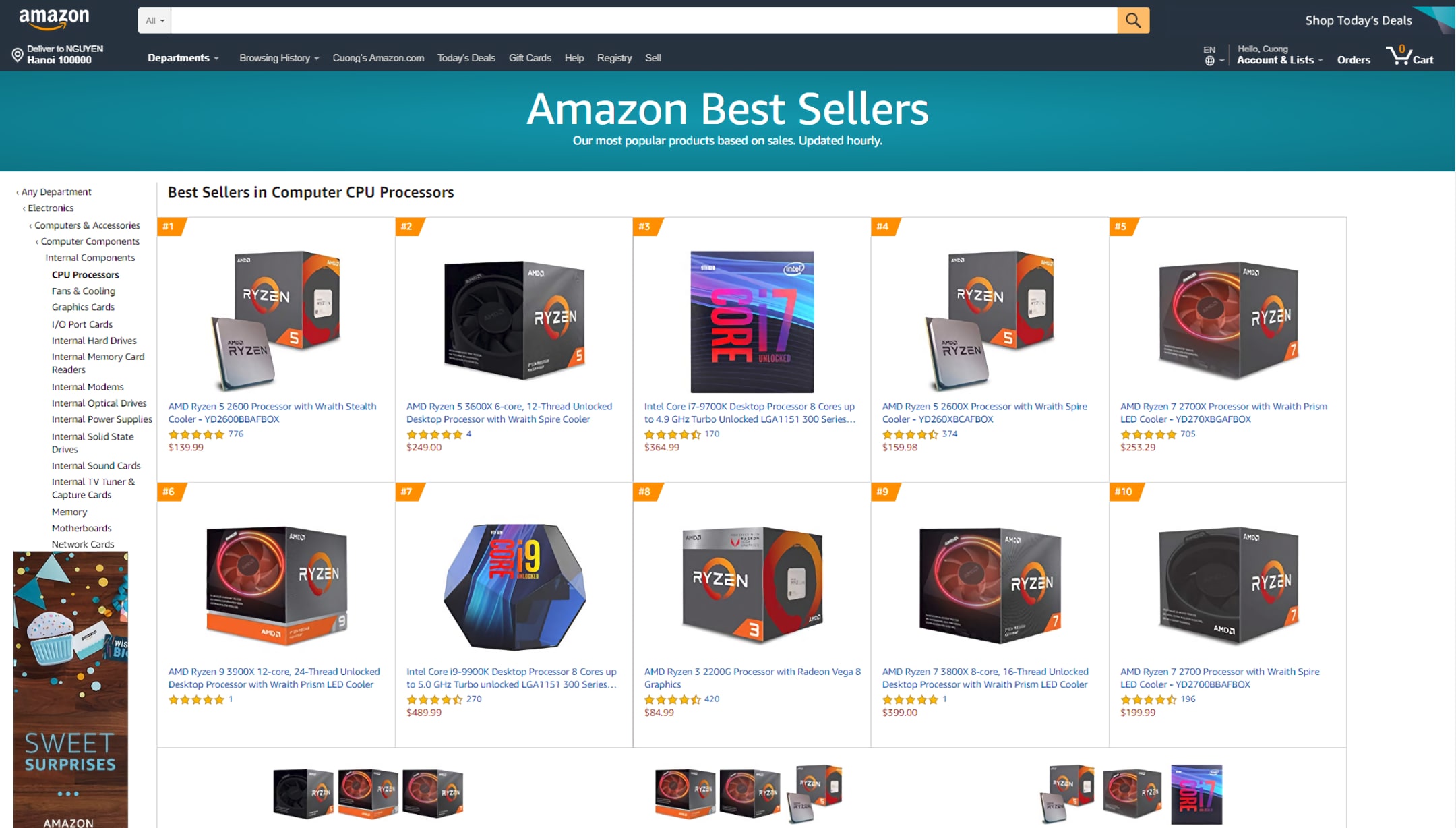 Some more information about these CPUs is as follows:
Location
CPU name
Real / virtual core number
Basic clock / boost (Ghz)
Memory L3 (MB)
Number of PCIe lanes
TDP
first
Ryzen 5 2600
6/12
3.4 / 3.9
16
PCIe 3.0 x 16
65W
2
Ryzen 5 3600X
6/12
3.8 / 4.4
32
PCIe 4.0 x 24
95W
3
Core i7-9700K
8/8
3.6 / 4.9
twelfth
PCIe 3.0 x 16
95W
4
Ryzen 5 2600X
6/12
3.4 / 3.9
16
PCIe 3.0 x 16
65W
5
Ryzen 7 2700X
8/16
3.7 / 4.3
16
PCIe 3.0 x 16
105W
6
Ryzen 9 3900X
12/24
3.8 / 4.6
sixty four
PCIe 4.0 x
  24
105W
7
Core i9-9900K
8/16
3.6 / 5.0
16
PCIe 3.0 x 16
95W
8
Ryzen 3 2200G
4/4
3.5 / 3.7
4
PCIe 3.0 x 8
65W
9
Ryzen 7 3800X
8/16
3.9 / 4.5
32
PCIe 4.0 x 24
105W
ten
Ryzen
  7 2700
8/16
3.2
  / 4.1
16
PCIe
  3.0 x 16
65W


Tentacle Bunny