The US Department of Energy has just released information about the world's fastest supercomputer in 2021. This supercomputer will be called Frontier, by chip designer AMD and supercomputer manufacturer. Cray computer for the Oak Ridge National Laboratory in Tennessee, with a processing power of more than 1.5 exaflops.
The Frontier supercomputer is expected to be used in areas such as nuclear and climate research.

The fastest supercomputer render in Frontier world, developed by AMD and Cray.
Energy Minister Rick Perry said, Frontier with record performance will help the US rise to lead the world in science, improving the lives and economic prosperity not only of the US but also of the world. In addition, Frontier provides world-class data and computing resources to American researchers that accelerate innovation in AI, ensuring the next major invention is made in the United States.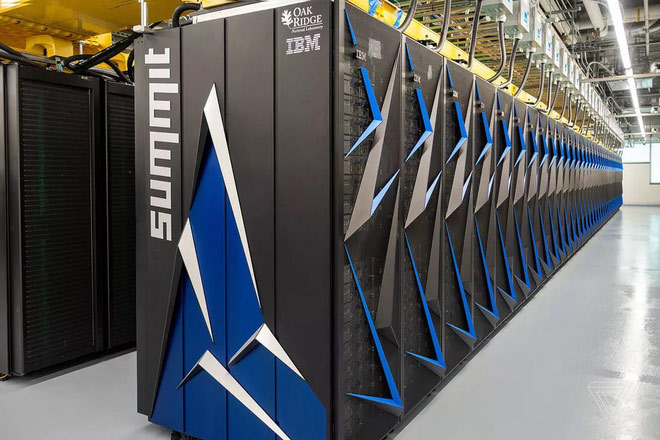 Summit, the fastest supercomputer in the world today, is also located at Oak Ridge National Laboratory.
AMD says the Frontier is giant (the equivalent of two basketball courts) and holds 90 miles of cable. Frontier's processing power equates to 160 of the fastest supercomputers of the next generation combined. It can process 100,000 HD movies per second thanks to 24,000,000 times the bandwidth of the average home Internet connection.
Frontier is a "Exascale computing – a concept that talks about the ability to process at least 1 exaFLOPS of a computer system, ie 1 billion billion calculations per second" that the United States is currently making. The Department of Energy previously announced a similar project earlier this year, the Aurora supercomputer built by Intel and Cray. Aurora is located at the Argonne National Laboratory and it will become the first exascale supercomputer in the US, but in terms of processing power it cannot catch up with Frontier.

New American supercomputer.
However, even if the United States completes these machines, it does not mean that America will rise to become the leading computing power. Because China also plans to build the exascale supercomputer and will go into operation in 2020, a year ahead of the US. Currently, China is home to 227 of the world's fastest computers, more than 2 times more than the US (109 units).
.