Sold in the high-end segment, Huawei MateBook 14s gives users a high level of use value for money. The new version of the device brings upgraded points compared to the original, including a new generation keyboard, a screen with a 90Hz refresh rate and improved fast charging performance. Can these strengths help Huawei MateBook 14s compete on par with other laptop models in the same segment? The answer will be in this article.
See more: Review Huawei MateBook D 15: Good build quality, fast performance
Huawei MateBook 14s Specifications
CPU: Intel Core i7-11370H
GPUs: Intel Iris Xe
RAM: 16GB
Memory: 512GB SSD
Screen: 14.2-inch 2520×1680
Size: 313.8 x 229.8 x 16.7mm
Mass: 1.43kg
Huawei MateBook 14s: Design
Slim body
Equipped with many connection ports
Minimalist design language
Huawei MateBook 14s is a laptop with a slim design. With a weight of only 1.43 kg, MateBook 14s possesses high mobility, allowing users to carry it around easily and conveniently. The screen of the machine is wrapped inside a thin bezel, giving the laptop a modern look.
The machine is equipped with a full range of connection ports, allowing users to work effectively with a variety of different peripheral devices. Specifically, on the right side of the body is a USB Type-A port, while on the left side of the body is equipped with a 3.5mm headphone jack, HDMI port, and 2 USB Type-C ports.
The version of MateBook 14s that we used in the review is called Space Gray, finished with the main color of silver gray. The machine has a minimalist and neutral design, suitable for professional office working environments.
In previous generation MateBook versions, the manufacturer moved the webcam to the body position. In this version of MateBook 14s, Huawei has brought the webcam back to its original position, which is located on the top edge of the screen. This webcam placement allows Huawei to bring in infrared light technology to recognize users' faces.
Overall, the MateBook 14s is a laptop with very good build quality and finish, with the entire outer shell of the machine made from aluminum metal, giving it a solid feel in the hand.
Huawei MateBook 14s: Keyboard and touchpad
The new generation keyboard set has many improvements
Convenient power button cum fingerprint security
The keyboard sets of previous MateBook models are of high quality, providing a good experience during use. Building on that solid foundation, the manufacturer launched a new generation of keyboards with significant improvements. One of them is the 1.5mm deep key travel, allowing me to type for a long time without pressing the bottom of the button.
The device's touchpad is located just below the keyboard, with a spacious surface area. The surface of the touchpad is smooth, allowing me to easily control the mouse pointer to interact with different applications on the Windows 10 operating system.
Huawei MateBook 14s: Screen
Screen with 3:2 aspect ratio and 2.5K . resolution
90Hz . refresh rate
Powerful 4-speaker sound system
The display is one of the strengths of previous Huawei laptops, and the MateBook 14s is no exception.
The machine is equipped with a 14-inch diagonal touch screen with a resolution of 2.5K (2520 x 1680 pixels), providing sharp image quality that is superior to most competing laptops in the market. same segment.
The screen uses LTPS LCD panel instead of OLED, so this screen will not be able to display perfect black. But even so, the color reproduction of this panel is still very good, providing a good user experience.
Checking the screen's parameters through the SpyderX tool, we found that the laptop's screen is capable of displaying 100% of the sRGB color gamut, along with 77% of the AdobeRGB color gamut and 76% of the DCI-P3 color gamut. These indicators, although not comparable to those used for professional graphic design, are still enough to provide a good experience during actual use.
And similar to the recently released Huawei laptops, the screen of the MateBook 14s is split side by side in a 3:2 ratio. This means that the monitor will have a taller and more square appearance than traditional computer monitors. That may not sound very good, but in actual use, you will be able to see more of what is on the screen when working with different types of text.
The biggest upgrade point of this screen compared to previous generations is the ability to support 90Hz refresh rate. High refresh rate display technology has now become extremely popular in the smartphone market. But for the laptop market, this technology is usually only applied to gaming laptop models.
Huawei MateBook 14s: Performance
Intel H-series Core i5 or i7 . chip
Get up to 16GB and 1TB of RAM and internal storage
No discrete graphics card option
Intel Evo Certified
The version of the machine we used in the review is equipped with a Core i7-11370H chip with speed performance. The MateBook 14s has a maximum amount of RAM and internal memory of 16GB and 1TB, respectively.
Testing the machine's overall performance level with Geekbench 5, the MateBook 14s achieved a multi-core performance score of 5966. This is an impressive number, and will give users a smooth and comfortable user experience. stability.
MateBook 14s has very good heat dissipation performance. During our work, the laptop was able to maintain its optimal level of performance and not experience thermal overload.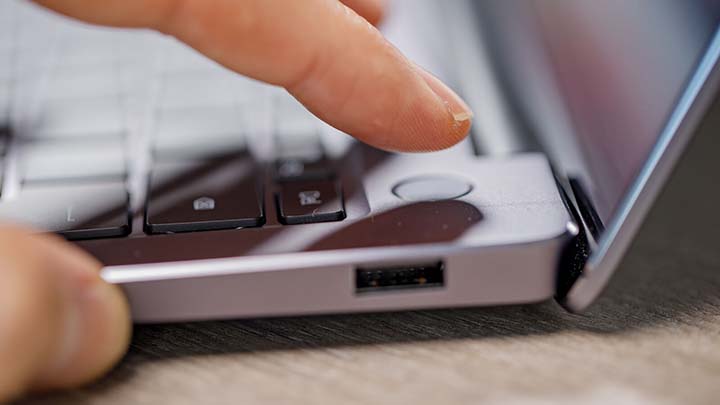 Huawei MateBook 14s: Battery life
Abundant battery life
Fast charging speed with power up to 90W
MateBook 14s is equipped with a battery with a capacity of 60Wh, which gives users a relatively long battery life, provided you do not use the machine to play games. In our battery life test, the laptop lasted 13 hours and 18 minutes after continuously surfing the web over wifi, with the screen brightness set at 150 nit.
And yet, MateBook 14s also owns an impressive charging speed, with a fast charging capacity of up to 90W. During actual use, the laptop can recharge 57% battery life after only half an hour. This is an extremely impressive charging capacity, and the fastest in the price segment.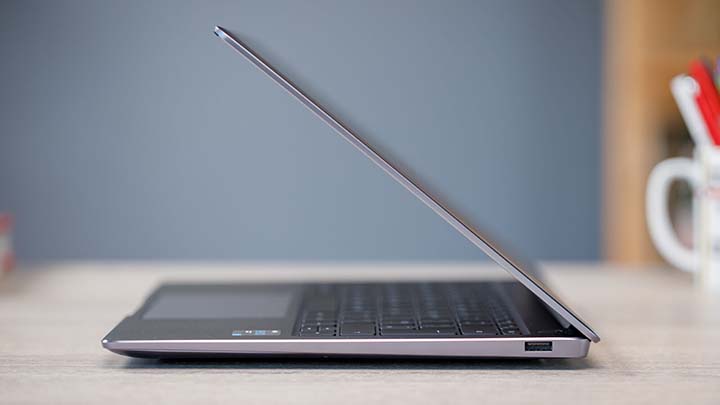 Huawei MateBook 14s: Software
Pre-installed Windows 10
Upgradable to Windows 11
Supported smart sharing features with other Huawei technology devices
You may have heard about Huawei phones not being supported by Google, but don't worry because its laptops don't have those problems.
The machine comes pre-installed with the full version of Windows 10 operating system and is not restricted in any way, including Google services.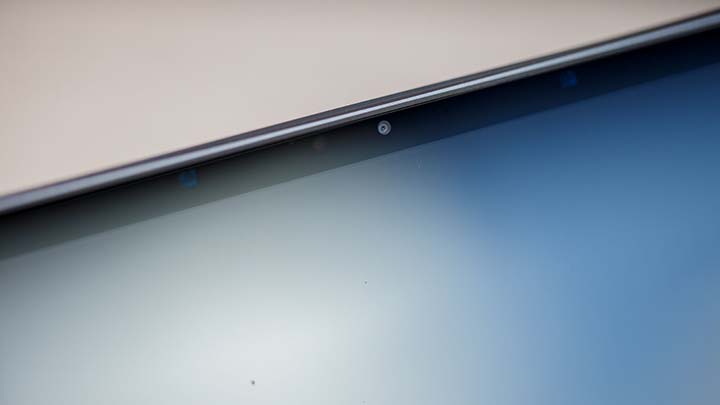 summary
Huawei MateBook 14s is a significantly upgraded version of its previous laptop lines. The new version of the device brings improvements in design, performance levels, and the keyboard experience. The MateBook 14s gives users an all-round level of performance without any major weaknesses. If you're looking to buy a reliable work laptop, the MateBook 14s will be an option worth considering.
See more: Huawei MateBook X Pro review: Is it enough to replace the MacBook?
Plus mark
Modern design, good build quality
Comfortable keyboard
Sharp 2.5K screen
Speed ​​performance
Equipped with many connection ports
Long battery life, fast charging speed
Minus point
Thunderbolt 4 connectivity standard is only supported in the highest configuration versions
The resolution of the webcam is only 720p