September 17) The 2020 Yunqi Conference opens online. This is the first time the Yunqi Conference has been held online. Alibaba cloud gaming platform PaaS1.0 was officially unveiled. Alibaba's cloud gaming team stated that it will fully invest in "new infrastructure" to support industry innovation.
Zhuang Zhuoran, vice president of Alibaba Group, said that cloud gaming will become the main scene of personal consumption in the 5G era. "What PaaS 1.0 has to do is to set up a platform for industry partners and deepen the infrastructure and underlying system software for cloud gaming. Technology and application scenario technologies, integrating ABB's e-commerce, financing, services, content and other Internet applications, are connected to the new digital consumption scenario of cloud gaming."
Cloud gaming refers to the way that the game runs in the cloud, and the rendered image is compressed and transmitted to the user through the network. The user will get rid of the dependence on the hardware, and "play anytime, anywhere", thus bringing a new game experience and a new round Consumption upgrade. After Google launched its cloud gaming platform Stadia last year, Microsoft's cloud gaming service was officially launched recently.
According to reports, the Alibaba Cloud Game PaaS 1.0 platform is a PaaS ("Platform-as-a-Service") platform for game developers, distribution channels, game engines, terminals, operators and other partners. With "high coverage, high stability, high performance", "low access threshold, low start-up cost, low use cost" and other "three highs" and "three lows" technical and ecological advantages, combined with a number of preferential measures to help partners improve Develop cloud gaming business faster and at lower cost. Manufacturers do not need to purchase servers on their own, and flexible billing methods will greatly reduce the threshold for innovation. Alibaba said that the cloud gaming platform will also promote the birth of more high-quality original national tide games.
Alibaba Cloud also released the first cloud computer "No Shadow". "Wuying" can do things that computers can do, and can also do things that computers cannot sit on. In the future, everyone will have their own computer in the cloud. According to reports, "Wuying" is a "supercomputer" that lives on the cloud. There is no host locally, nor can you see the shadow of the computer's CPU and hard disk. All hardware devices are concentrated in the cloud data center. Users only need a C-Key the size of a business card holder to unlock nearly infinite computing power.
Zhang Jianfeng showed at the release site that he can access cloud computer services after booting and logging in with his fingerprint on a C-Key the size of a business card holder. Just connect a screen, you can enter the dedicated cloud computer desktop, access various applications and files, perform design modeling, animation rendering and other operations. "Wuying" supports unlimited expansion, and single application resources can be flexibly expanded to 104-core CPU and 1.5T memory, which can easily cope with high-performance computing requirements.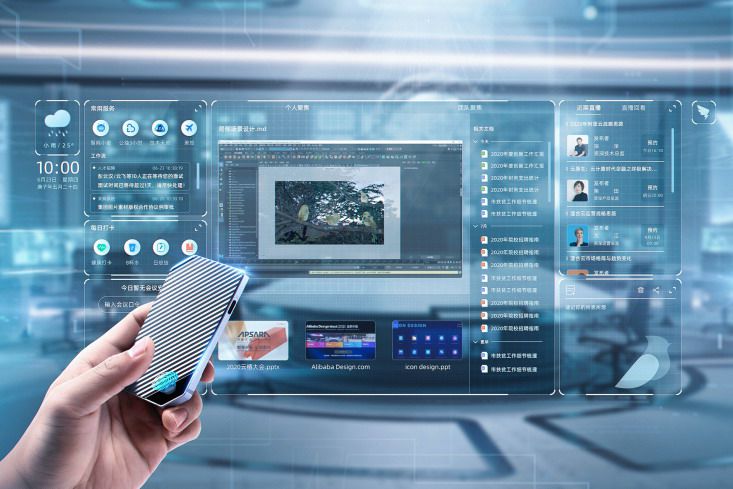 In addition, "Wang Ying" supports on-demand configuration performance, the price is half of the traditional PC under the same performance, and supports unlimited upgrades. It does not need to be eliminated and replaced every 3-5 years. All data of Wuying is stored in the cloud, and it is not afraid of computer loss or viruses. It enjoys the same level of security protection as Alibaba Cloud Data Center.
"Wuying" also uses Alibaba Cloud's self-developed "cloud streaming" technology, which can control the data downlink delay within 70ms under 2K 60HZ Blu-ray image quality. In the office network environment, the shadowless experience is very smooth. It is reported that Wuying is currently only available for sale in the corporate office market. In the future, services may be provided to individual users.
Source: Sina Technology
.