To celebrate the 10th anniversary of the Thai market, Honda has just launched a new scooter for women Honda Scoopy-i new version with extremely lovely wings. Originally, the Honda Scoopy was created by the Japanese automaker was a compact and round scooter model for the small stature now, the loveliness of this car has been increased to a lot of times. with a version designed by the character of Kumamon.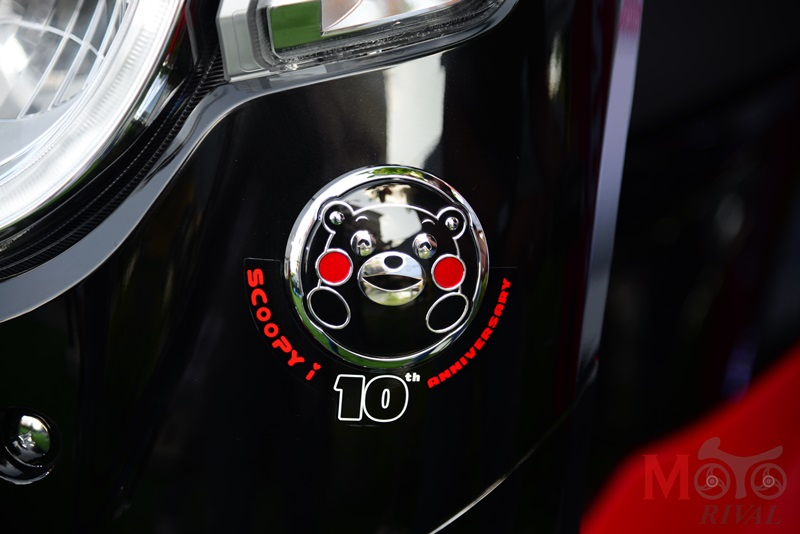 Kumamon character logo on the new Honda Scoopy
On the Honda Scoopy version of this Kumamon, the whole frame of the car is covered with a paint color with 2 main tones of red and black. This is also the color of the incarnation of the character Kumamon – the bear "PR" of Kumamoto prefecture in Japan was born in 2011.
Honda Scoopy-i Kumamon debuted in Thailand
The appearance of the character Kumamon on Honda Scoopy was designed and implemented by the Japanese automaker very smoothly when the "brand" face of this bear is present from the front fender, mask logo as well as the body. . In particular, in the body plastic frame, Kumamon's eyes are also replaced by the 2 o letters in the name of the car that is reasonable and prominent.
The strange logo of Honda Scoopy Kumamon version
The scooter for women is equipped with Honda's familiar 110cc eSP engine block with Idling Stop, brake with CBS and convenient USB charging port on a 15.4 liter fuel tank located. under saddle.
It is known that the Honda Scoopy-i Kumamon version will only be produced limited to 5,000 units worldwide and has a suggested price of 54,200 Thai Baht (equivalent to about 41.4 million).
Kuro
.