Karim Benzema and Ferland Mendy were found to defame teammates Vinicius in the 2-2 draw at Gladbach this morning. This conversation was quickly spreading at a dizzying speed.
A bad story between the group of Real Madrid players recently revealed by Marca can make many fans of this team unable to stop thinking. Especially in the context of the team is showing signs of instability.
Specifically, during the break between Monchengladbach vs Real Madrid, striker Benzema came forward and "whispered" some problems in the first half with defender Ferland Mendy. According to Benzema, Mendy should refrain from passing to Vinicius – the main character in the short conversation of two French stars. The reason that Benzema gave was simply because Vinicius played so badly.
"You stop passing the ball to Vinicius. He kicks it as if he wants to fight us." – Benzema told Mendy.
This entire conversation was recorded by a camera in the tunnel. Immediately, the experts who read the aperture took part and gave the above-mentioned content.
Back in the match, there was reason for Benzema to complain about his young colleague's performance playing next to him. Vinicius had a harmless 70 minutes at Monchengladbach, before leaving the field to make way for Eden Hazard. This match, Real Madrid has "escaped death" thanks to two last-minute goals from Benzema and Casemiro. Apparently the Royal Spanish team are having problems both on the pitch and in the dressing room.
A few days ago, midfielder Isco was also exposed by the press about the conversation he told the Real reserve star in the La Liga 7th round defeat of Barcelona. Unlike Benzema, Isco's target is the captain of the team, Mr. Zinedine Zidane.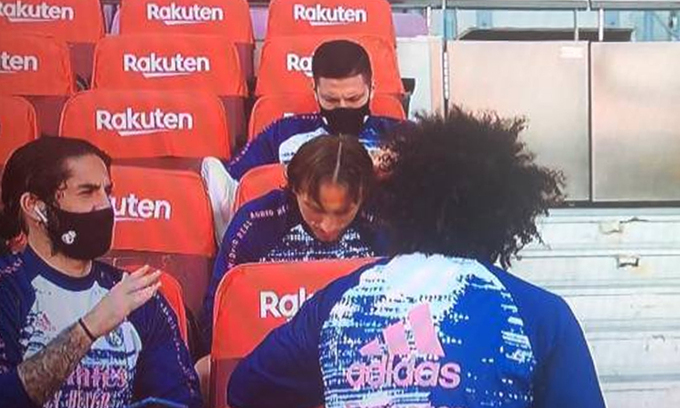 The Spanish midfielder has complained to teammate Modric that the French coach always uses him until only 50 or 60 minutes of the match (if Isco plays from the beginning). In the case that he was on the bench, coach Zidane would just send him into the field when the clock turned 80 minutes.
Real Madrid are going through a series of poor matches, with only one victory after the last four games, including two defeats. Currently, in the Champions League arena, Zinedine Zidane's army has not been able to find a victory after the defeat against Shakhtar Donetsk and this morning's draw at Monchengladbach.
Real Madrid does not know the winning smell in the Champions League
Shakhtar Donetsk created a seismic force that pulled the Madrid fortress down
Winning Super classic, Zidane was still slandered by his student
.



tin