RedmiBook 15 is a laptop line in the low-cost segment released by Xiaomi. The device has 2 versions, including the Pro model that we review today and the E-Learning version with a lower configuration level. Xiaomi RedmiBook 15 Pro is designed to target office users. The machine is equipped with a 15-inch screen, 1080p resolution, 11th generation Intel Core i5 chip, 8GB of RAM and 512GB NVMe SSD.
See more: Dell Precision 7560 review: Peak performance, brilliant 4K display
Specifications of Xiaomi RedmiBook 15 Pro
CPU: Intel Core i5-11300
GPUs: Nvidia RTX A4000
RAM: 8GB
Memory: 512GB SSD
Screen: 15.6-inch, 1920 x 1080″
Size: 363 x 243 x 19.9 inches
Mass: 1.8 kg
Xiaomi RedmiBook 15 Pro: Design
RedmiBook 15 Pro owns a minimalist and neutral design language, suitable for all different working environments. Located on the lid is decorated by the Redmi logo, giving it a different appearance compared to previous Mi notebooks.
The outer shell of the machine is made entirely of plastic and has a smooth flat finish, providing a comfortable grip in the hand. The chassis area of ​​the RedmiBook 15 Pro is designed quite simply, with only one ventilation slot responsible for regulating the temperature of the internal components, plus 2 external speaker bands.
Despite being equipped with a 15-inch screen, RedmiBook 15 Pro does not look too bulky. With an overall weight of 1.8 kg, users can easily carry the laptop with them every time they go to work without much difficulty.
The machine has a pretty good build quality, with the details assembled together firmly. The pair of hinges of the machine has a moderate resistance, allowing me to open the laptop with just one hand.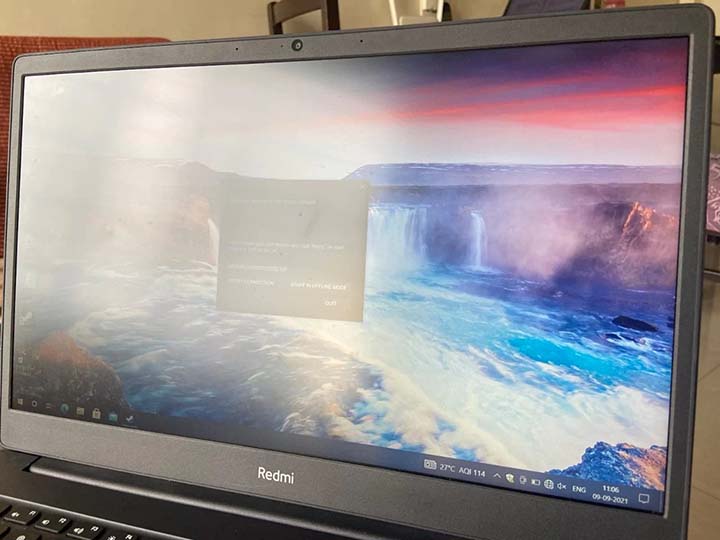 Xiaomi RedmiBook 15 Pro: Screen
RedmiBook 15 Pro is equipped with a 15-inch screen with a resolution of 1920 x 1080 pixels, using TN LCD panels. By default, the colors displayed on this screen are not too accurate, and there is a noticeable blue tint. And yet, through the testing process, the screen of the device also has a rather narrow color coverage, with the ability to cover 52% of the sRGB band and 37% of the DCI-P3 color range.
Due to the use of TN panels, the screen has a rather narrow viewing angle. The brightness of the screen is also not very bright, with the maximum brightness index being only at 170 nit.
The RedmiBook 15 Pro's screen offers a not-so-good overall visual experience. With the ability to cover the low sRGB color range, every image, movie and video will be somewhat reduced in terms of experience.
Xiaomi RedmiBook 15 Pro: Keyboard and touchpad
RedmiBook 15 Pro is equipped with a keyboard with a common layout and has additional function buttons including Page Up / Down, Home / End on the right edge. Many 15-inch laptop models on the market often try to put a numeric keypad on the body, but this makes the layout of the keyboard set become more cramped. Meanwhile, the keyboard of the RedmiBook 15 Pro has a spacious layout, providing a good experience during use. The keys of the keyboard set have deep travel and provide good bounce when pressed down.
The keyboard set of RedmiBook 15 Pro has only one minus point that is not equipped with a lighting system underneath, making the working experience in dark room conditions not very convenient.
The touchpad of the RedmiBook 15 Pro has a spacious surface size and is easy to use. The surface of the touchpad is not as smooth as the glass touchpads, making it a bit difficult to get hands on the surface. However, the touchpad of RedmiBook 15 Pro still has good performance and is very stable.
Xiaomi RedmiBook 15 Pro: Hardware
RedmiBook 15 Pro is equipped with Intel Core i5-11300H chip with a total of 4 cores and 8 processing threads, operating with a maximum clock speed of 4.4GHz. Graphics processing tasks are performed through the Intel Iris Xe instant GPU chip.
RedmiBook 15 Pro was released with only one memory version, namely with 8GB of 3200MHz DDR4 RAM and a 512GB M.2 NVMe SSD. Users can replace this SSD with another with a higher capacity, but cannot replace the RAM of the machine because this detail has been welded to the main by the company.
Located at the top edge of the screen is a webcam with 720p resolution. This camera has an acceptable image quality when used during video calls.
RedmiBook 15 Pro is equipped with 2 USB Type-A 3.2 Gen 1 ports on the left edge and 1 USB Type-A 2.0 port on the right edge. The machine is not equipped with any Type-C port, making this a big minus point for the product line when competing with other models. In addition, RedmiBook 15 Pro also has 1 HDMI 1.4 port with the ability to output images in 1080p, 1440p or 2160p resolution.
The remaining connection ports of the machine include a tube-shaped power port, a 3.5mm headphone jack, an RJ45 Gigabit Ethernet port and an SD card reader slot.
Xiaomi RedmiBook 15 Pro: Software
RedmiBook 15 Pro comes pre-installed with Windows 10 Home 64-bit operating system. For those who have never used notebooks manufactured by Xiaomi, the software experience of these models is completely opposite to that of its phones.
Basically, the machine runs on pure Windows operating system, and only a few Xiaomi applications are pre-installed. The list of pre-installed apps includes Microsoft Office, Mi Drop, Mi Service, Mi Support, Xiaomi Cloud, and DTS Audio.
Xiaomi RedmiBook 15 Pro: Performance
RedmiBook 15 Pro delivers a good level of performance for office and school work tasks. The machine's 4-core Intel chip has more than enough power to perform tasks such as surfing the web, editing documents and even playing videos at 4K resolution.
The machine's 8GB RAM capacity is more than enough to provide a smooth user experience when surfing the web or doing classroom tasks. The machine has good multitasking ability, allowing me to easily interact with 25 Chrome tabs without experiencing any lag.
The 512GB SSD has good performance during actual use. A high-speed SSD will make a big impact on daily performance, including application loading and fast booting.
The machine has not too high gaming performance because it is not equipped with a dedicated graphics card. The machine's Intel Iris Xe instant GPU chip can only play old games, or basic 2D games.
The machine has an acceptable heat dissipation performance. When performing basic tasks such as surfing the web or editing documents, the machine operates with a stable temperature and does not emit much noise. However, for tasks that require more processing resources, the machine will start to emit a fairly warm hand.
Xiaomi RedmiBook 15 Pro: Battery life
RedmiBook 15 Pro is equipped with a battery with a capacity of 3220mAh. This is a fairly common battery size for a laptop in this segment. According to the manufacturer, the battery life of RedmiBook 15 Pro is estimated to be about 10 hours. In our test, with the screen brightness set to 70%, the laptop lasted about 6 hours before shutting down completely.
summary
RedmiBook 15 Pro is a laptop with a pretty good configuration and fast performance for the money. The machine possesses a simple and modern design, suitable for different working environments. In addition, the laptop also has a good build quality and finish, giving you peace of mind when carrying the device with you during work. RedmiBook 15 Pro is a good choice if you are looking for a cheap, high-performance work machine.
See more: Review MSI GP66 Leopard: Modern design, top performance
Plus mark
Minimalist Design
Good performance for the money
Comfortable keyboard
Comfortable keyboard
Large touchpad
Minus point
The display is of mid-range quality
No keyboard backlight
No USB Type-C
Cannot upgrade RAM