With the current trend, it is clear that the gaming corner is no longer simply a place to sit down and immerse in the virtual world anymore, but this is a special place to express the owner's personality and preferences before all else. everyone. In order to help the gaming community be able to express their interests while playing games at home, during the complicated COVID-19 pandemic. Recently, Logitech organized "I choose PLAY AT HOME with Logitech G" to help gamers share their unique gaming angles to the gaming community.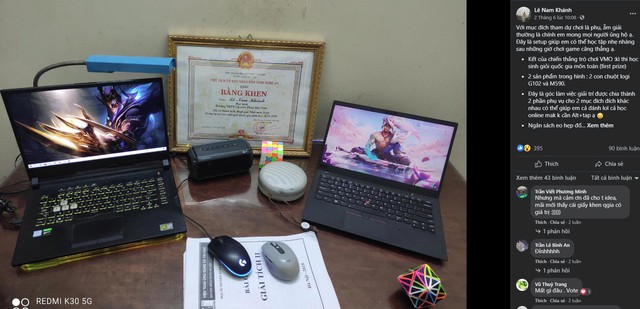 Specifically, held starting on May 31 in the Logitech G Official Community group, the event quickly attracted the participation of many gamers inside and outside the group. Everyone wants to share their unique gaming corner with the gaming community as well as win valuable prizes from the organizers.
And after nearly 15 days of organization, the event "I choose PLAY AT HOME with Logitech G" has been a great success with more than 150 posts participating in the event of the gaming community as well as the quality of the Posts of the Play @ Home time. This is also much better than Event 2020. The organizer, Logitech, has also announced the winner's award for this event, especially when the two biggest prizes belong to 2 gamers who won the National HSG selection contest. High school grades and first prize in National High School Mathematics 2019-2020.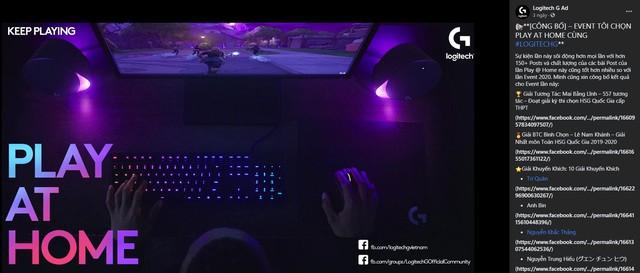 Specifically, the interactive prize belongs to gamer Mai Bang Linh, a young contestant of the contest and a winner of the National High School HSG exam in English. Because she is still a student, she cannot earn money to cover her passion, so Linh has a simple and gentle gaming corner including an Asus ROG G512 gaming laptop, an Xbox One controller and a special keyboard. Distinguish three mice Logitech G703 Wireless, Logitech G403 HERO, Logitech G333. It seems Linh is a gamer with a huge passion for Logitech mice.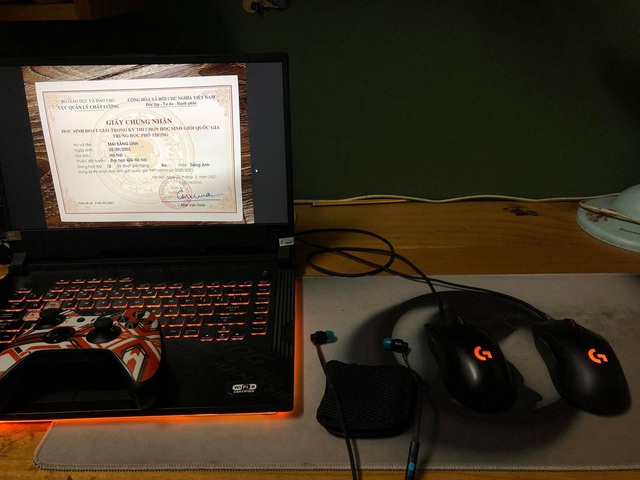 The prize voted by the organizers also belongs to a young gamer who studied well when he won the first prize in National HSG Math 2019-2020. Like the gamer Mai Bang Linh mentioned above, Le Nam Khanh also has a gaming corner to study and play with two laptops and funny Logitech mice. Khanh said his setup angle helps this gamer both study and play games after stressful school hours when Khanh has 2 laptops. Khanh owns two "national" Logitech mice, the G102 for gaming and the M590 for learning.
It can be said that learning is extremely important for gamers, but after those hours, those successes cannot be ignored, including hours of entertainment, both relaxing the mind and helping to train the mind. Brain.