Since these few weeks, Intel has been running a relentless marketing campaign to suppress Apple's Macs and to highlight the power of Intel-powered Windows laptops. But whether accidentally or intentionally, Intel has just used Apple's MacBook Pro to promote the Gen 11 chipth its "world's best processor."
This ad appeared on Reddit and was discovered and shared by user @juneforceone on Twitter. The advertisement shows a man wearing a headset and using a laptop with the title: "World's best processor for thin and light laptops". This image is used to advertise Intel Core i7-1185G7 chip.
It seems Intel's marketing department did not have enough time to take photos of the company's new product and decided to buy the image on Getty Images. Perhaps that is why despite choosing the right ad image, but what they did not expect turned out this is a MacBook Pro and the character in the picture is still using Apple's Magic Mouse mouse.
At this point of view, it can be difficult to see if this is an Apple MacBook Pro or a Windows laptop with a similar design, but if you look at the touchpad size and keyboard layout, it is easy to see here. is Apple's MacBook.
Moreover, Twitter users can find the full set of pictures on Getty Images with a full range of perspectives to make it easier for people to recognize this laptop.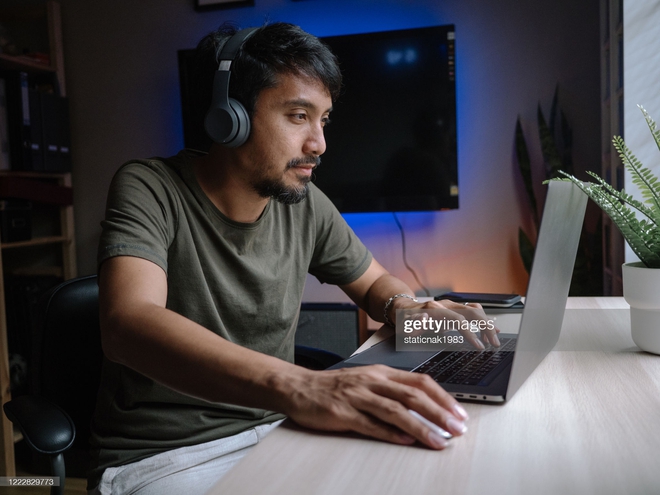 The full image is used by Intel to advertise the Core i7-1185G7 chip
Maybe if Intel chose to see the character in the picture lying on the couch to sleep, they wouldn't have noticed that they used the MacBook to advertise Intel chips.
Even though Apple is still selling Intel-based Macs in addition to the company's own-designed Macs, no MacBooks have been powered by Intel Gen 11 chips so far.th as advertised in the picture. In fact, this image appeared at the same time Apple launched a Mac with its M1 chip last year.
While Intel's marketing division is fighting Apple in the product marketing aspect, recently at the recent press conference, Intel's new CEO, Pat Gelsinger, said he hopes his company can. will be able to produce customized chips for Apple in the future when Intel is about to establish its own chip outsourcing division.
Refer to MacRumors