Although equipped with modern, "soft" selling prices, many people still consider Acura ILX not to have a breakthrough in design such as Lexus IS, Audi A3 …
Introduction of Acura ILX
Acura ILX is a car in the luxury sedan segment of the famous Japanese car company Honda Japan. Acura ILX was first launched in 2012, bringing with it a new design of Acura called "unified dynamics". Compared to Honda Civic, Acura ILX is equipped with Amplitude Reactive dampers, bigger and stiffer driving axles for flexible handling.
In 2016, Acura ILX introduced an upgraded version between the lifecycle. Vehicles using 2.4-liter i-VTEC engine combined with dual clutch gearbox. In 2019, Acura ILX continues to produce an impressive facelift with a new design language and a prominent "Diamond Pentagon" grille.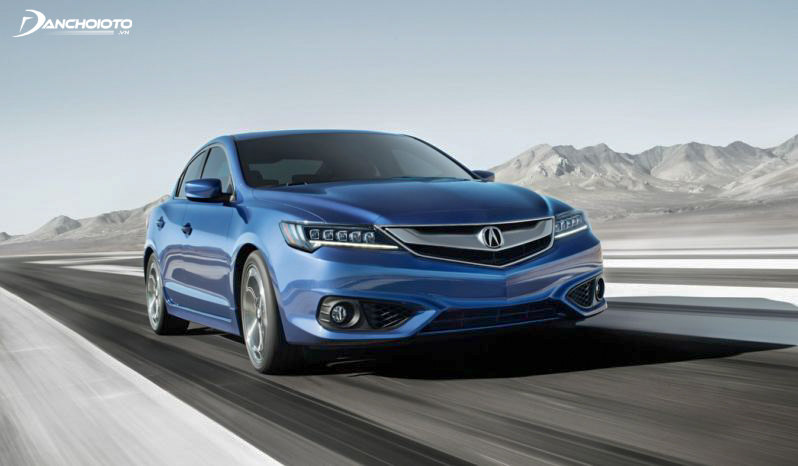 Acura ILX is in the luxury sedan segment
In the segment, Acura ILX has rivals such as Lexus IS, Audi A3, BMW 320i … However, the design has not really had many breakthroughs, Acura ILX is not appreciated as many of its rivals.
Review Acura ILX about exterior

Acura ILX exterior is designed according to Acura's new design language with the Acura Precision Concept idea. Acura ILX's exterior looks quite small but very subtle and sharp. Acura ILX evaluation of the exterior is somewhat softer and more luxurious than the old generation.
| | |
| --- | --- |
| Parameter size | Acura ILX |
| Length x width x height (mm) | 4,620 x 1,794 x 1,412 |
| Wheelbase (mm) | 2,670 |
| Ground clearance (mm) | 135 |
| Turning radius (m) | 5,6 |
| Tire size | P215 / 45VR17 |
Top car
The first part of Acura ILX review features a grille designed in a large pentagon shape. In the middle of the grille is an impressive large Acura brand logo. At the nose of the car there are cut lines and capo with floating veins running along to create a strong and muscular appearance for the car. The car's headlight system and LED nearly in combination with a LED positioning strip are located just below the headlights.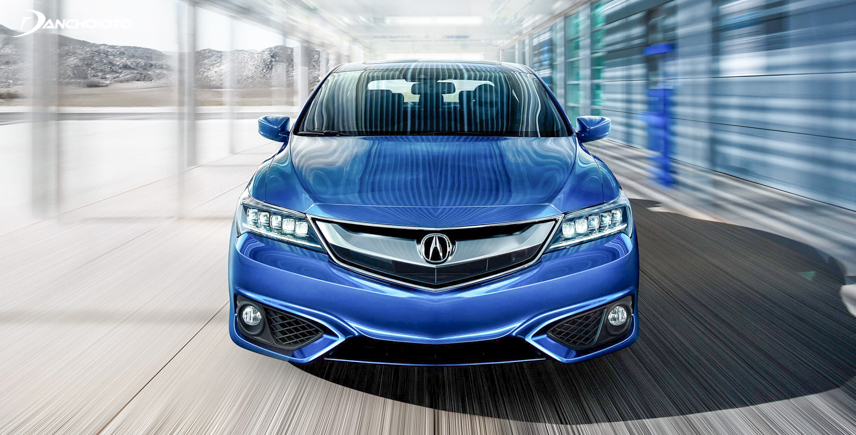 The head of the Acura ILX is strong and muscular with a prominent veins running along the capo cap
Vehicle body
The body of the car is noticeable with 17-inch wheels with luxurious shiny alloy material. Rearview mirror is designed in the same color as the body, with power adjustment / folding and has integrated turn signal.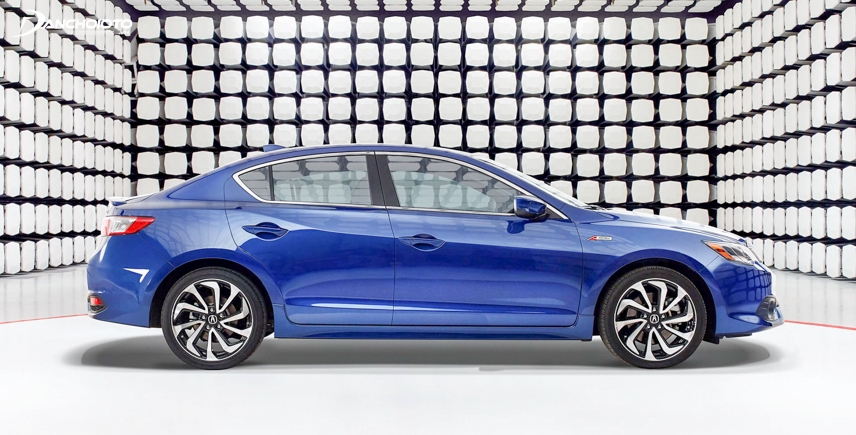 The set of 17-inch Acura ILX wheels accents the body
Rear
The rear of the Acura ILX attracts users by angular design. The small size spoiler and simulation diffuser in the tail make the car look sportier and more personality.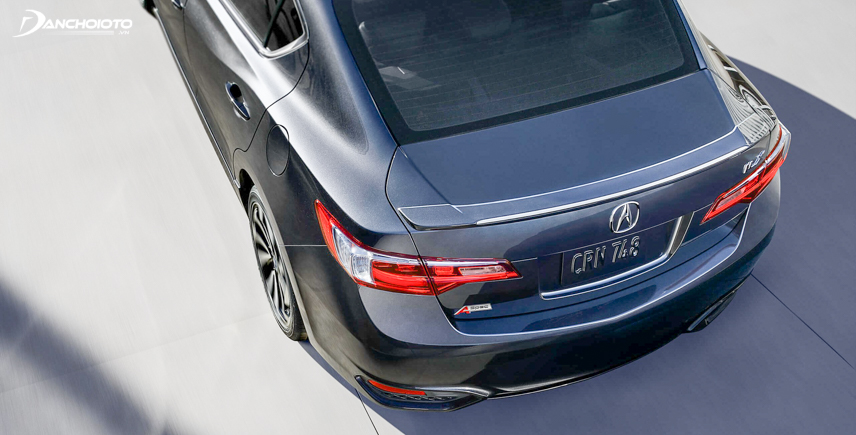 Acura ILX tail is designed angular and personality
Evaluate Acura ILX about furniture

Interior space
Acura ILX interior space is not changed much compared to the old version. Due to the compact size, the space is moderate, not too spacious. This is the disadvantage of Acura ILX in the interior compared to rivals. However, the car is equipped with many modern equipment and facilities.
The main color of the car is black for the regular version while the A-spec is red. The equipment on the car is arranged harmoniously, scientifically with high quality leather or suede. In terms of interior color, users can choose brown or red suede or add ebony materials. That helps users to easily control the car as well as increase the sophistication and elegance for Acura ILX interior space.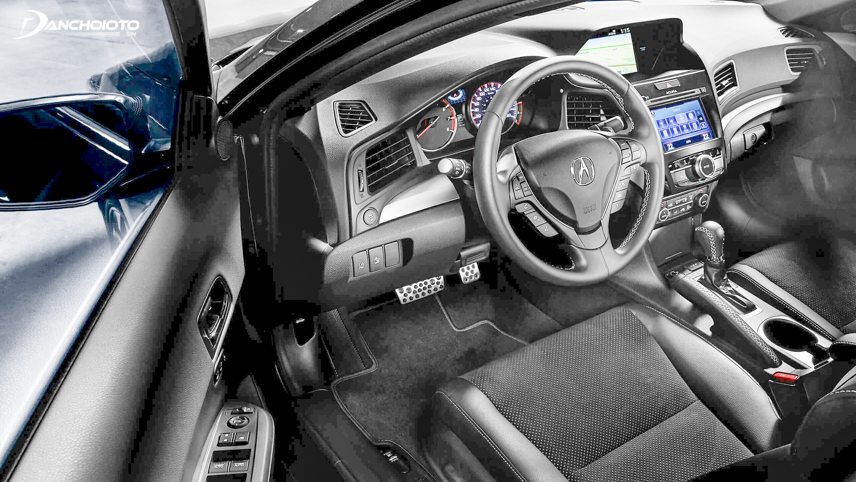 Acura ILX interior space is moderately wide compared to rivals
The seat system is redesigned compared to the previous one when the back of the seat can be adjusted to help the occupants get the most comfortable sitting position. Taplo tables are plated with chrome and shiny silver to create a luxurious, elegant part for the car.
Equipped with amenities
Acura ILX is equipped with many modern and advanced facilities. Entertainment system equipped on Acura ILX includes: 2 monitors with software update to display the intuitive menu, high-quality sound system, … With those equipment, Acura ILX receives quick feedback. and 30% more accurate than the previous one. Acura ILX is equipped with automatic air conditioning system and capable of fast, deep cooling. In addition, Acura ILX also features an automatic sunroof which creates a more comfortable and fresh interior space.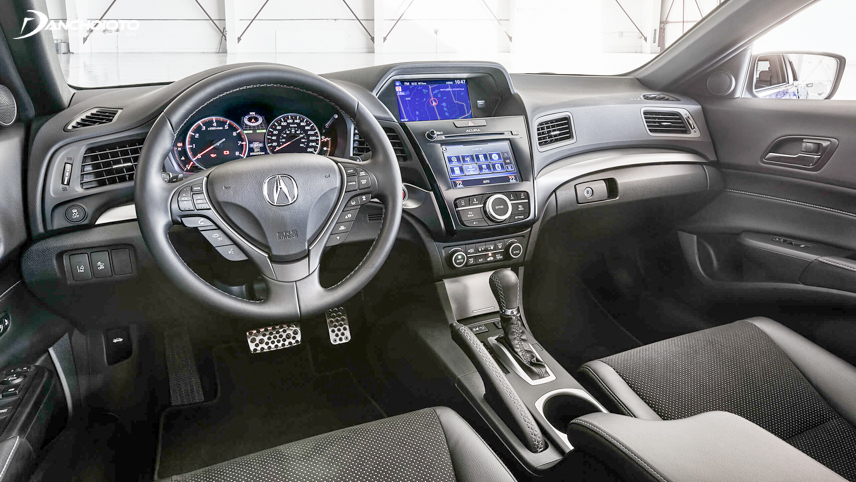 Acura ILX interior is equipped with many modern and advanced facilities
Acura ILX evaluation of engine / operation
Engine
Acura ILX is equipped with a naturally aspirated engine system. Consumers rate the engine power of the Acura ILX quite strong and enduring compared to rivals. Here are the Acura ILX specifications on the engine.
| | |
| --- | --- |
| Technical data | Acura ILX |
| Engine | 4 cylinders, 2.4 liter capacity |
| Max power (horsepower) | 201 |
| Torque (Nm) | 224 |
| Gear | 8-speed dual clutch gearbox |
Operate
According to users, Acura ILX has the ability to operate smoothly, smoothly and safely. Vehicles equipped with new suspension makes them run smoothly as true luxury cars. The soundproofing ability of the car is also relatively good so that people in the car always get a sense of tranquility and relaxation. In terms of fuel economy, Acura ILX is also appreciated when fuel consumption is low in the segment. Acura ILX consumes about 8.1 liters / 100km of mixed roads.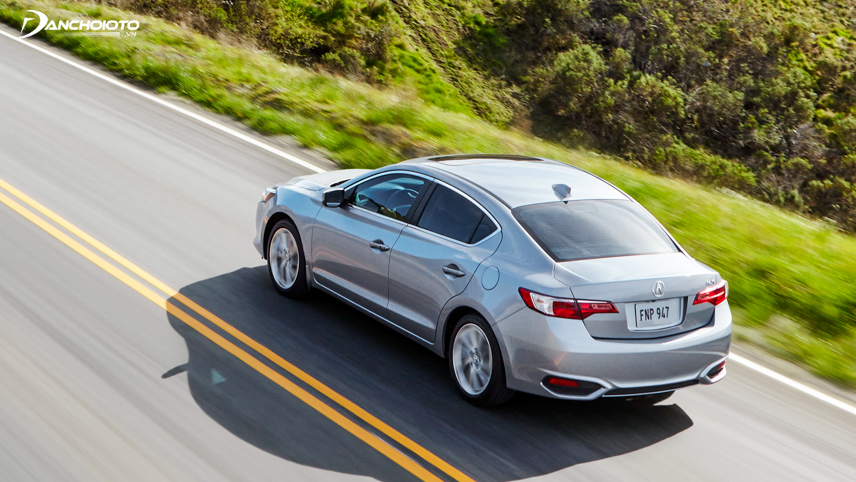 The operation of Acura ILX is smooth, smooth and safe
Evaluate Acura ILX for safety equipment
Acura ILX is equipped with many of its modern safety features. Compared to rivals in the segment, Acura ILX safety equipment is ranked average.
| | |
| --- | --- |
| Safety equipment | Acura ILX |
| Emergency brake assist | Have |
| Frontal collision warning | Have |
| Lane keep assist | Have |
| Adaptive cruise control | Have |
| Support acceleration and lane change warning | Have |
| Front and back camera | Have |
| Sensor warning blind spots by radar | Have |
| Safety warning and collision limitation | Have |
| Air bag | Have |
Acura ILX price how much?

Currently, the market for selling cars has sold many different versions of Acura ILX. Therefore, the price of Acura ILX will depend on the version. Specifically, the selling price of the Acura ILX price ranges from 28,940 – 35,930 USD. Compared to competitors in the same segment, the price of the Acura ILX car price is sold at a reasonable price.
The car is suitable for those who have a financial position, love the luxury, modern and high-class. At the same time, this sedan will be suitable for frequent travelers. Acura ILX is a new luxury car that is receiving a lot of attention from consumers. If you are looking to buy a cheap luxury sedan, the Acura ILX is a name to consider.
Phong Vân