Compared to the previous version of Acer Nitro 5 (NH.Q7RSV.002), Acer has continued to launch a new version of the same name Acer Nitro 5 (NH.Q7NSV.004), with a strong upgrade in screen and performance. What experience does this laptop offer? Let me discover through the detailed review of this new Acer Nitro 5 version.
See also: Detailed evaluation of Acer Nitro 5 (2020): Put on a new shirt, upgrade even superior hardware
1. The 144Hz screen is a worthy upgrade on the Acer Nitro 5
Compared to the previous version, the Acer Nitro 5 has a remarkable change in the screen. We will get a screen with a scan rate of up to 144 Hz instead of the previous 60 Hz, and the experience itself is also very smooth. During mouse movement and multitasking, the 144 Hz screen fulfills the role assigned to it.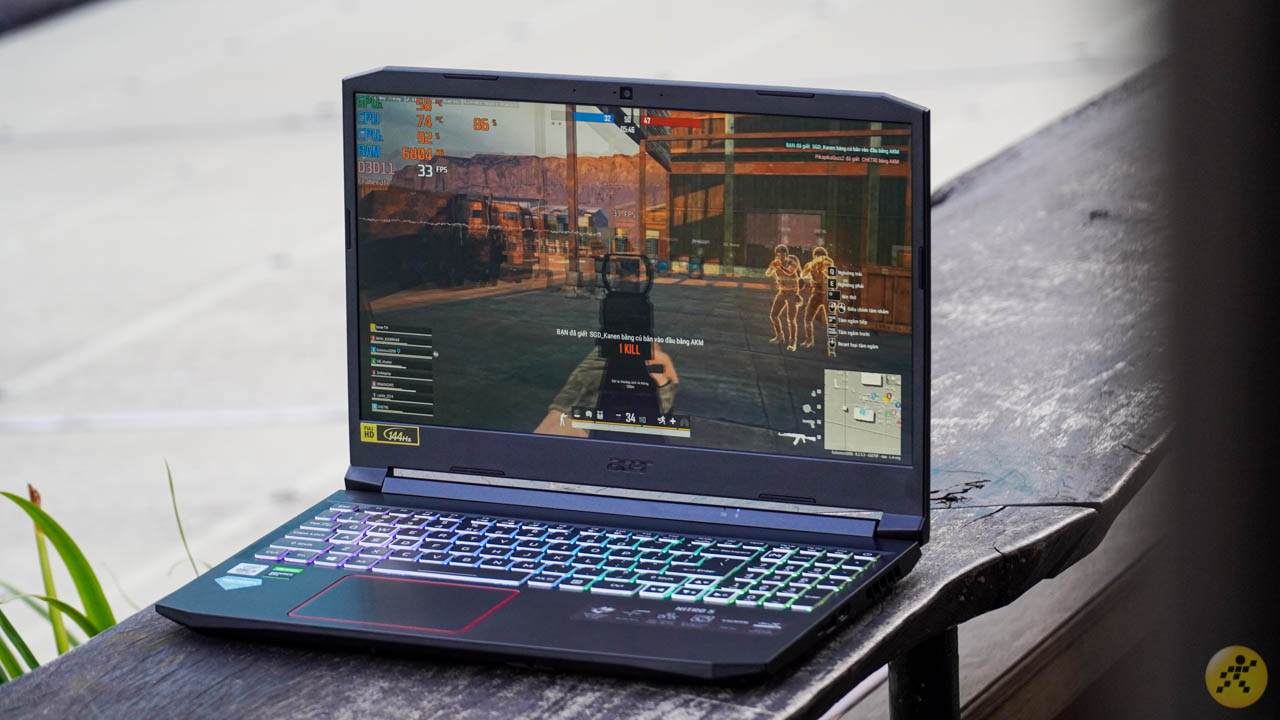 Not only that, the 144 Hz screen is also an expensive support for the fight against hot titles on the market today. During the battle of League of Legends, indeed, Acer Nitro 5 brings a very happy but stable experience, making it easy to control the game and without any obstacles.
Owning a screen up to 15.6 inches in size and Full HD resolution, the Acer Nitro 5 will deliver sharp enough images for you to work, study and play. Along with that, the combination of the IPS LCD panel will bring about high brightness for you to use in a variety of conditions and wide viewing angles.
Finally, the screen of the Acer Nitro 5 is also integrated with Acer ComfyView technology. Believe that this technology will help you a lot when using your laptop in outdoor conditions, with direct sunlight.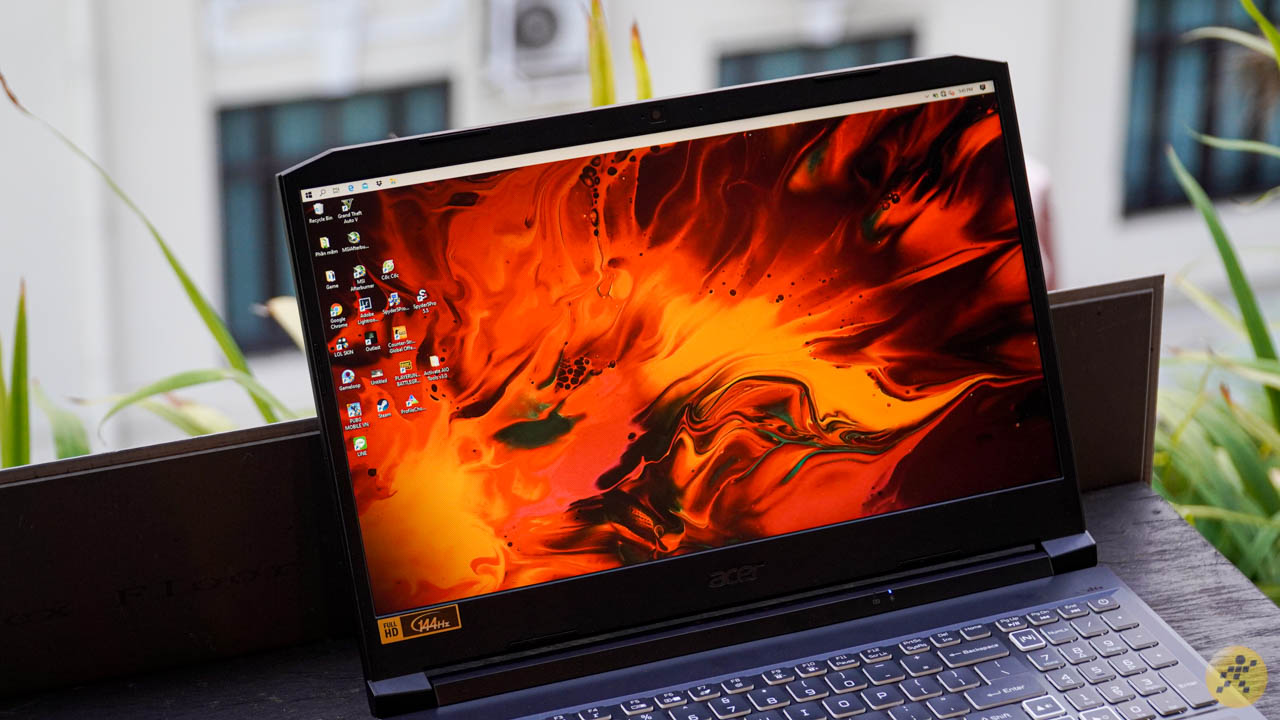 2. Strong performance with Intel Core i5 Gen 10, what about heatsink?
Powerful with Intel Core i5 Gen 10 and GTX 1650Ti CPU
Before stepping into evaluating the performance of the Acer Nitro 5 gaming laptop, let's take a look at the hardware parameters to see if it is impressive:
15.6 inch screen, Full HD, 144 Hz refresh rate, IPS LCD panel.
CPU: Intel Core i5-10300H.
RAM: 8 GB DDR4 (2 slots).
Hard drive: 512 GB M.2 PCle SSD, supports M.2 PCle SSD slot and supports SATA HDD slot.
Discrete graphics card: NVIDIA GTX 1650Ti 4GB.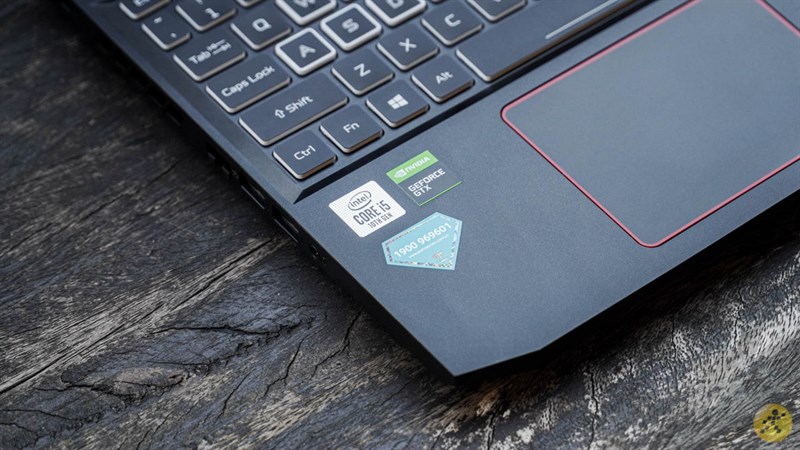 If you do not do it, you must do it for once you have done it. It is a funny saying that we often spread by word of mouth, but it is a valuable lesson for each individual and group. Acer is no exception, the company knows that once it has been improved, it must be innovated so that users feel satisfied. And that's why the company has upgraded its discrete graphics card from NVIDIA GTX 1650 4G to NVIDIA GTX 1650Ti 4GB. You may think this upgrade is too small compared to before, but look at the price range and overall what you get with the Acer Nitro 5.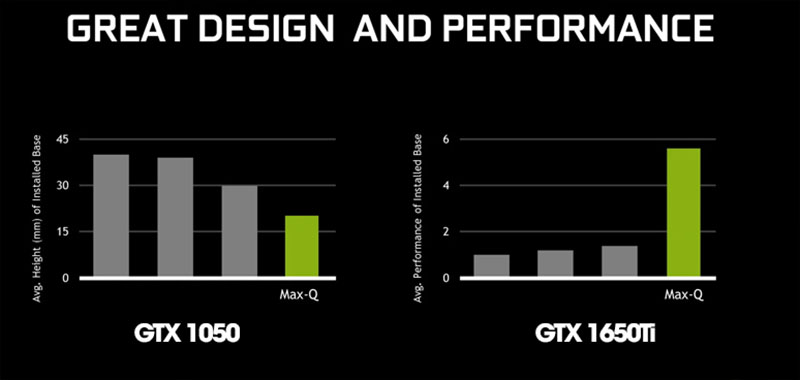 You may not know that GTX 1650Ti uses Touring microarchitecture available on high-end cards such as RTX 2070 and RTX 2080. Although it does not support Ray Tracing technology, GTX 1650Ti still gives high performance, more powerful than GTX 950. 2 times more powerful and 70% more powerful than the GTX 1050. Plus, with the active support from the Intel Core i5-10300H CPU offers an impressive gaming experience in its price range. I have tested two League of Legends and PUBG games in the two videos below:
Looking at the two games above, you will probably see that the FPS fluctuates as expected when League of Legends for FPS ranges from 60-72 FPS and PUBG for the range from 35-52 FPS. But remember, I am pushing the configuration to the highest level so the FPS drop is obvious. So if you lower the graphics level, make sure the machine will be smoother. In addition to testing the game experience, I also tested the performance through Geekbench 5 software:
CPU test: single core reached 875 points, multi-core achieved 3,002 points.
Performance test: 39,396 points is the average score of Acer Nitro 5.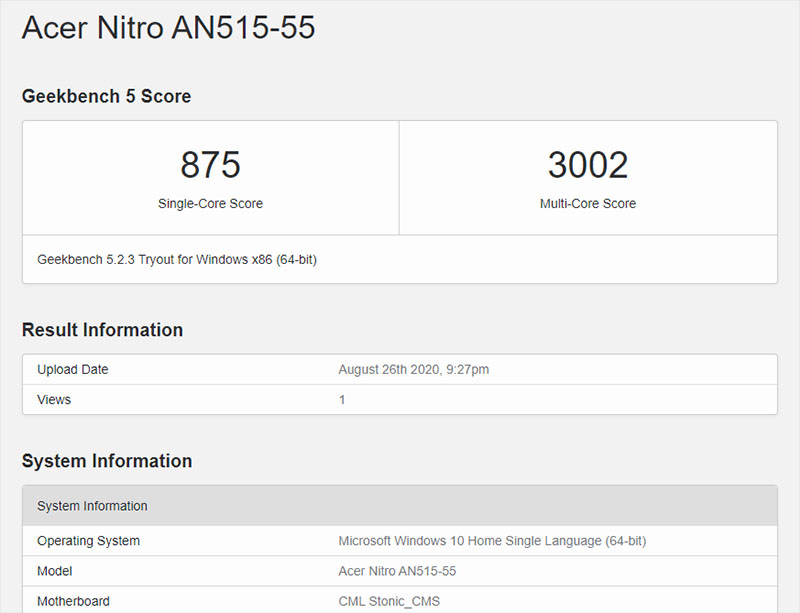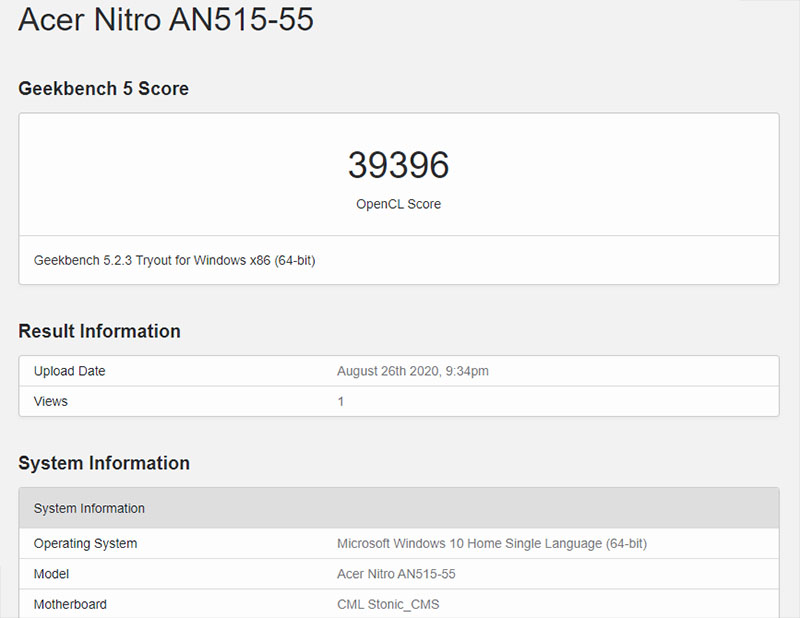 In addition, Acer also does not forget to equip 512 GB M.2 PCle SSD for large space for game storage. If you think 512 GB is not enough, then here, Acer also supports M.2 PCle SSD slot and supports SATA HDD slot to increase the space to save documents and necessary information. I used Crystal Diskmark software to measure the read and write speed of the SSD and obtained the following results:
Read speed: 1,980 MB / s.
Write speed: 440 MB / s.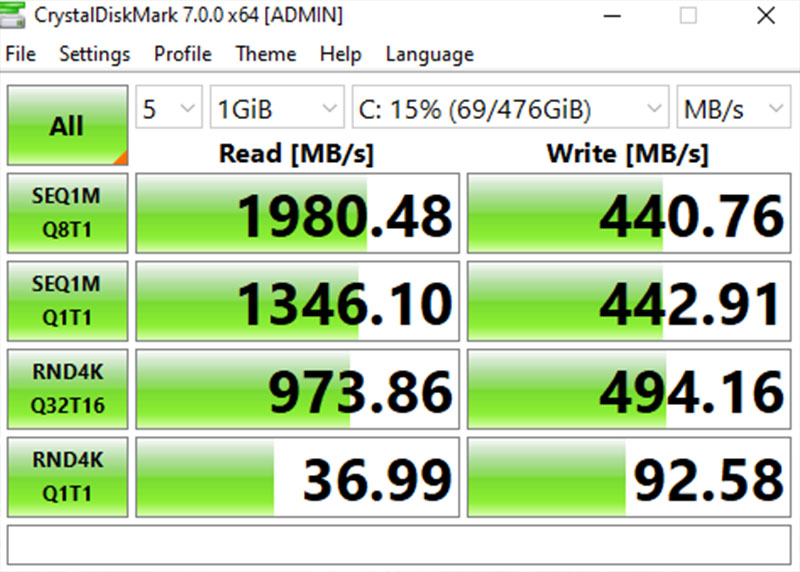 Live sound
When it comes to sound, it must be recognized that the sound quality on the Acer Nitro 5 is not too good but still offers an ear-catching experience. With DTS (R) X: Ultra Audio technology, Acer Nitro 5 will deliver loud, clear sound, emitting multiple directions and not obscuring any sound area.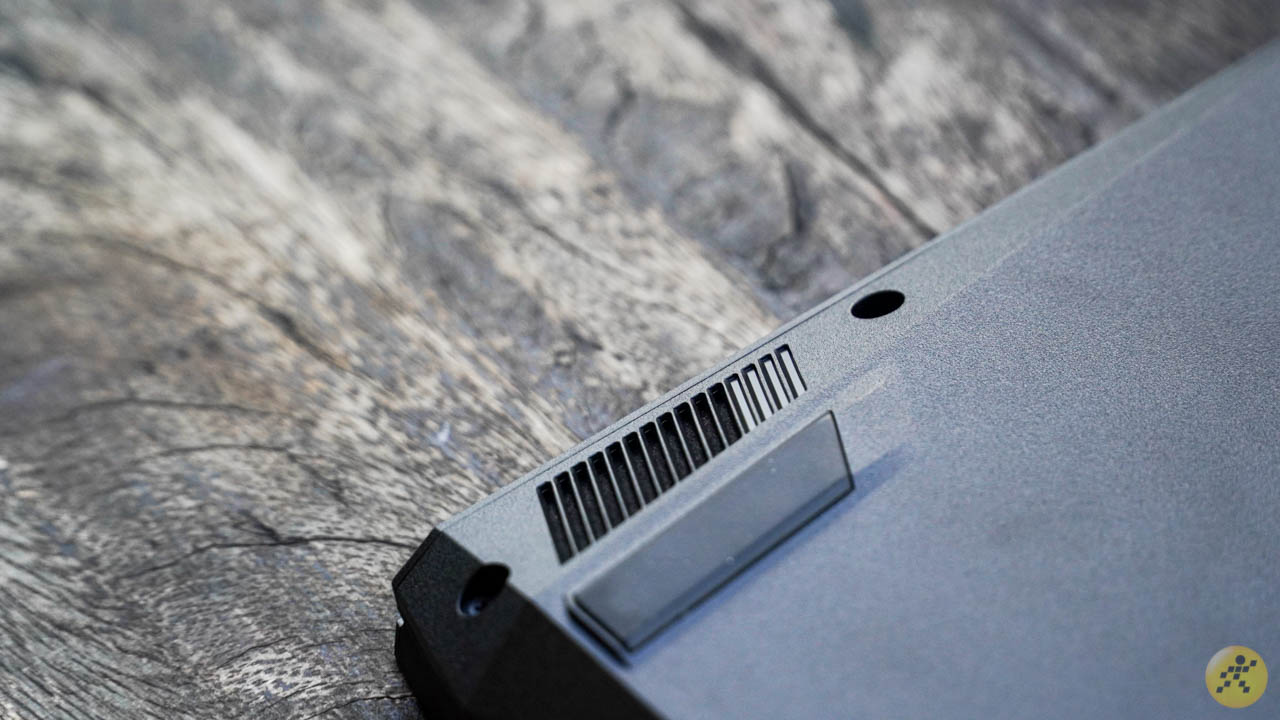 DTS: X Ultra technology gives gamers a competitive edge by adding precise sound sources in 3D environments compared to the player, reproducing almost realistic sound. From there, it makes it easy for the user to listen to locate opponents or identify other important environmental sounds.
Heat dissipation is effective?
Talking about the heat sink, I used the Acer Nitro 5 to design through Photoshop and used Lightroom, some Chrome tabs, the machine heated about 75 degrees C for more than 30 minutes. This is the normal heat level for a gaming laptop, so there are no surprises or worries.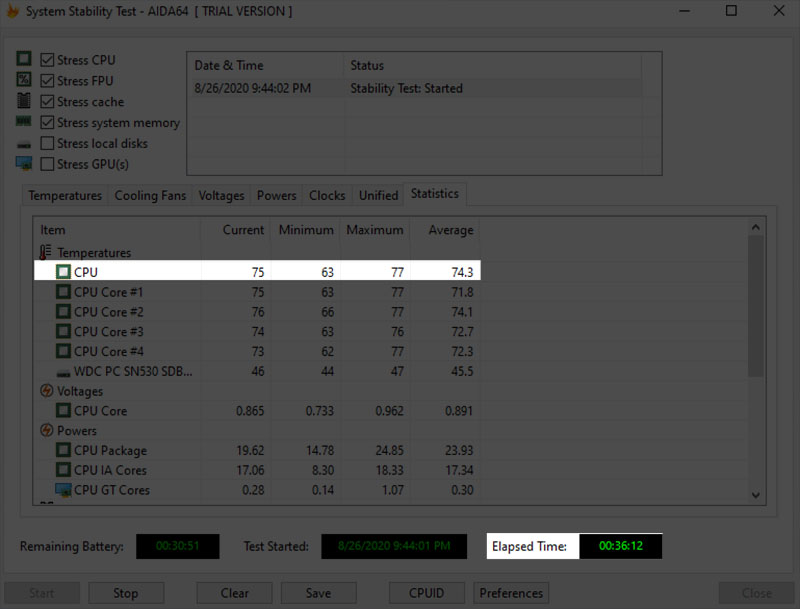 When I plugged the charger into the game to switch to Performance mode, the temperature started to heat up a lot and I measured the CPU to about 87 degrees Celsius. But don't forget, we have Nitro Sense feature that allows you to adjust the fan. inside the machine and cool down the CPU and GPU for a more stable experience.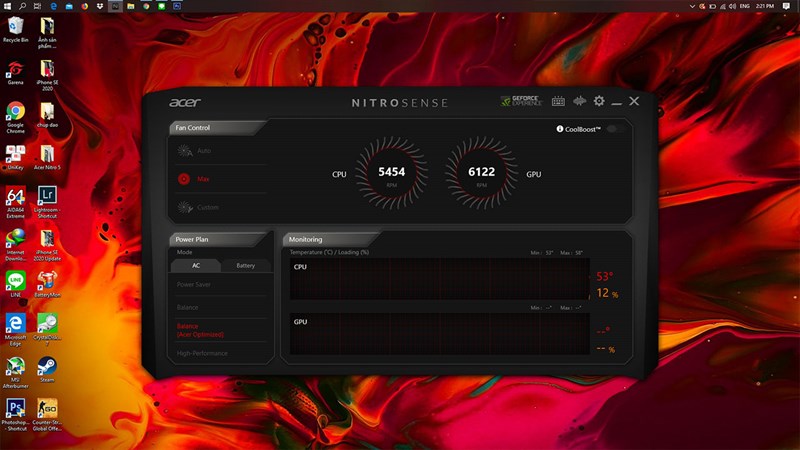 3. Overall unchanged, but still attractive of the Acer Nitro 5
Compared to the previous version, the new Acer Nitro 5 version still has no change in appearance although the internal configuration and the screen are upgraded. We will still have a rather aggressive design with the main color tone of black, lightly coordinated with red to add the strength and personality of a gaming laptop product line.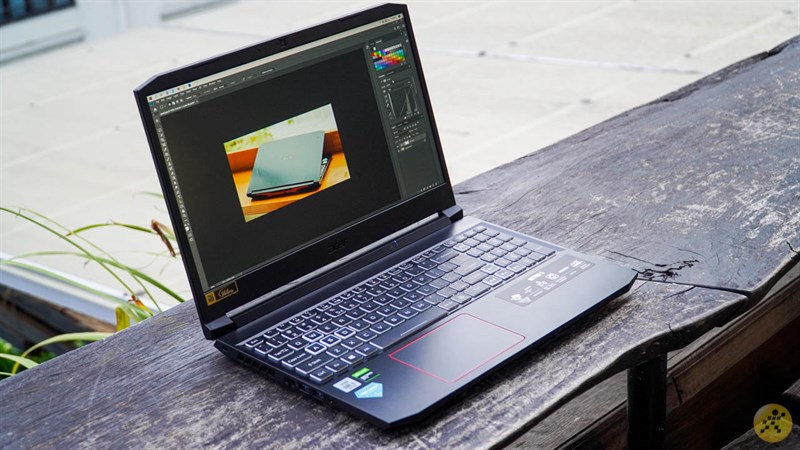 The machine is made of plastic material, which not only makes it easy to carry the machine, but also significantly saves production costs and reduces product costs. I say that, but personally I still prefer metal. On the back Acer Nitro 5 still owns an unobtrusive design with two slight cuts on the sides and the Acer logo in the middle.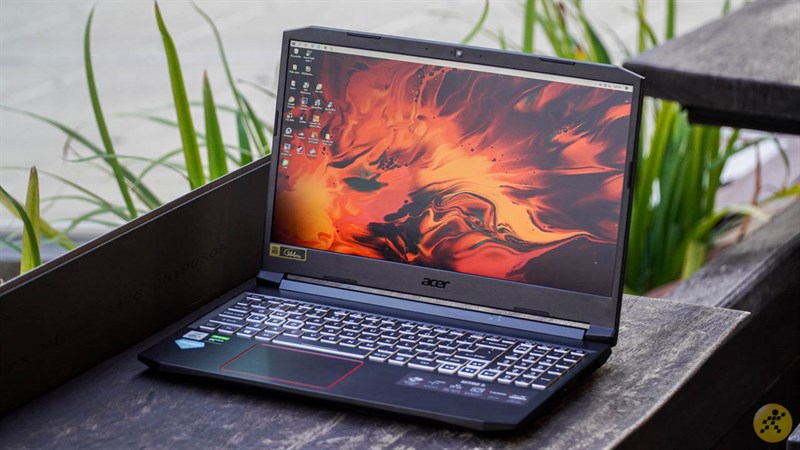 In terms of connectivity, Acer Nitro 5 is fully equipped with ports on the left side, the machine is equipped with a lock port, LAN port, 2 USB Type-A ports and 3.5mm audio jack. Meanwhile, the right edge has a USB Type-A, USB Type-C and HDMI port, the power port is located on the back edge of the keyboard. One more thing that is that the machine has up to four heat outlets, located on the left, right and rear edges of the laptop.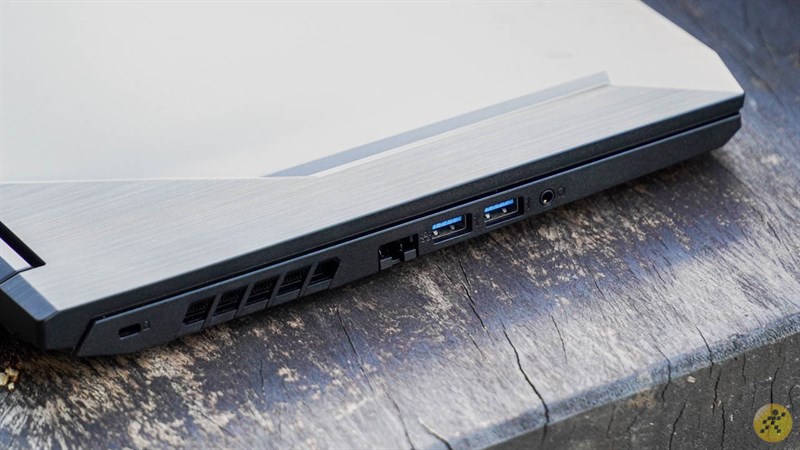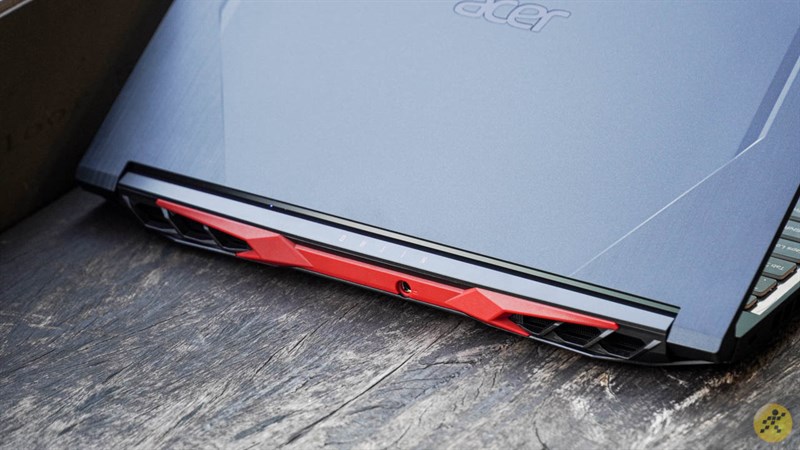 Acer Nitro 5 keyboard and touchpad
Speaking of the keyboard, I really like the unique RGB color changer and you can customize the color transition effect to your liking. Just seeing the large-sized keys, when typing with a high bounce to help you use for a long time without fatigue. However, the keys are a bit stiff and the key travel is a bit shallow.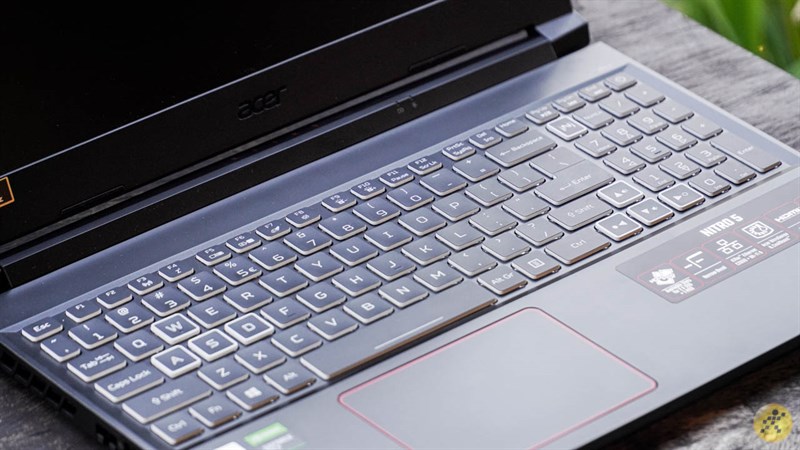 The touchpad is fine, very smooth and easy to use in everyday tasks. However, when playing the game, we should still use the removable mouse to facilitate movement.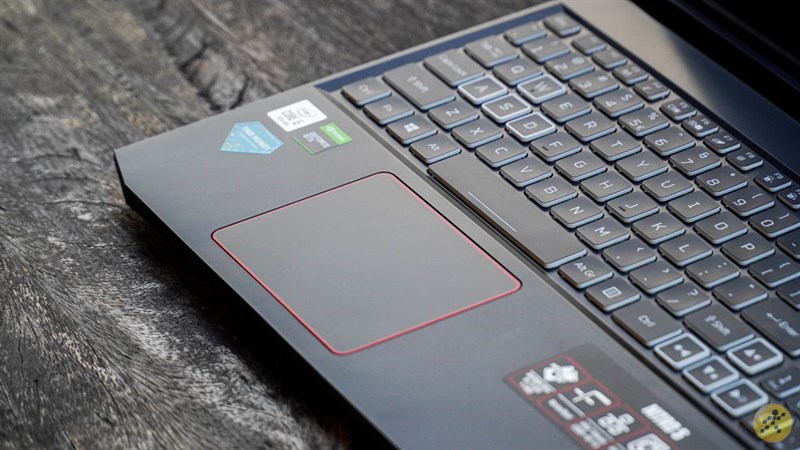 4. Battery life is enough to endure heavy tasks
To measure battery life in the most objective way, I did not play games but only used 6 Chrome tabs, and also used Photoshop to edit photos. Results within about 45 minutes of measurement, BatteryMon measured the duration of the Acer Nitro 5 reached 3 hours 34 minutes. A number is neither too high nor too low, but enough for you to quickly handle the deadline.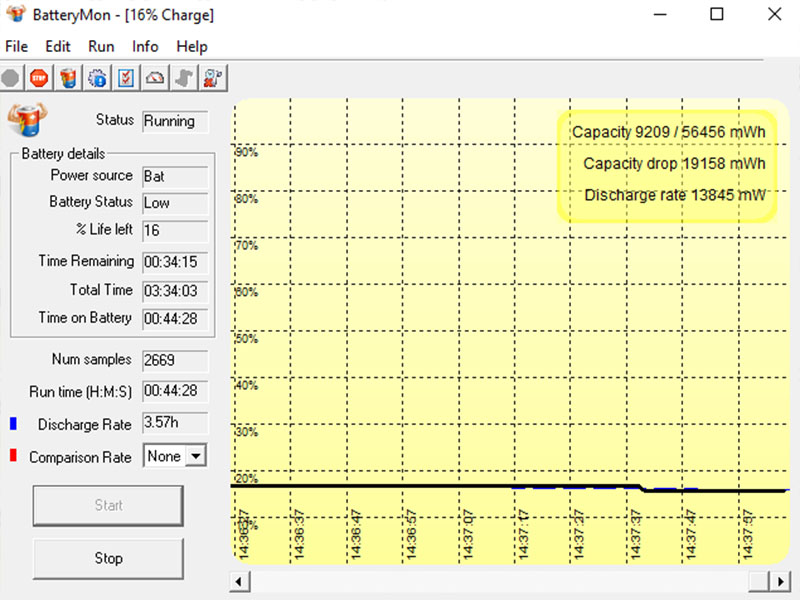 But still remember to bring the charger with the family because this is a gaming laptop, so plugging in the charger will make the device smoother. Oh well, it's real if it's running a deadline and running out of battery in the middle.
summary
You may think that the display and graphics card improvements are quite meager, but for a gamer these are two very important factors that affect the experience. This new Acer Nitro 5 brings a whole new experience that is much smoother and more stable.
How do you see this new Acer Nitro 5? Leave your comments below and let me know.
See also: Acer Aspire A514 53G Review: Changing both the Aspire line's appearance and internal configuration, giving it a great experience!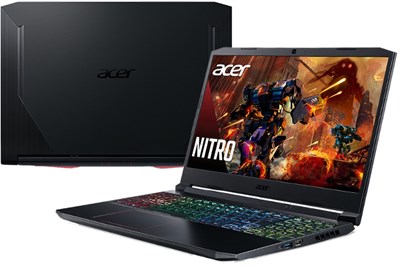 Acer Nitro AN515 55 5923 i5 10300H/8GB/512GB/144Hz/4GB 1650Ti/Win10 (NH.Q7NSV.004)
Newly launched
Screen: 15.6 inch, Full HD (1920 x 1080), 144HzCPU: Intel Core i5 Comet Lake, 2.50 GHzGraphics: NVIDIA GeForce GTX 1650Ti 4GBWindows 10 Home SL 2.3 kg, Pin: Li-Ion 4 cell
Edited by Vuong Gia Bao
Not satisfied with the article
109 views
Related posts
Acer announced a series of dedicated ConceptD laptops, desktops and monitors for designers as well as creative professionals


25/06

Acer launches a new series of gaming Predator products, all-in-one, but the price will not disappoint gamers


25/06

The Acer Swift 5 slim and light laptop is equipped with the Intel Tiger Lake processor, small but with everyone


24/06

Acer Aspire A514 53G Review: Changing both the Aspire line's appearance and internal configuration, giving the experience too!


21/06

Acer Aspire 5 officially launched in Vietnam: Equipped with 10th generation Intel Core i processor, NVIDIA discrete graphics card, slim and stylish design


15/06

Acer Nitro 5 (2020) detailed review: Put on a new shirt, upgrade even superior hardware


07/06
.