There are many services to help you compose and archive notes, but most of them don't have the same security concerns as bilgge. With bilgge, you can rest assured to store important documents such as bank account numbers, web accounts, web passwords, …
bilgge encrypts every note you make and keep on the service, and no one can intrude without the security key provided by the service. The security key that bilgge provides is completely unique to you, so no one can use the service.
1. Register bilgge:
Using bilgge requires an account and registration takes some time because you have to get your security key.
– On the bilgge home page, click register> Start.
– You enter your username.
– At I want, you choose bilgge to generate for me.
– You press download both Public Key and Private Key (the most important key).
– Press register> go to login.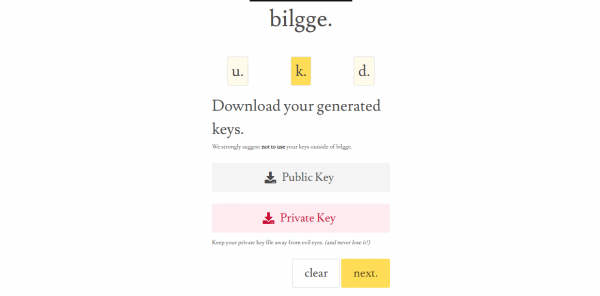 – Enter your username, press Private Key to select the downloaded security key (* .priv)> Login to login.
2. Using bilgge:
bilgge manages notes in the collection, you name the collection when entering main user interface for the first time> press Save. Or press the plus button in the upper left corner to execute.
To create a note, you drag the mouse over the plus button> select note. When the editing interface appears, you normally edit with title and content. Finished composing, press Save. The note will appear on the left side. You can remove or edit when clicked.


Hùng Anh