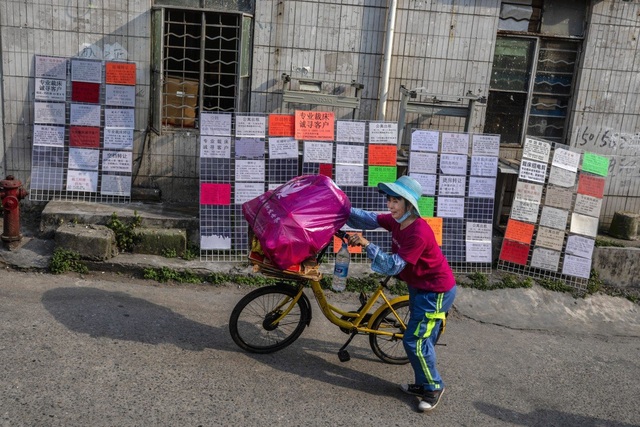 In early January, when "strange pneumonia" began to appear in China, Zou Lan – an immigrant labor – caught a cold. Although the Chinese government did not disclose the level of Covid-19 yet, Zou's "boss" still asked the woman to rest. Since then, Zou has not been able to return to work.
Without a silver coin with 3 children to raise, the single mother who worked in Nanning for 10 years tried to find another job during the past 4 months. After being rejected by many places, Zou became increasingly desperate.
"My former employer treated me very well. In January, she told me to wait for her to call, promising that they will call when the translation is under control. I have been waiting for 4 months, and I am in despair, "said the 41-year-old woman.
According to the SCMP, like most of the tens of millions of migrant workers in China, Zou's status is not recorded in official Chinese statistics and Zou is excluded from the state's unemployment assistance scheme.
Compared to a record high unemployment rate of 14.7% in the US in April, China's rate was about 6% in the same month.
According to the SCMP, only 2.3 million Chinese received unemployment benefits by the end of March, a small fraction of the tens of millions of workers who lost their jobs when Covid-19 attacked the world's second-largest economy.
Observers say that unemployment in China could trigger a crisis in the country not only in terms of economy, but also contain a series of risks on social stability.
According to expert Li Tao from the Center for Social Work Development for Beijing Coordinator, Covid-19's impact on unemployment in China was more serious than what happened at the time of the SARS pandemic ( 2002-2003) and the global financial crisis in 2008.
"The SARS pandemic did not turn into a global pandemic, and the 2008 financial crisis hit factories that manufacture exports, but had little impact on the service sector. However, Covid-19 seriously affected the global supply and service industry, "said Li.
Unemployment, reduced wages
In the latest wave of unemployment, Chinese migrant workers not only face job losses but also reduce their wages. Nearly 80% of them returned to work at the beginning of April, although most of them received a pay cut
Wang Guang is one of the lucky ones to keep a job at a factory in Zhuhai. However, the 39-year-old man's salary was cut by about 40% from over 4,000 yuan ($ 561) to below 3,000 yuan.
The slow production rate due to the lack of orders due to the pandemic prevented Wang from working as much as Covid-19. According to the SCMP, migrant workers often rely on overtime to increase their income to at least 4,000 yuan, twice the average salary.
"We are making pre-pandemic orders, I am not sure what will happen when we complete these forms," ​​Wang said.
In February, when China was the largest epidemic region in the world, Wang and his colleagues were asked to clean the factory floor because there was too little work to do.
The pay cut has led many younger colleagues Wang to quit and his department from about 200 people to a few dozen, with most of them in their 50s.
When the others left, Wang decided to stay because getting a new job would now be "time consuming" as most companies shrunk their size.
Previously, young migrant workers could "jump jobs" from factories to the "hot" growing industry. However, employment in this industry is also exhausted during a pandemic.
A survey by the Chinese hotel association of 5,451 restaurants found that about 80% had reopened, but the average profit was less than a fifth of a year ago, forcing them to lay off employees rather than recruiting. new.
Migrant labor has been a driver of China's infrastructure boom and rapid urbanization since the 1980s. Money transfers from cities to rural areas help close the gap. rich and poor, and help many people escape poverty.
"When an epidemic occurs, some migrant workers will return to their home countries to reduce living costs. However, as long as there is an opportunity in the city, 80% of them will return because there are no jobs for them in the countryside, "said Li.
Lord Emperor
According to the SCMP
.