Super Mario Bros. officially becomes the most expensive game in history. A cartridge of the NES game that was never unwrapped after being left in a drawer sold for $ 660,000 at auction, shattering all records set so far.
A Super Mario Bros. cartridge, released in 1985 on the NES, sold at 660 000 dollars auctioned by Heritage Auctions. The famous game thus officially becomes most expensive video game ever. One of the previous records was previously held by Super Mario Bros. 3, a copy of which sold for $ 156,000 at auction last November.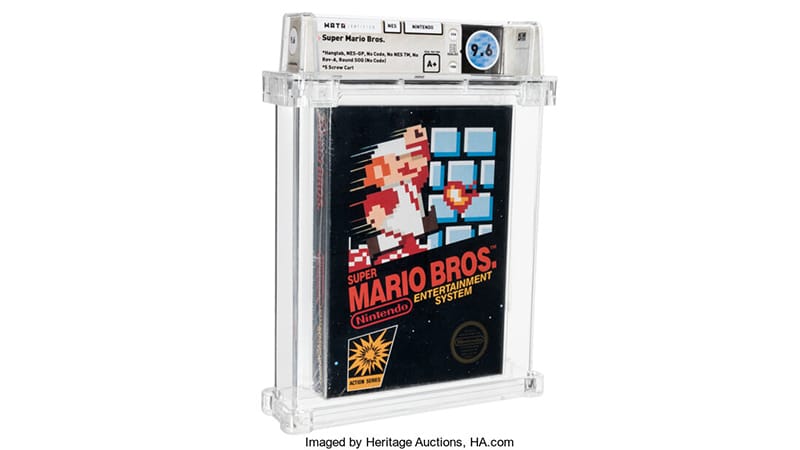 Just like that of Super Mario Bros. 3, the Super Mario Bros. cartridge has never been unpacked. It is almost intact, and this is what allowed it to achieve such value. The other factor that has contributed to this exceptional price is the type of packaging used.
The Super Mario Bros. cartridge has been forgotten for 35 years in a drawer
Valarie McLeckie, who oversees all video game sales for Heritage Auctions, explained that ithis Super Mario Bros. cartridge was produced at the end of 1986. As reported by The New York Times, this relatively short period corresponded to the time when " the sets were sealed with a shrink plastic film rather than a self-adhesive seal, and before another packaging variant was introduced in 1987 ».
Even more extraordinary, the Super Mario Bros. cartridge has been forgotten at the bottom of a drawer for 35 years. Its owner, a very lucky American, clarified that the cartridge was bought as a Christmas present in 1986. However, he eventually forgot about it. He said that the game " has been in the back of my desk the entire time since the day I bought it. I never thought about it ". Like what, doing your spring cleaning sometimes allows you to discover real nuggets. This is not the first time that this has happened. A few years ago, a Kid Icarus cartridge forgotten in an attic had sold for over 8,000 euros.
Finally, Valarie McLeckie believes that it is almost impossible to find one day an identical cartridge of Super Mario Bros. in as excellent condition as the one just sold. This has indeed received an excellent conservation rating of 9,6 / 10. Last year, another copy of Super Mario Bros. had sold for $ 144,000 with a rating of 9.4 / 10.
Source : NotebookCheck


Auriane Polge