Online newspapers are gradually replacing traditional newspapers by their convenience, constantly updated with news. Today's online newspapers all support applications, but most users prefer to read news from more sources.
News 1 is the latest online newspaper reader app for Android that you can use for free. Not only that, but this app also has many other outstanding features to help you have the most convenient news reading experience:
– No advertising.
– Constantly updated with all the latest news of the day.
– Official, reliable, well-informed news source on Topic News, Law, Sports, Business, Technology, Education, Entertainment, Science …
Surfing news very quickly and without duplication, with news summary.
– Read the full information on the original newspapers.
– Many different display modes, suitable even for phones with small screens.
– Quickly look up the latest information on weather, gold prices, foreign currency rates, lottery results …
– The program is light, download information quickly.
News 1 is a good choice for any user. Application compatible Android 4.1 and above, capacity 3.5 MB.
– >> Download the 1st News app on Google Play.
The first thing I feel impressed is the application interface, it is simple but intuitive, not cluttered with items like many applications of the same type.
– Home: The homepage displays the latest news, does not display the news you have surfed.
The news is in summary form but the application has its source and you just need to click to view it in the app.
In each news, there are two icon buttons, a floppy disk and a heart shape to help you save the article to read again and show love of the article.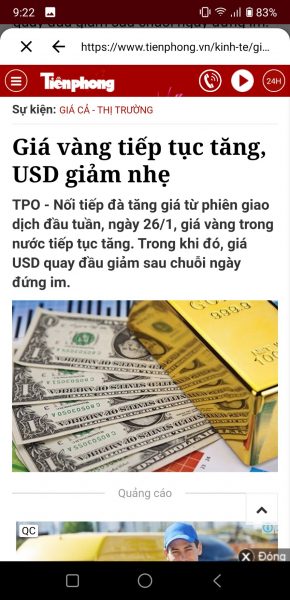 – Layout: Allows you to change how the message is displayed.
– News: Allows you to browse news today and the day before.
– Theme: You can filter the news you want to see here with many topics or sources.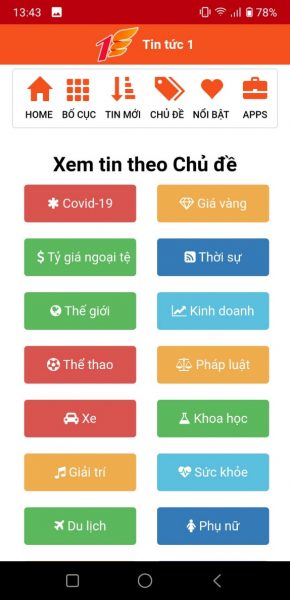 – Highlights: Here displays a list of the most prominent news of the day.
– Apps: A place where many other conveniences of News 1 that you will love.
Saved: The place where you bookmark the floppy.
Weather news: See weather for 9 days all local across the country.
Perpetual calendar: Where you can see the lunar calendar.
Note: You can write a note and it will show up on the Apps main screen.
Exchange rate: If you are a business person, you will probably need this item.
Gold price: If you do trade in gold this item will be needed.
Lottery results: Whoever plays lottery tickets, the problem number will be interested.
Schedule: Provides schedule of many famous soccer tournaments such as Premier League, Champions League, …
Entertainment: You can play bricklaying, memory training, Sudoku games.
see more News 1 here.


Hùng Anh