The American studio Finji (those behind Night in the Woods) and the developer Greg Lobanov team up to awaken the artists who hide in each player with their new named game Chicory: A Colorful Tale. While all the colors in the world have been erased, arm yourself with your finest magic brush to revive them and create your own adventure in this solo or two-player puzzle game. The studio announced this morning the release of the game on PS4 and PS5 for 2021 through a colorful trailer of course.
This is not the first time that the creator Greg Lobanov dedicates one of his games to an art form since he is the author of the acclaimed Wandersong, a game released in 2018 around the theme, as its name suggests, of music. Through Chicory: A Colorful Tale, he was looking for a way to use the illustrations as a tool more than just a support for the game.
"At first I was just wondering if it was possible to create a game in which the primary form of player interaction with the game would be drawing […] this game seemed like the best opportunity to awaken the creativity of the audience and tell them a story that is interwoven with whatever they imagine. "
The possibilities in terms of creation are indeed vast in Chicory: A Colorful Tale. As the adventure progresses, you will discover new abilities allowing you to light up the night or reveal hidden passages in order to explore every corner of this universe. The little dog evolving in this gigantic painting is itself customizable, enough to give a new definition to the phrase "tastes and colors" since you will bring your personal touch to everything around you, and will be able to reinvent yourself at each game. .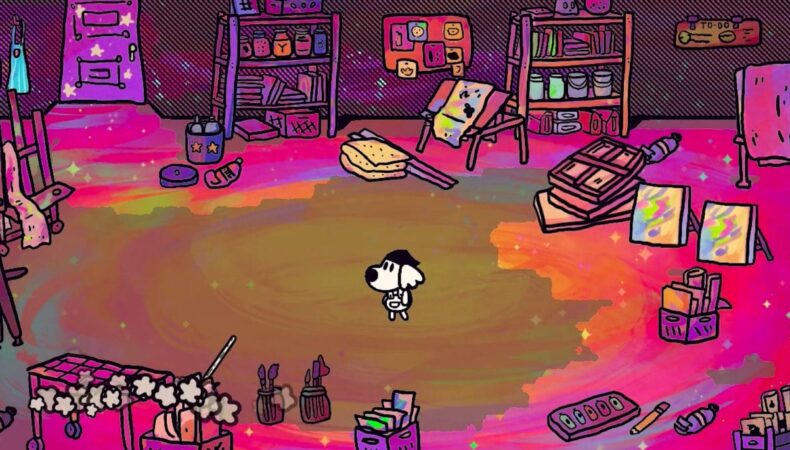 Although Wandersong and music are replaced here by painting, the authors of Chicory: A Colorful Tale did not skimp on musical means either since it is Lena Raine, the award-winning composer behind Celeste in particular, who partnered with the project so that it could enchant our ears as well as our eyes.
Another key point for the creators is the availability of its game. While you speak French, English, Spanish, Italian, German, Portuguese or Russian, you will be able to take part in the sketch right out of the game. studio has not only enriched its project with numerous translations, but also with platforms, since it will be available initially on PS4 then PS5, and then on PC and Mac, something to delight even more people. And don't worry, you don't need a graphics tablet or stylus to be an artist here, although it's recommended on the game's Steam page to play it on anything other than a toaster.


Naelyn