This ambitious idea by Lenka Petráková proposes to solve one of the biggest pollution problems in the world: ocean waste.
Called "8th continent"The design collects plastic debris from the water's surface and decomposes it into recyclable material. The giant floating station envisions a cleaner and more sustainable future for the environment and marine ecosystems. Recently the design was awarded a grand prize of the year 2020 for architecture and innovation of the sea following a competition launched by the Jacques Rougerie organization.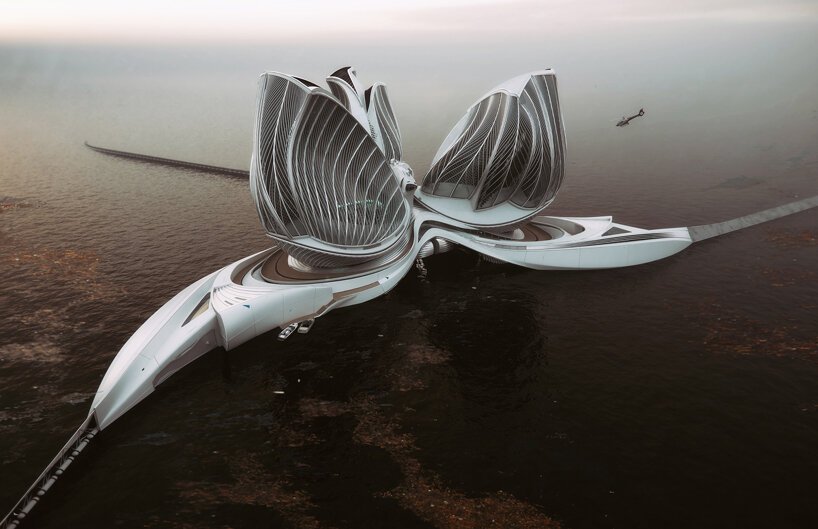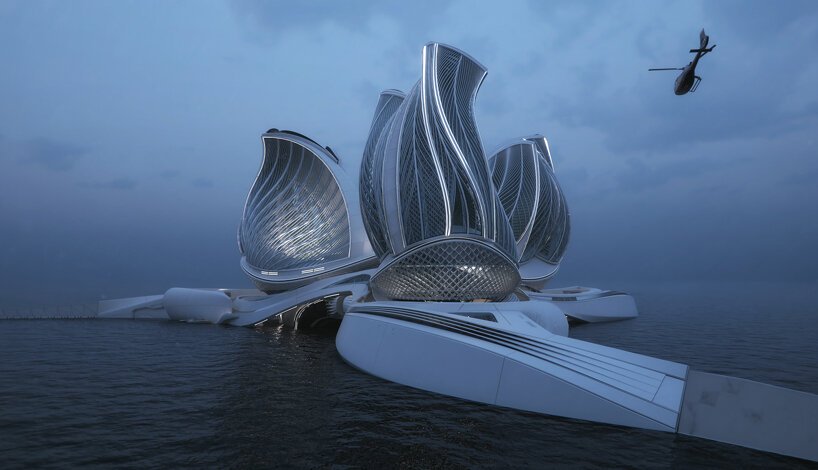 The structure is designed for the Pacific Ocean and consists of 5 main parts: barriers, receivers, research and education centers, greenhouses and living areas with support facilities. Barriers serve for waste collection and tidal energy capture, the waste is then bio-sorted and stored in water collection and cleaning facilities. Lenka Petráková also envisions the floating station as an interdisciplinary platform, so the center for research and education is a place to study and demonstrate the growing conditions of the marine environment.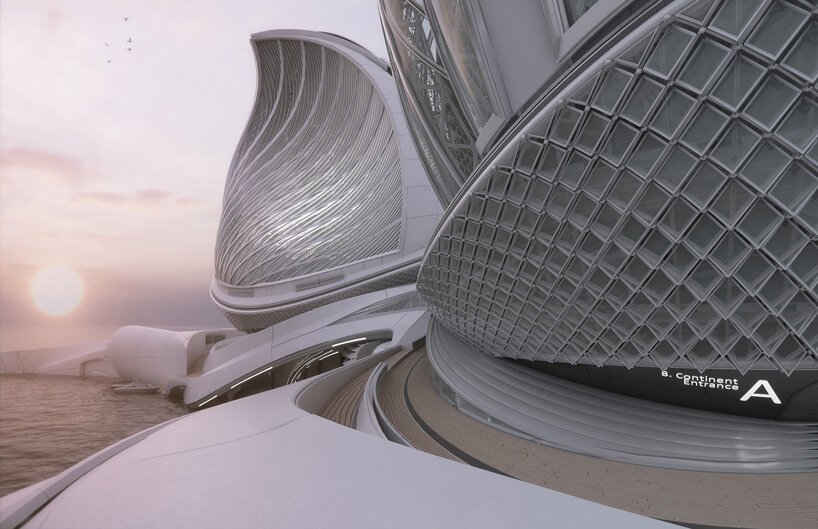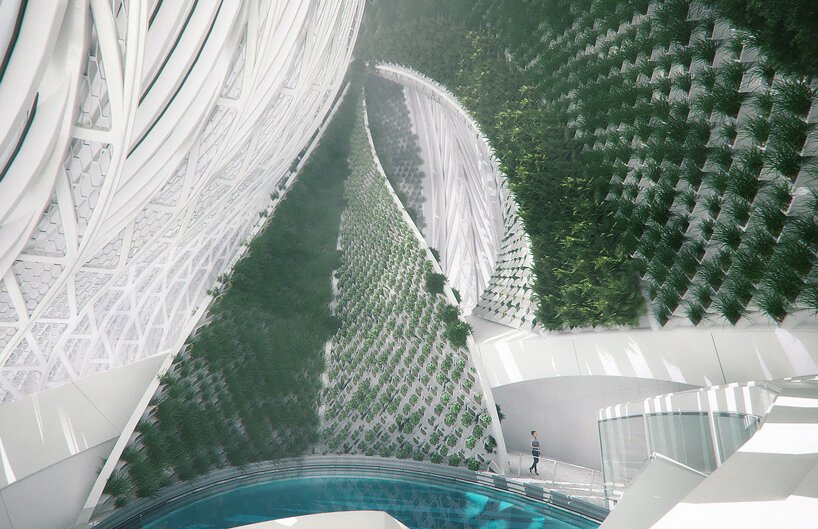 Each of the 5 sections has been adjusted to suit its function. The barrier part floats above the water and pushes the waste towards the collector, collection technology at the center of the building designed to optimize waste disposal, and an associated research and education center. with collectors and greenhouses to track water operations and begin researching them. Not only that, the greenhouse area is also shaped to optimize condensation collection and resembles large sails to allow the wind to navigate the station. Living areas, public spaces, and some supporting facilities pass through the center of the building and connect all the parts, geometrically matching the ship's bedrock.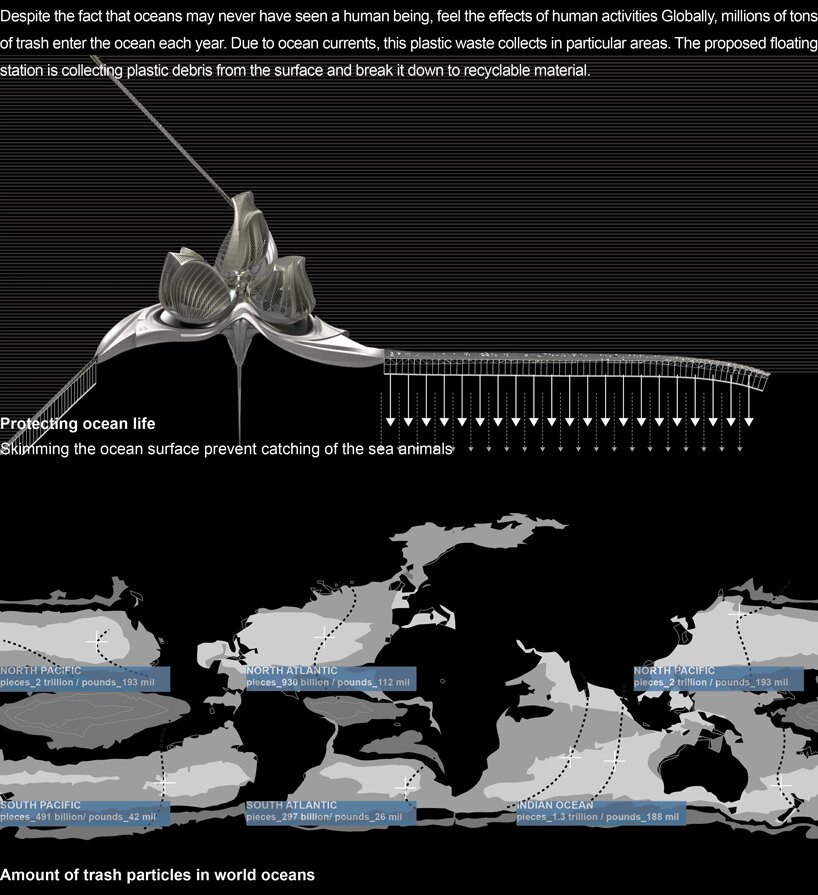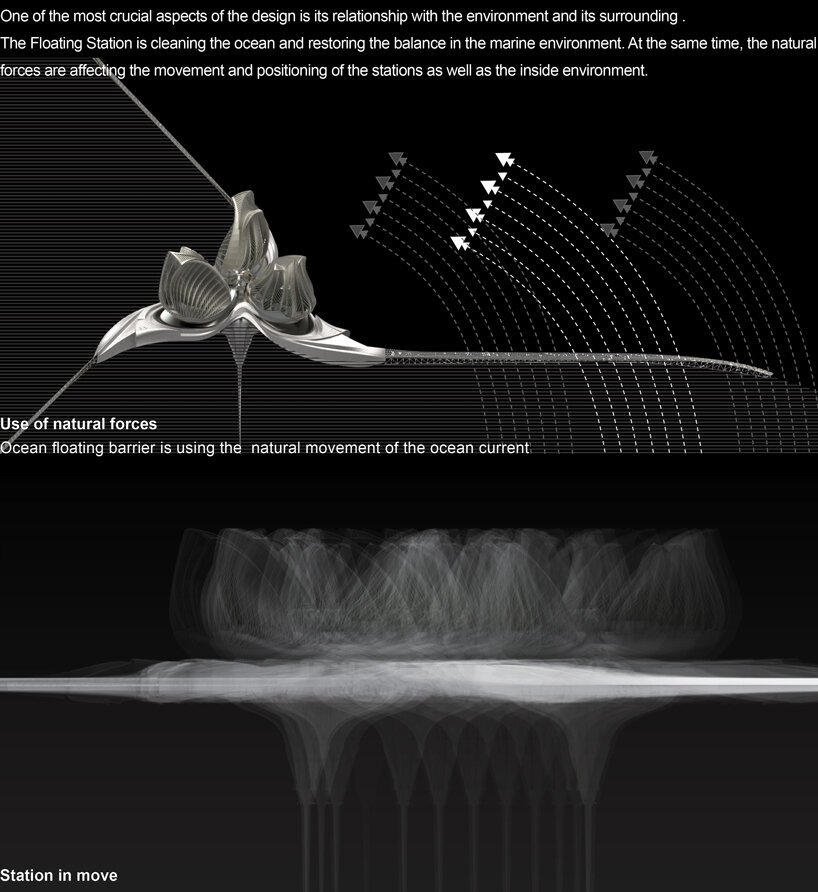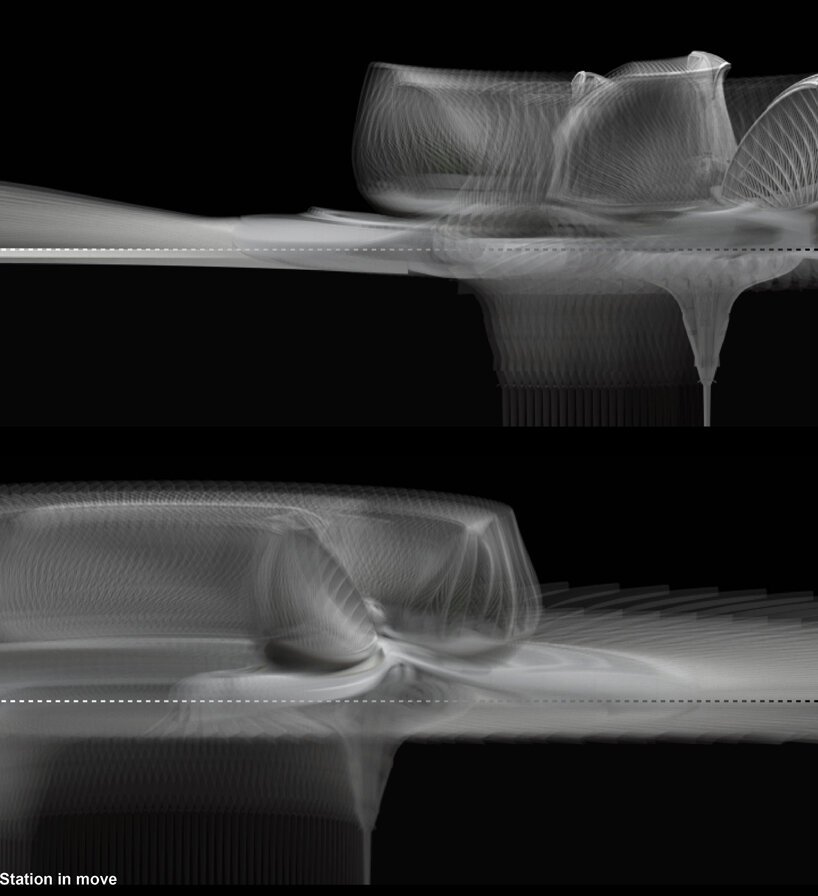 Natural forces also greatly influence the station's movement and position as well as the internal environment. The floating station is self-sufficient so the station elements must be able to collaborate and optimize the power supply. In addition, the barrier section also collects more tidal energy, supplying the turbine to collect waste. Solar panels around greenhouses ensure there is enough energy to heat the reservoirs, allowing water to evaporate and desalinate. After the extraction of wastewater, the filtered clean water is pumped into a water tank or desalinated and used to grow salt-loving plants.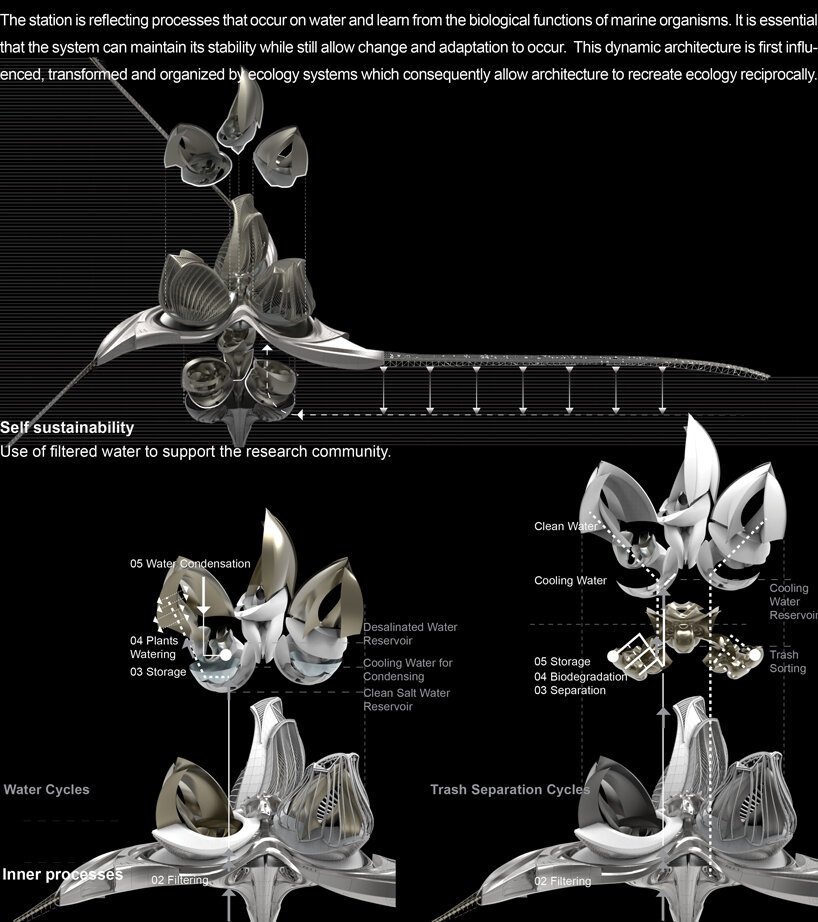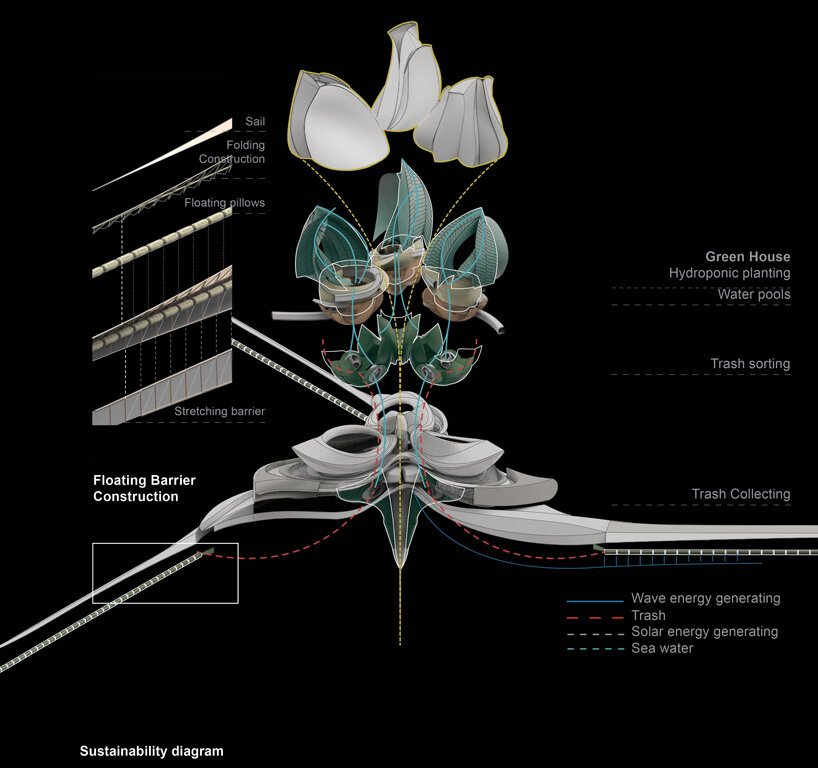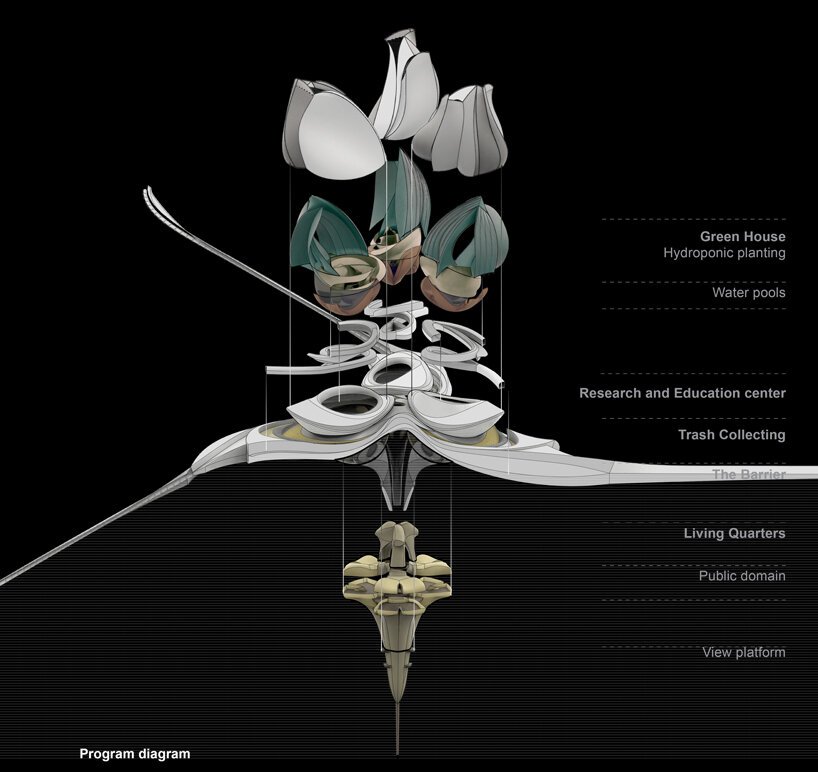 Lenka Petráková to speak, "Marine life is suffering from destruction and we need to help restore its inherent balance for the survival of our planet. We cannot achieve that with technology alone, but we need an interdisciplinary platform to educate and change human relationships with the marine environment for generations to come. " "The 8th Continent" was first developed as a thesis work of Petráková for university of applied arts, Vienna, Austria at Hani Rashid Studio.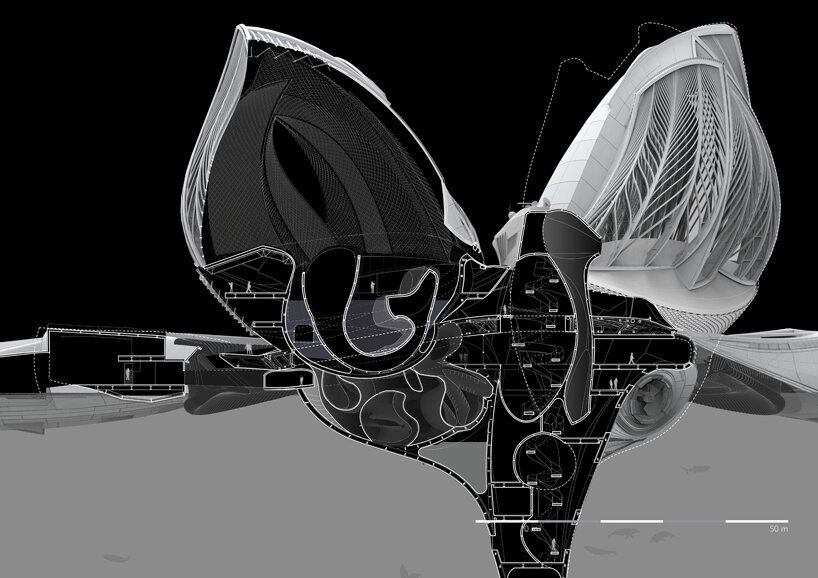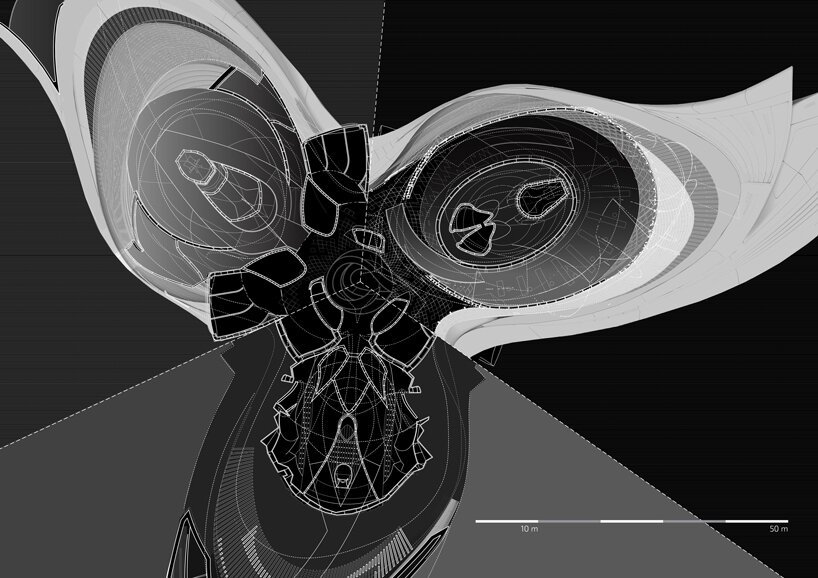 Translator: Nam Vu
Source: designboom