One of the great features of owning a smartphone is the ability to take notes. It helps you take notes anytime, anywhere extremely convenient. Of course you will want the right apps for your job. Here is a list of the top best note-taking apps for you.
Related posts
Use Google Keep, take notes online on computers, laptops
Google Slides adds a third-party add-on and integrates with Google Keep
How to add notes, comments on Google Sheets
How to use Google Drive on Ubuntu
How to share maps, location, places on Google Maps with friends
There are many professional note-taking apps available for you on Windows, Mac, Android and iOS, each with its own advantages, we can explore and decide which one to choose for ourselves.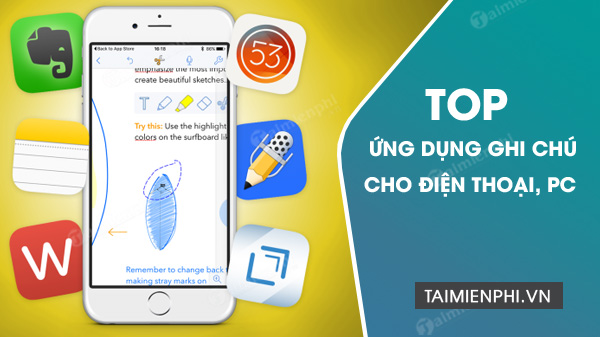 App current best spending notes, work, study
List of note-taking apps for:


1. iOS.
2. Android.
3. Windows.
4. Macbook.
8 of the best 2021 note-taking apps
A. On iOS
After reviewing many different applications, some prominent note-taking apps on iPhone, iPad and other iOS devices are summarized below using the virtual keyboard on the screen, the virtual assistant Siri or the Apple Pencil. .
1. Notes – Create notes using Apple Pencil & Siri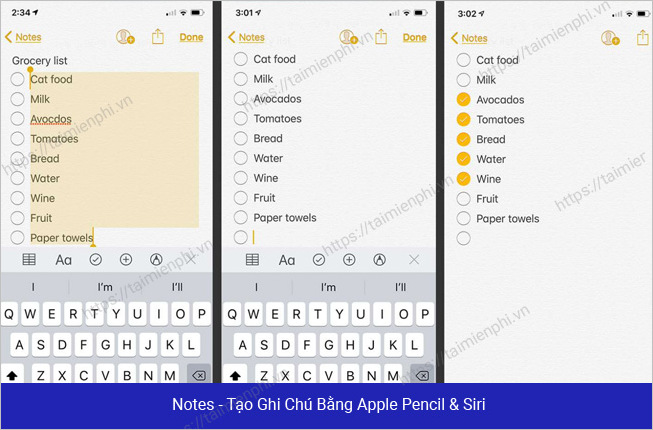 Notes is Apple's note application (pre-installed on iOS devices) and mainly integrated into the iOS operating system used on iPhone, iPod touch & iPad. Users can voice voice commands to the Siri virtual assistant like "Start a new note" and the changes will be synced across devices that use the same iCloud account. Notes is compatible with iPhone, iPad, iPod touch & Mac.
2. Notability – Teamwork on notes with classmates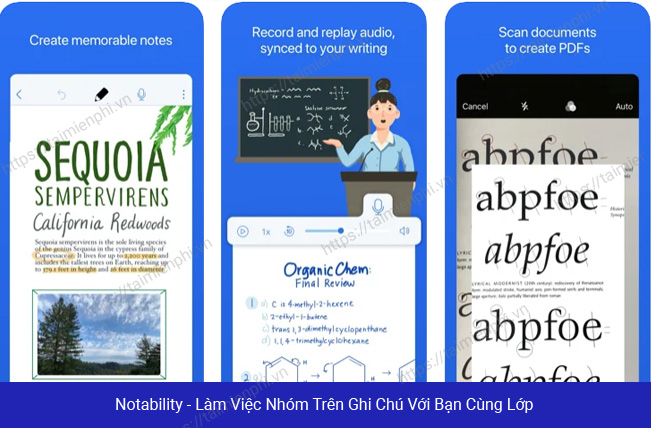 Notability is an intermediate note application (provided by a third party) for Apple devices, is a reliable alternative for those who do not want to use the Notes application installed on the device. Notability allows for the creation and editing of text and image notes, but the app's standout feature is the editing of PDF documents and allowing other users to leave audio notes while working in the top group. a project. Notability notes are shared through Google Drive, AirDrop, email apps, and Dropbox. Notability works on iPhone, iPad, iPod touch & Mac.
=> Notability download link for iPhone


B. On Android
1. Google Keep – Create notes and reminders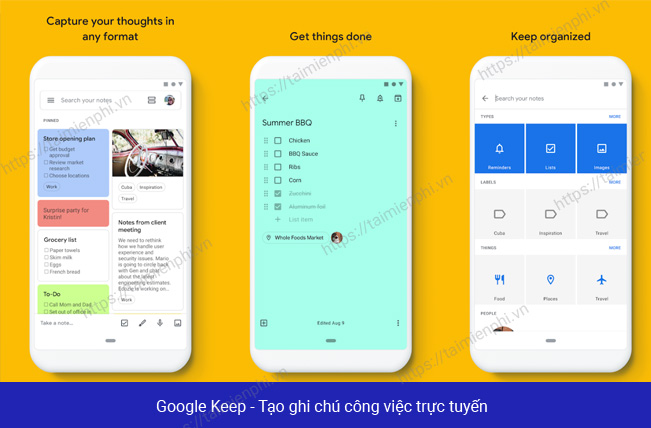 Google Keep is a Google service that allows users to create and edit notes, and automatically sync data to the cloud through a Google account. In addition to the usual note-taking features like list creation and recording, Google Keep is also a tool to create reminders and notify you of a task according to its current time or location.
In addition to versions that support Android phones and tablets, Google Keep also works with iPhone, iPad, iPod touch, Mac and web-based versions.
=> Link to download Google Keep for Android


2. Notebook – Multimedia file management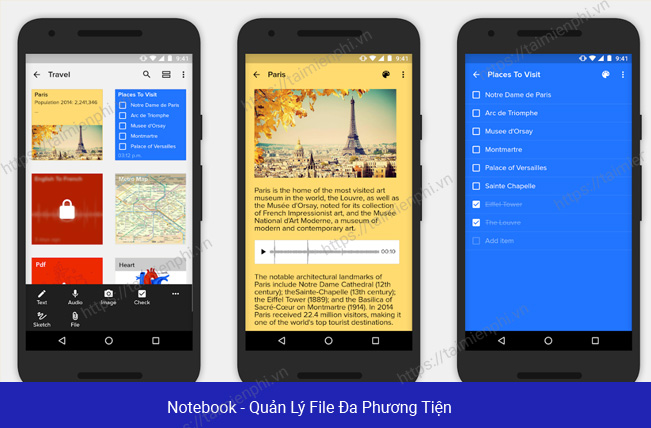 Notebook is a note-taking app that encourages users to create more diverse notes rather than just basic word memos or to-do lists. The app automatically detects what kind of note is being created and formats it in its own unique style. For example, the audio note shows prominent audio controls in the app while the note with location data has a map.
In addition to versions that support Android phones and tablets, Notebook also works with iPhone, iPad, iPod touch, Mac and web-based versions.
=> Link download Notebook for Android


C. On Windows
1. OneNote – for Surface Pen users
OneNote is a note-taking app released by Microsoft itself and supports all smartphones and tablets today, even compatible with Apple Watch. OneNote allows the creation of text and multimedia notes (including images & sounds), in-app recording support, and Surface Pen tool support on compatible Surface devices.
All data is stored in the cloud and synced with other devices through a free Microsoft account that most students have to use OneDrive, Office, Outlook and even game consoles. Xbox One. In addition to the Windows desktop version, OneNote also works with iPhone, iPad, iPod touch, Apple Watch, Android phones & tablets, and web-based versions.
=> Link download OneNote for Android


2. Microsoft Whiteboard – For team projects and planning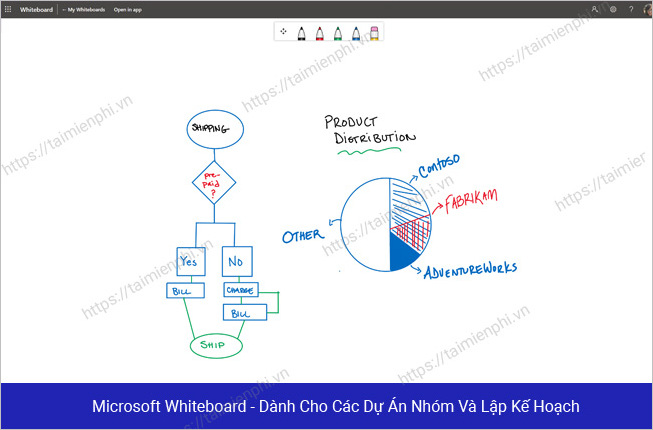 Microsoft Whiteboard is a very innovative desktop note-taking application designed to replace traditional physical whiteboards, allowing users to draw and write on digital whiteboards in the application. Others who have been granted access see the changes in real time and make edits for others to see. Microsoft Whiteboard works with Windows computers running the Windows 10 operating system.
=> Link to download Whiteboard


D. On a Macbook
1. Bear – For long content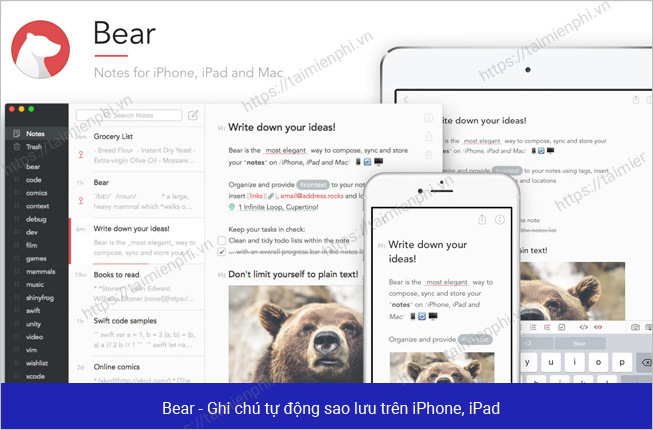 Bear is a combination of a note-taking and word-processing application, providing syncing features on Mac and iOS mobile devices, creating to-do lists and supporting inserting multimedia files Note. Bear's real standout feature is its word-formatting capabilities on par with Microsoft Word. Bear works on iPhone, iPod touch, iPad and Mac devices.
=> Link download Bear


2. Evernote – The reliable note-taking app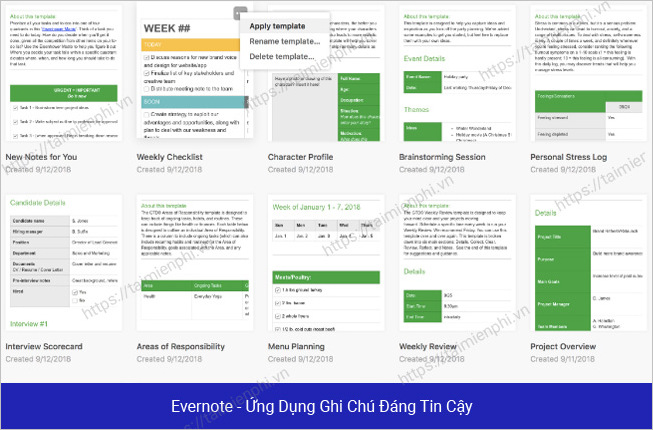 Evernote is one of the oldest note-taking services and has a reputation for quality app design, powerful features, and reliability. Evernote does everything you'd expect from a popular note-taking app, but expert users need to pay to use the more advanced features.
https://thuthuat.taimienphi.vn/8-ung-dung-ghi-chu-tot-nhat-2019-46074n.aspx
Evernote works on iPhone, iPod touch, iPad, Android smartphones & tablets; Windows & Mac computers.
=> Link to download Evernote for Mac


=> Link to download Evernote


.