Gmail is the number 1 email service for many Android users. The Gmail app is installed on almost any Android device – it's fast, easy to use, and in general, it makes receiving, sending, or managing emails less difficult than ever before. But with some cool hidden features introduced shortly, you can get a lot more out of Gmail for Android.

Related posts
How to hide and enable notifications from a Gmail conversation thread
How to change Gmail password on Android phone, iPhone
Install Gmail Notifier, automatically notify when there is mail on gmail
How to sign up for Gmail on a phone, set up gmail, create a Gmail account on Android, iPhone, or Win
How to login gmail on Android
While Google's Gmail service is usually quite easy to use, there are tons of Gmail sign-ups that take place every day, but it certainly has some room for improvement, especially on mobile platforms. What is often seen on Google products is that what you see is not quite what you get.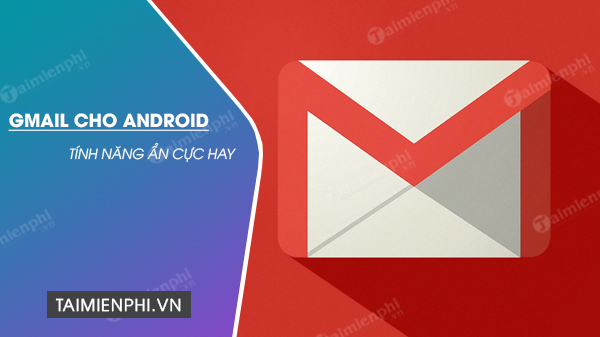 Hidden features in Gmail for Android
Update the latest version of Gmail on Android and iOS here:
=> Link to download Gmail for Android


=> Link to download Gmail for iOS


The Gmail for Android app has some super useful hidden features that you might never notice. These easy-to-miss features can make your email experience even more powerful and efficient on your mobile device. And this article will unearth 7 cool hidden features that you may wonder why you didn't know about them earlier.
7 handy hidden features in Gmail for Android
1. Advanced email format commands
The Gmail email for Android compose screen is a pretty important thing, but it doesn't seem to be anything. If you think so, then you are wrong. Hold down on any open space while writing a new email and boom, take a look at what you will find: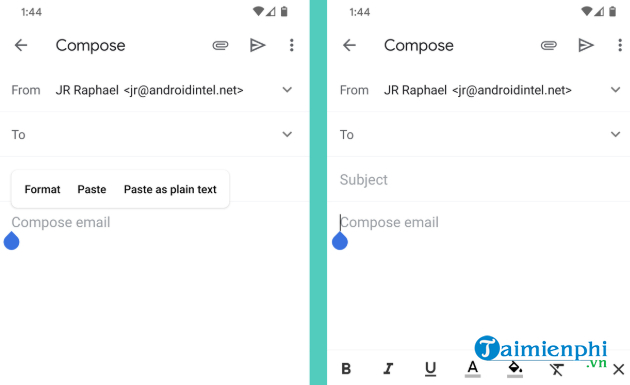 Touch format Format That and what do you have? It is a group of advanced text formatting commands for email composing. You can style any part of email with bold, italic or underlined text, you can change font color or background, and you can delete all existing text formatting with just a simple touch.
2. Customizable swipe gestures
Have you ever wished there was an easy way to snooze emails from your inbox or even mark them as unread without having to go through a series of complicated taps? Surely, you will be satisfied with what is shared below.
Open the Gmail app settings on Android by tapping 3 dots in the top left and scroll down until you see the option Settings. Touch General settings> Swipe actions.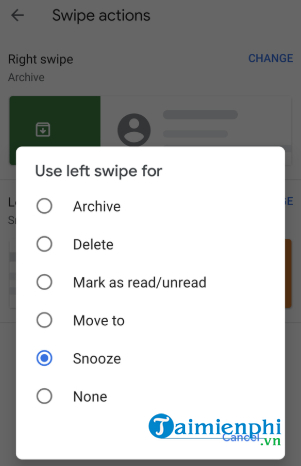 There, you can configure exactly what action is associated with swiping an email left and right from the inbox, or from any other email list view. Set up the way you want.
3. Termination of unintentional actions taken
It's easy to mistakenly tap an icon when you're on the go, but Gmail really has a breathtaking way to prevent you from doing something stupid accidentally. This is an additional confirmation step when you accidentally do some redundant actions such as archiving or deleting an unfinished email or pressing the send button before you can check the email. You only need to take a few simple steps to get up and running.
Go back to the item General settings in Gmail settings, scroll to the bottom of that section and select Action Comfirmations. Here, you activate any additional confirmation steps that will keep you away from the actions that happen by accident.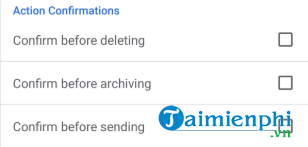 It's also worth noting that archive and delete confirmations don't work with swipe-based gestures. That's a pity, since Gmail's swipe gestures are too easy to trigger by accident when you're trying to use Android 10's system-wide Back motion. But, fire prevention is better than firefighting, you Do you think so?
4. Less annoying Promotions tab
Tab Promotions Gmail on Android is both good and bad. It gives users a great way to keep your inbox from getting crammed with emails you probably never see, but it also throws in some ads and does a couple of wonders. your email sorting order.
There's not a lot you can do to deal with those ads, which is annoying, but you can stop apps from changing email order and put promotional emails considered more valuable than other emails up front. before.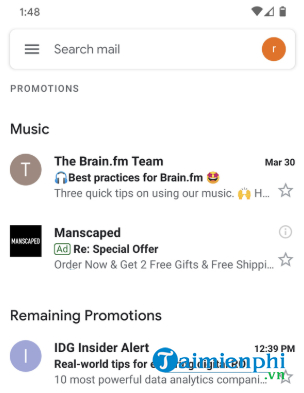 To return to the chronological view, the normal view, go to the Gmail app's settings and tap on the address of your Gmail account, press Inbox categories on the next screen. Scroll down the screen that appears then and uncheck the option Enable Bundling of Top Email under the item Promotions Tab.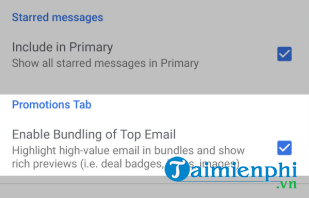 Your emails will now appear in the correct order, even if you can't actually get rid of the tab ads. Promotions annoying.
5. Inbox is less "pushy"
While we're on the topic of disabling annoying features, do you know how Gmail is doing it now when it "motivates" you to reply to or follow up on emails already in the box? Your mail arrives in a while? If you find that more annoying than beneficial, go back to the app's settings and once again select your Google account.
Scroll down until you see an option Reply and follow up, tap on it and uncheck both items Suggest emails to reply to and Suggest emails to follow up on.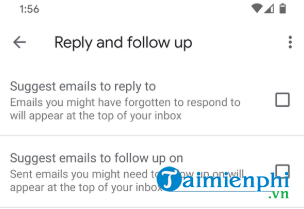 6. A quick way to set the auto-response function
For years, the Gmail mobile app had no way to manage the service's out-of-office autoresponder functionality. Have you ever logged out before the scheduled break and half an hour later realized you forgot to send emails?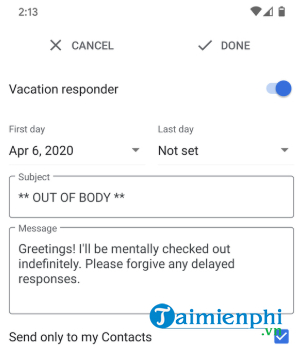 The past is the past. Now, the Gmail Android app has more control over responsiveness. You open the app settings, touch the account name you want to modify and then look for the option Vacation responder. There, you'll only take a moment to turn on, configure, and tweak automated responses out of your office to suit every imaginable situation.
7. Selective announcement
Email notifications can be helpful at times, but be honest: they are often more obnoxious. Keep precious peaceful moments away from notification sounds by trying out the Gmail for Android high priority notification options. It uses artificial intelligence and other impressive audible buzzwords to find incoming emails that are truly important to you and then just notify you of those emails.
To do this, log in to gmail, then go to Gmail's settings, select your account and touch Notifications> High priority only. If you know exactly what types of emails you need to be notified – those from a particular person or domain, those with a specific word in the subject or body of the email, or those sent from an address. To your specifics, then you can simply set up your own custom Gmail notifications.
https://thuthuat.taimienphi.vn/7-tinh-nang-an-cuc-hay-tren-app-gmail-cho-android-57761n.aspx
Do you already know about any of the hidden features mentioned above? Take advantage of them and you'll have a better and more efficient Gmail Android app experience than ever. Besides, for your reference How to change a Gmail password on a phone here.
.