Have you ever spent hours on the web searching for a free, easy-to-use online Markdown editor? There are a lot of good options, but there are also many that don't go well. The point is, you can't tell which one is different unless you take the time to learn about them.
If you're in need of a tool that allows you to write in Markdown or that gives you the ability to convert a document into Markdown, here is a list of the best Markdown editors to do both of these tasks.
6 of the best free online Markdown editors and converters
The best free Markdown editors to write

1. StackEdit.io
2. Dillinger.io
3. Editor.md

Best free Markdown editor to convert

4. Draftin.com
5. Paste to Markdown
6. Word to Markdown Converter
The best free Markdown editors to write
These free online Markdown editors let you paste your text from another location or write directly in the editor.
1. StackEdit.io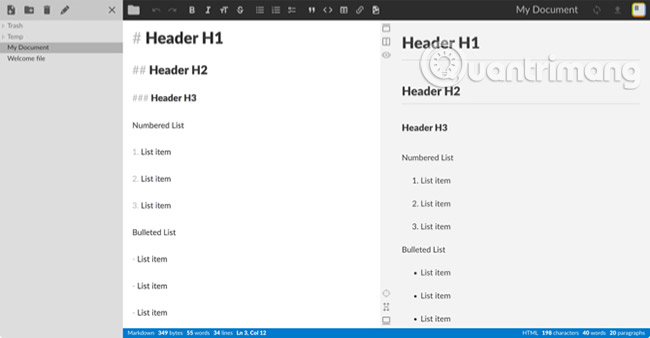 What makes StackEdit a standout editor is because it's ideal for people who want to learn how to write in Markdown.
When you enter text on the left side of the editor, you can apply formatting using the toolbar similar to what you see in Microsoft Word. You can use simple buttons to format fonts, lists, blockquotes (define long snippets), and links. The right side will automatically change it to the correct syntax.
Notable features of StackEdit include:
Folder organization, focus on text and read mode with word count, line, byte, character and paragraph count.
Import Markdown and HTML files, and export to Markdown, HTML, PDF and Pandoc. Note that exporting certain file types may incur small charges.
Syncs with Google Drive, Dropbox and GitHub with links to WordPress, Blogger and Zendesk for publishing.
Accessable file history and properties, templates, and a handy Markdown cheat sheet.
If you're looking for a free online Markdown editor with a great set of features, why not try StackEdit?
2. Dillinger.io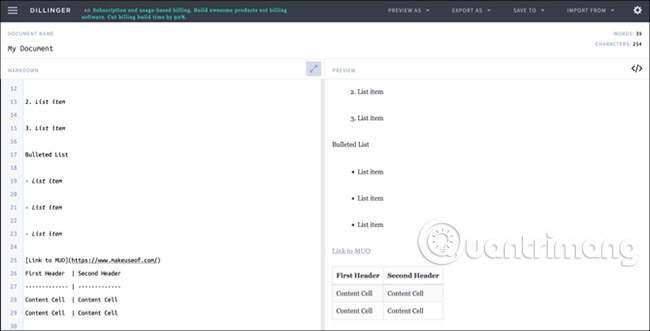 Dillinger is another really cool Markdown editing option. This tool is perfect for those who are familiar with Markdown editing because it does not have a toolbar, but only a full editor.
Enter the text on the left and you should see the text displayed as rich text to the right. You can switch to HTML view instead of rich text with just one click. The editor also allows you to work in the browser screen mode to avoid distractions.
Notable Dillinger features include:
Save documents and sessions.
Link, save, and import documents from services like Dropbox, Bitbucket, GitHub, Google Drive, OneDrive, and more.
Preview and export to HTML, HTML, Markdown and PDF format.
Auto save, word and character count, scroll sync (test sync) for editor.
If you are familiar with Markdown and want a clean, free online editor, Dillinger is the best choice.
3. Editor.md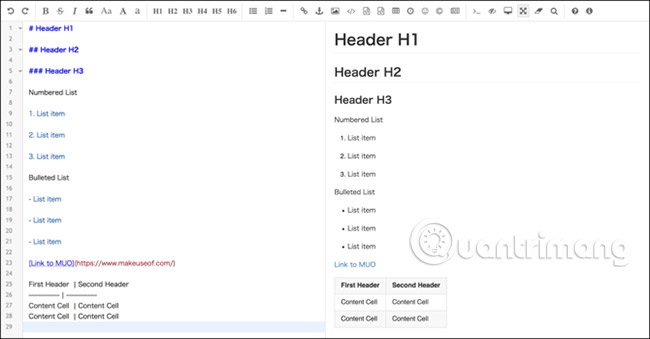 Another Markdown editor, similar to StackEdit, is Editor.md. This open source tool also gives you an easy-to-use toolbar, with more useful formatting options for the beginner to Markdown.
You can format everything from fonts, to titles, to lists. You can also quickly insert links, images, code blocks, tables, emojis, and special characters. Use an online editor or download an app if you want. When using it online, simply copy and paste the version of the rich text you create in the desired location.
Notable features of Editor.md include:
See a list of useful shortcuts by tapping Help.
One-click HTML preview.
Full screen mode, helping to focus on writing without distraction.
If you are looking for a simple Markdown editor that offers a powerful toolbar, don't miss the free Editor.md option.
Best free Markdown editor to convert
With these free Markdown tools, you can paste rich text or upload to your documents. Then quickly convert it to Markdown.
4. Draftin.com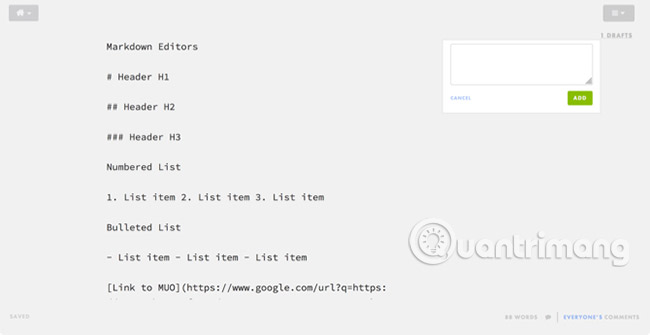 With Draft, you can easily convert documents written in rich text into Markdown, including titles, lists, links, and other items.
Import documents from locations like Dropbox, Google Drive, Evernote, Box, or your computer. Drag and drop or browse to import the file you want. Then just wait a few minutes and the converted Markdown document will be displayed.
Draft notable features include:
Share your document with a link that lets others help you edit the document.
Create folders to organize your documents.
Publish to sites like WordPress, Blogger, Tumblr, LinkedIn and others.
Adjust font, size and color settings along with the background color.
You can create a free Draft account and receive email notifications when your document has been converted and ready for use. For a good Markdown tool with extra features head over to the website and give Draft a try.
5. Paste to Markdown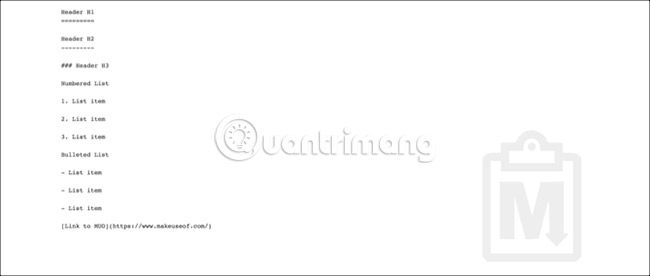 Paste to Markdown is one of the easiest websites to convert documents into Markdown. You won't find any great extras or features with this tool. But it works very quickly and is easy to use.
Convert your document using Paste to Markdown as follows:
Copy text from your document or another website.
Paste text directly onto the main page of Paste to Markdown.
You should see your document converted to Markdown, and then be able to copy and paste the document where you need it.
You don't have to click any buttons, press any keys or move your mouse. After you paste the text into the page, it will be converted for you to copy and move the results elsewhere. There's no simpler tool than Paste to Markdown.
6. Word to Markdown Converter

One last online Markdown tool worth a try is Word to Markdown Converter. As the name implies, the website currently only works with Microsoft Word documents. However, it does all the work very well.
Convert your document using Word to Markdown Converter as follows:
Use the button Browse to position your document or drag and drop it to the bottom part.
When the new tab opens, you'll see both your original and new Markdown text.
Then copy the Markdown text and paste it where you need it.
Word to Markdown Converter is just as easy to use as Paste to Markdown. There's no additional feature or action you need to take, other than selecting your document. The only difference is that this free online tool only works with Word. So if Word is the text editor of your choice, then this is the tool for you.
Whether you use it all the time or just getting started with Markdown, these free online tools will help.
Wish you find the right choice for you!
See more:
The best apps for writing stories and writing notes on Android

5 of the best free code editors
10 of the best free HTML editor tools for Windows 2018
.