Original copyright prohibits commercial reprint
Authorization
6 in 4 in the first round, China Jinhua made a good start in the Australian Open
Wang Qiang, Zhang Shuai, Zheng Saisai, and Zhu Lin advanced to the second round, while Peng Shuai and Wang Yafan were eliminated after the third set.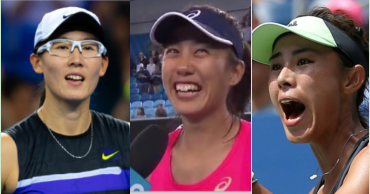 Zheng Saisai (left),Wang Qiang (right),Zhang Shuai (middle) and Zhu Lin passed the Australian Open in the first round.
Beijing News (Reporter Sun Haiguang) The 2020 Australian Open is continuing today. All six Chinese players have ended the first round. Wang Qiang, Zhang Shuai, Zheng Saisai and Zhu Lin advanced to the second round. Out after the war.
Affected by yesterday's rain, the matches of Wang Qiang, Peng Shuai and Wang Yafan were postponed to today. No. 27 seed Wang Qiang defeated French veteran Parmentier 7-6 (2) and 6-3 with a wild card.
Wang Qiang's opponent in the second round was another French player Ferro. Wang Qiang led 4 wins and 1 loss in the match record. Last year in the third round of the US Open, Wang Qiang beat Ferro 2-0. If we can go further, Wang Qiang will usher in the opportunity to challenge Serena again.
"The first game of each game is difficult, and the Grand Slam is a little bit nervous." Wang Qiang said that although the game was anxious, it was basically within his controllable range. However, Wang Qiang also bluntly said that each round is a tough battle and cannot be taken lightly.
With Wang Qiang's promotion, the six Chinese players in the women's singles draw ended the first round of competition. In addition to Zhang Shuai, Zheng Saisai and Zhu Lin, who were promoted yesterday, a total of 4 people from China Jinhua's Australian Open reached the second round.
Veteran Peng Shuai lost 6 to 4, 6 to 7 (6) and 3 to 6 to Hibiya Nozao, stopping the first round of the Australian Open for 3 consecutive years, ending the 11-game winning streak against Japanese players.
In the decisive game, Peng Shuai once had a cramp, which also affected the game. "After playing for more than two hours, she was tired. She was able to grind and run." 34-year-old Peng Shuai said that when she was older, she was particularly prone to cramps. Here it is. In the third set, I know that my physical fitness can't keep up and my psychology is no longer there. "
In another match, Wang Yafan lost to American player Rishke 6-7 (5), 6-2, 3-6, counterattack failed to stop in the first round.