Original copyright prohibits commercial reprint
Authorize
45 million bank deposits "disappear", Hebei Banking and Insurance Regulatory Bureau: bank deposits violate regulations
The submission shows that after investigation and verification, from August 13th, 2012 to May 28th, 2014, the reconciliation method between ABC Yuanshi Sub-branch and Yangtian Communication was mail reconciliation, which did not comply with the reconciliation of Agricultural Bank of China Hebei Branch The "Administrative Implementation Rules" stipulates that the "depositors opening settlement accounts across administrative regions shall adopt door-to-door reconciliation".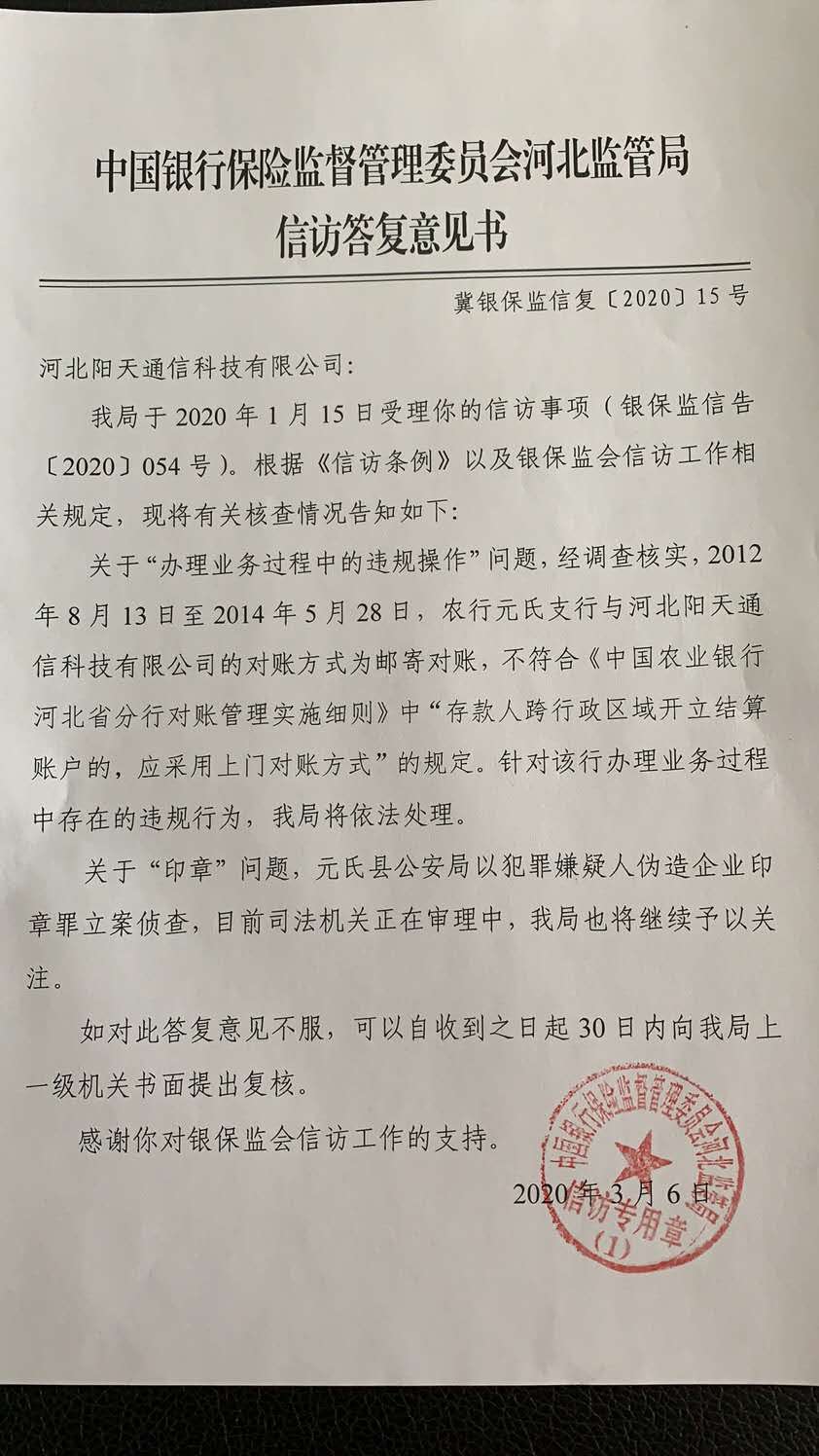 Beijing News (Reporter Li Dawei) On April 9, the Beijing News reporter was exclusively informed by Wang Xiangyang (pseudonym), the actual controller of Hebei Yangtian Communication Technology Co., Ltd. (hereinafter referred to as "Yangtian Communication"), against the Beijing News. In the reported "disappearing 45 million bank deposits", it received a letter of reply from the China Banking Insurance Regulatory Commission Hebei Supervision Bureau in the middle of March (hereinafter referred to as the "submission"). The submission stated: "Agricultural Bank of China Yuanshi Sub-branch has violations in the business process. For the violations in the bank's business process, our bureau will deal with them in accordance with the law."
On December 6, last year, the Beijing News published an in-depth report on the "disappearing 45 million bank deposits", which quickly sparked heated discussions. According to reports, in 2012, in order to obtain a high interest rate, Wang Xiangyang entrusted the accounting supervisor to deposit 45 million yuan in batches in a bank of Yuanshi. In the meantime, Wang Xiangyang once signed a "commitment letter", promising a deposit period of one year, no inquiry, no advance withdrawal, no online banking, no SMS reminder. Two years later, when the company needed to withdraw money from the bank due to business needs, it found that the huge amount due was "missing."
The police investigation found that from August 2012 to December 2013, Wei Yanjun and his gang used fake stamps to transfer the money deposited by Yangtian Communication to the account of Shijiazhuang Detian Trading Co., Ltd. under its actual control. In the meantime, due to the replacement of the seal by Yangtian Communications, Wei Yanjun and his co-workers made a second set of fake stamps, which once again tricked the bank into stealing.
On the afternoon of the publication of the report, the staff of the Hebei Banking and Insurance Regulatory Bureau responded to the reporter of the Beijing News: "The relevant information on this matter has been received and is closely monitored. The case is under trial in the court. "After that, the Hebei Banking Insurance Regulatory Bureau established an investigation team to investigate the matter.
The above submissions show that after investigation and verification, from August 13, 2012 to May 28, 2014, the reconciliation method between ABC Yuanshi Sub-branch and Yangtian Communication was by post, which did not meet the requirements of the Agricultural Bank of China Hebei Branch The "Administrative Rules for Account Management" stipulates that "where depositors open settlement accounts across administrative regions, the door-to-door reconciliation method shall be adopted."
Regarding the issue of "seals", the submission stated: "The Yuanshi County Public Security Bureau is investigating the crime of forging the enterprise seal by criminal suspects. At present, the judicial organ is in the process of trial and our bureau will continue to pay attention to it."
Beijing News reporter Li Dawei editor Yue Caizhou proofreading Li Ming
Reporter's email: [email protected]