#36氪 #debut #Focus #perovskite #quantum #dot #materials #Zhijing #Technology #received #tens #millions #financing
[ad_1]

Author: Qiaoyu Meng (qiaoyumeng@36kr.com), Danya Qiong (syq@36kr.com)
Editor: Shi Yaqiong
**
36 Krypton learned that the perovskite quantum dot supplier "Zhijing Technology" has recently completed a series A financing of tens of millions of yuan, which was jointly invested by Wu Yuefeng and Zhongguancun Qihang. Historical investors include Ascendas Capital, China Shipping Frontier, Inno Angel, Zhenyun Venture Capital, Yiyuan Capital, AC Accelerator and other institutions. Funds from this round of financing will be mainly used for the mass production, sales, iterative product research and development of perovskite quantum dot films, and the development of cutting-edge technologies such as the patterning of perovskite quantum dots.
Zhijing Technology was established in July 2016, undertaking the original in-situ preparation technology of perovskite quantum dots by BIT. The core product is perovskite quantum dot optical film.coreThe team comes from the Beijing Key Laboratory of Nanophotonics and Ultra-precision Optoelectronic Systems, School of Materials Science and Engineering, Beijing Institute of Technology. This laboratory is one of the first laboratories in the world to report the application of perovskite quantum dots (ACS Nano 2015, 9, 4533). In 2015, a disruptive in-situ preparation technology of perovskite quantum dots was invented. In July 2016, BIT teachers and students co-founded Zhijing Technology Co., Ltd., and started the industrial development of perovskite quantum dot technology.
Regarding this financing, Dr. Li Jin, general manager of Zhijing Technology, said that Zhijing Technology has undertaken the original perovskite quantum dot preparation technology of BIT, and is currently committed to the industrialization of quantum dot films for liquid crystal displays.The company's first commercial product "Perovskite Quantum Dot Green Film" launched the world's first perovskite quantum dot prototype with its partners in 2018. It will enter the engineering application stage in 2019 and the first batch of products will be put on the market in 2020.At present, other companies on the market have not yet been able to launch commercial perovskite quantum dot optical film products.
Quantum dots are a kind of nano-semiconductor materials that can be prepared by chemical methods, and have a wide range of applications in lighting display, biomarking, sensor imaging, solar cells, lasers and other fields. Since Sony exhibited its first LCD TV equipped with quantum dots in 2013, quantum dot display technology has become a cutting-edge technology in the industry.
In 2020, the global display industry is developing rapidly, and the price and volume of the LCD market are rising. Display companies are investing heavily in new display technologies to vie for the first layout. Among the many new technology routes, QD-LCD technology only needs to change the white LED in the backlight to blue LED while using a quantum dot film between the light source and the brightness enhancement film, replacing the original diffusion film, and the technology is highly mature. Industrialization is developing rapidly. With the promotion of 5G+8K technology, well-known manufacturers such as Huawei, Xiaomi and OPPO continue to introduce display products equipped with quantum dot technology. Quantum dots are expected to become standard LCD configurations and soon usher in the tens of billions of market.
Quantum dot optical film market statistics and forecast sources: HIS Markit, IDTechEx

Quantum dot display products of well-known manufacturers
There are three types of quantum dot display materials, namely cadmium selenide, indium phosphide and perovskite quantum dots. Founded in 2016, Zhijing Technology adopts the perovskite quantum dot solution. At the same time, because of the original perovskite quantum dot in-situ preparation technology, it can provide low-cost, high-performance preparation of quantum dot films.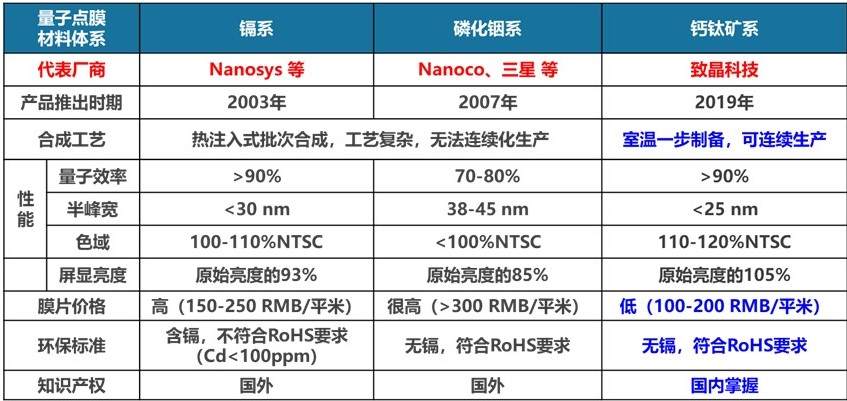 Comparison of different quantum dot material systems
Compared with the traditional quantum dot optical film, the perovskite quantum dot optical film usesBrand new in-situ production process, Avoiding many problems in the synthesis and cleaning process of quantum dots, the utilization rate of raw materials is close to 100%, effectively reducing production steps and reducing production costs. At the same time, the cadmium-free nature of perovskite quantum dots can meet the EU RoHS environmental protection standards, and is the preferred system for next-generation quantum dot display technology.
At the same time, applying the perovskite material quantum dot film to the backlight of liquid crystal displays can significantly improve the color gamut of the end product. The larger the color gamut, the more colorful the display effect. The color gamut of ordinary LCD TVs is 45% to 72% of the NTSC standard, and the color is obviously insufficient. After using perovskite material quantum dot film, the color gamut range can be increased to 110%-120% of NTSC standard, combined with 8K technology, it is more clear and realistic.
Zhijing Technology attaches great importance to the layout of original technology, starting with the original "perovskite quantum dot in-situ preparation technology", through the combination of industry, university and research, the layout of perovskite quantum dots in OLED / Micro-LED display color conversion, solar energy The application of batteries, ultraviolet enhancement, multi-spectral detection imaging, micro lasers, image sensing and other fields has formed an innovative system with perovskite quantum dots as the core. The company attaches great importance to the layout of intellectual property rights,Currently has 8 domestic invention patents, 3 international invention patents, and submitted more than 50 domestic patent applications. Core patents are authorized in China, the United States, South Korea, and Japan.
In terms of productization, the green film products of Zhijing Technology have been mass-produced, and the maturity of the yellow film products is relatively low. Li Jin said that the optical performance of the company's yellow film products can already be guaranteed, and the next step is to achieve reliability and mass production is expected in 2021.
It is worth mentioning that Zhijing Technology adopts the original perovskite quantum dot in-situ preparation technology, which can realize one-step preparation and continuous production at room temperature, which greatly simplifies the heat injection method and significantly improves the production capacity. The differences in craftsmanship and environmental protection are also reflected in costs and prices. Because of the simple process, almost no exhaust gas emissions, and substantial reduction in fixed asset investment, the price of diaphragms for calcified minerals is only 100-200 yuan per square meter. The price of cadmium diaphragm is 150-250 yuan per square meter, and the price of indium phosphide is more than 300 yuan per square meter.
In terms of product landing, Dr. Li Jin told 36Kr that after the establishment of Zhijing Technology in 2016, it took the opportunity of the "Strategic Advanced Electronic Materials" key special project organized by the Ministry of Science and Technology to reach cooperation with TCL and Hefei Lucky. The TV prototype of the perovskite quantum dot LCD screen was first launched at the Global Consumer Electronics Show. After two years of development, Zhijing has solved the problems of reliability of perovskite quantum dots and stability of mass production process. In June 2020, it entered the small-volume supply stage and completed the first batch of perovskite quantum dots with partners. The sales of TV products (TCL 75M10) are currently being planned for 2021. In addition, Zhijing Technology has reached cooperation intentions with Skyworth, Huike, Hisense, BOE and other manufacturers. It is expected that the perovskite quantum dot optical film products will enter the stage of mass production and shipment in 2022.
In terms of market prospects, in recent years, terminal manufacturers such as TCL, Samsung, Huawei, Xiaomi, and OPPO have successively launched quantum dot TVs, which shows that quantum dot backlight display technology has been highly recognized by the market and has broad market prospects. According to the calculation of Tianfeng Securities, with the price of quantum dot film becoming more reasonable and the promotion of miniLED backlight technology, the global quantum dot film market will reach tens of billions of yuan in the next five years. Specific to the application scenario of liquid crystal display, according to the data provided by Zhijing Technology, the current global LCD screen size is about 250 million square meters, and the penetration rate of quantum dot technology is 3-5%. General Manager Dr. Li Jin believes that as costs decrease,In the future, quantum dot film can become the standard configuration of LCD screens, with a market share of over 60% and a market size of over RMB 10 billion..
Talking about the next development plan, Li Jin said that in addition to deepening in the liquid crystal display scene, Zhijing Technology is also expanding other application areas of perovskite quantum dots.
Academically, perovskite quantum dot technology is an important research direction of cutting-edge material technology. The subdivided research directions include current research on lead-less and lead-free perovskite quantum dots. In terms of commercialization, perovskite has been applied in the photovoltaic field before and is solving problems such as stability improvement.
Investor perspective

Wu Yuefeng Capital's Viewpoint

Zhongguancun Sailing Viewpoint
.

[ad_2]