If you are interested and want to buy yourself a gimbal for smart phones, learn about the 3 products below in the price range of 2 to 3 million.
Gimbal (also known as anti-vibration handle) for smart phones is now a popular product because of the need to take photos and videos during trips, picnics or user meetings. becoming higher and higher.
To capture good-looking pictures or shoot high-quality videos, not only high-end phones but also gimbal devices are important tools to prevent shake when shooting movies, taking photos, bringing quality. Good image quality even when the user is on the move.
Let's talk about 3 gimbal products in the price range of VND 2-3 million being sold at CellphoneS system stores.
DJI Osmo Mobile 2 Anti-Shake Handle
With a compact and lightweight design, DJI Osmo Mobile 2 anti-vibration handle will be an interesting option for users. On the handle of the handle is equipped with buttons for taking pictures, recording movies as well as adjusting zoom close or far.
DJI Osmo Mobile 2 can not only be a vibration-proof handle, but also a backup battery to charge your phone. With the rotating mode on the phone holder, users can fix smartphones in both vertical and horizontal directions according to their needs.
In addition, DJI Osmo Mobile 2 also supports merging images together to create a panorama. The phone is paired with the handle via a Bluetooth wireless connection.
Currently, DJI Osmo Mobile 2 anti-vibration handle is available at CellphoneS price of 2,990,000 VND.
BUY NOW DJI OSMO MOBILE 2
Feiyutech Vimble 2 anti-vibration handle
With Feiyutech Vimble 2 anti-vibration handle, the phone will connect to the device via WiFi. This handle is composed of many useful functions such as on high-end gimbal lines.
Feiyutech Vimble 2 uses advanced 3-axis anti-vibration system. Users can adjust the direction of rotation of the phone with a button, making it easier to shoot movies and take photos.
Built-in rechargeable battery pack device provides up to 10 hours of usage time and uses microUSB charging port. The handle can last up to 18cm.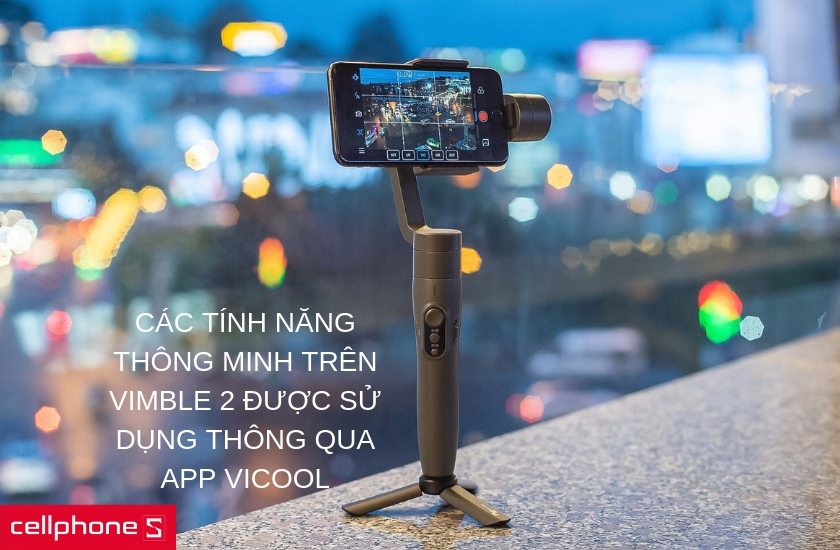 When using the device, users can connect to Vicool application to set the parameters of the handle as well as update the software and control operations. This software also integrates features such as video editing, movement tracking of the subject.
The current price of Feiyutech Vimble 2 anti-vibration handle at CellphoneS is VND 1,890,000.
BUY NOW FEYUTECH VIMBLE 2
Zhiyun Smooth anti-shake handle 4
Using the Zhiyun Smooth 4 anti-vibration plastic material, the design includes a slider on the control panel and a trigger button on the back of the device. The controller of this handle integrates various function keys.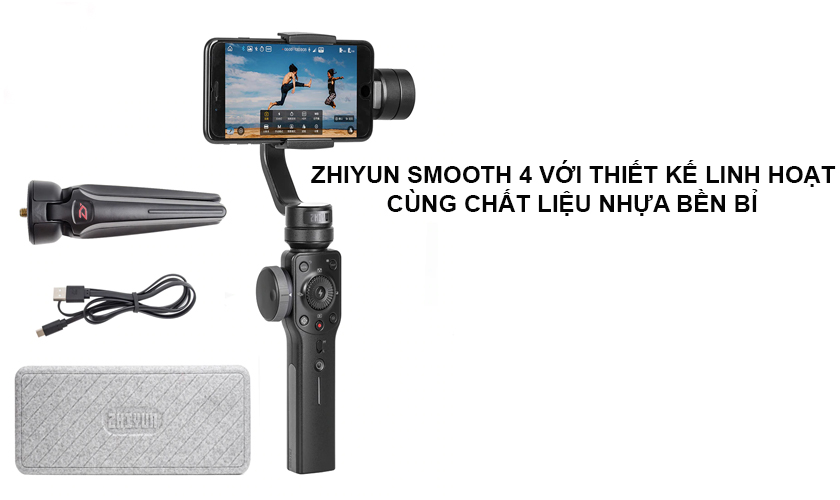 The outstanding features of the product are highly appreciated by users including fast transitions, object tracking mode, time setting, Vertigo Shot, Slow Motion, exposure mode, Phone Go, …
In addition, the Zhiyun Smooth 4 anti-shake handle also has a swivel on the left that adjusts the focus conveniently. In normal mode, the swivel will support near and far zooming. After removing the Fn key, the user can use the swivel to freely focus manually for a certain time
The Zhiyun Smooth 4 anti-shake handle is equipped with 2 charging ports equipped with a lithium-ion battery that provides 12 hours of continuous use. The device can also charge for phones in case of necessity. The remaining battery of the handle will be displayed on the LED screen.
The current price of Zhiyun Smooth 4 anti-vibration handle at Cellphone S is 2,090,000 VND.
BUY NOW ZHIYUN SMOOTH 4
Currently, to help readers understand the latest and hottest technology information, CellphoneS officially established fanpage "Sforum.vn" news site, here information about attractive technology always updated regularly and continuously.
Please like Sforum.vn page by following the link: https://www.facebook.com/SforumTech.
Or visit the Sforum.vn website to immediately read extremely hot technology news.


Nguyễn Chính