Under 1 billion should buy what car? In this price range, you absolutely can own a spacious, comfortable high-rise car, suitable for both the street and the road.
Honda CR-V
Honda CR-V was first distributed to the market in 1997. In recent years, CRV has continuously entered the top 10 best-selling cars. Price of Honda CRV version 1.5E is only 983 million. This is currently one of the vehicles under 1 billion high worth the reference. In the latest generation, experts evaluate Honda CR-V car has been significantly upgraded by the Japanese car manufacturer in terms of exterior, interior and especially the engine.
Honda CR-V uses a 4-cylinder turbocharged engine, a capacity of 1.5L similar to the "brother" Honda Civic and the new Honda Accord. The car reaches a maximum power of 188 horsepower and a maximum torque of 240 Nm. Honda CR-V 2018 can accelerate from 0 to 100 km / h in just 7.6 seconds. Fuel consumption on combined roads is 6.9 L / 100km, on urban roads is 8.9 L / 100km and on roads is 5.7 L / 100km.
Besides, with the perfect combination of 1.5L turbocharged engine and CVT gearbox gives the car the ability to operate smoothly on many speed ranges. Honda CR-V operates compactly when running at high speed, with good balance and capable of accelerating well when overtaking. Moreover, the car's turbocharged engine responds well in terms of power, so it is easier and more confident to go downhill.
In addition to the advantages of the engine, many people also appreciate the Honda CRV in terms of design and equipment. The car design has more tweaks to bring a more modern look. The interior has been renovated to a 5 + 2 structure to bring more seats. The facilities, facilities and safety equipment are invested in standards.
Mazda CX-5
Mazda CX-5 was launched in 2011 and is the first model on the Japanese automaker to adopt the KODO-language design and take the lead in SkyActiv engine technology. Mazda CX-5 was introduced by THACO to Vietnamese consumers in November 2017. Upon launch, this crossover has "stormed" in Vietnam market. The price of Mazda CX5 Deluxe 2.0AT version is only 899 million VND, while the Luxury 2.0AT version costs 949 million VND.
In the latest car, the Mazda CX5 has many significant changes from the design style, comfort equipment and safety features. With the Mazda CX5 2.0AT version, the car is equipped with a 2.0L capacity engine, for a maximum capacity of 154 horsepower at 6,000 rpm along with a maximum torque of 200 Nm at 4,000 rpm.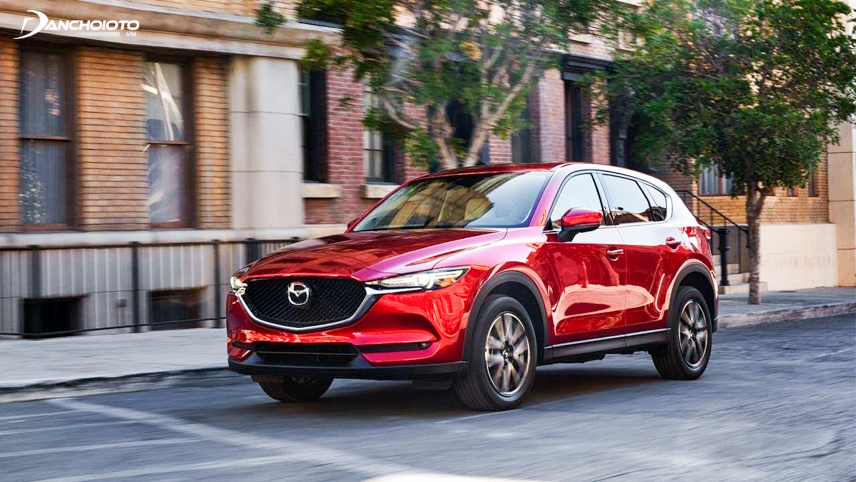 The new Mazda CX-5 has many changes from design style to equipment
Mazda CX5 uses a 6-speed automatic transmission with integrated Sport driving mode. Vehicles with additional navigation control function for torque is G-Vectoring Control. With this GVC will allow changing the torque of the engine to help adapt to each driving mode, thereby giving the optimum ability of horizontal / vertical acceleration or traction on each wheel, helping the tank. Speed ​​is smoother and smooth operation, high stability when cornering.
At the price of less than 1 billion, although the Deluxe and Luxury versions use only 2.0AT engine, most users rated the Mazda CX5 powerful enough to go on the streets and roads. The car feels good to drive, thanks to electric power, the steering is light when traveling in the city but heavier when running at high speed. With Sport driving mode, the accelerator pedal is more sensitive, very suitable for traveling on highways or steep passes and when passing.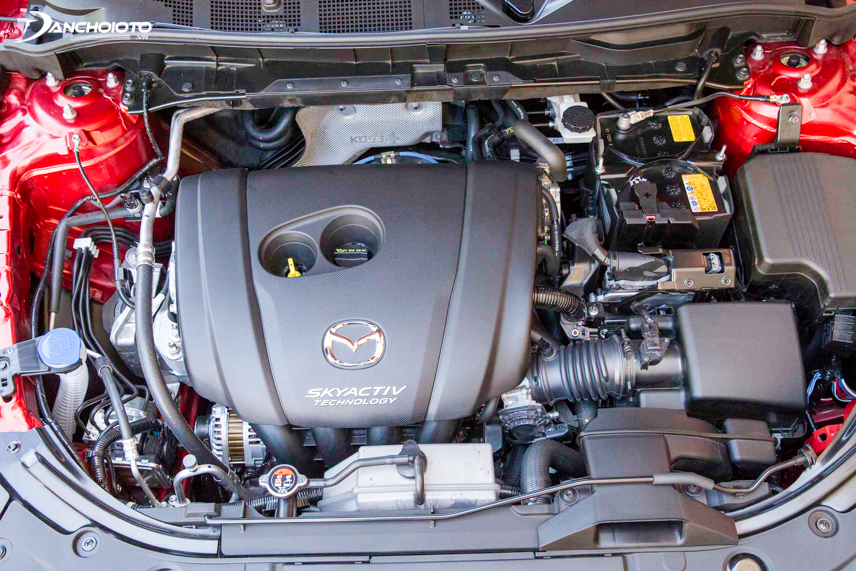 Although the Deluxe and Luxury versions only use 2.0AT engines, most users rated the Mazda CX5 powerful enough to go on the streets and roads.

Hyundai Tucson
Hyundai Tucson is an assembled car model in Vietnam by Hyundai Thanh Cong and is being sold with 4 petrol and diesel engine versions. The price of Hyundai Tucson car in all 4 versions is less than 1 billion dong, specifically:
Price of Tucson 2.0L (gasoline, standard): VND 790 million
Price of 2.0L car (petrol, special): 869 million VND
Price of 1.6L TGDI car (petrol): 922 million VND
Car price 2.0L (oil, special): 930 million
Hyundai Tucson is currently a 5-seater car with a high price under 1 billion VND that has an oil engine version that is highly appreciated for its performance and fuel efficiency. Tucson oil version for maximum power reaches 185 horsepower at 4,000 rpm, maximum torque of 402 Nm at 1,750 – 2,750 rpm.
Meanwhile, the Tucson version of the petrol engine 2.0 produces 155 horsepower at 6,200 rpm, maximum torque of 192 Nm at 4,000 rpm. With the special 1.6T-GDi, the car produces 177 horsepower at 5,500 rpm, maximum torque of 265 Nm at 1,500 – 4,5000 rpm.
Hyundai Tucson attracts with 2 options petrol and diesel engine
Regarding gearbox, 2 versions of Hyundai Tucson 2.0 standard, 2.0 special use 6-speed automatic transmission. The 1.6T-GDi version uses a 7DCT gearbox. And the diesel engine uses an 8-speed manual gearbox.
Regarding equipment, many people rated Hyundai Tucson quite high when using the auto-on / off LED headlights designed very nicely to allow the extension of lighting angle when needing cornering; smart electric trunk; the seats are upholstered and sporty when hinged on the body of the occupants; driver seats with electrical adjustment to 10 directions; have entertainment system and safety equipment very comfortable and modern, …
loyalty