Cloud computing is a term that has been widely used for many years. With the exponential increase in data usage associated with the 4.0 transition in the 21st century, individuals and organizations are increasingly more difficult to maintain all the information, programs and Important system on the In-house Server. The solution to this problem is Cloud Server.
The cloud industry is moving in the direction of strong development, there will never be a better time to apply Cloud Server to businesses like right now.
Cloud Server is a virtual server developed on the cloud computing platform, providing much better data security than In-house servers because of data encryption and regular backup.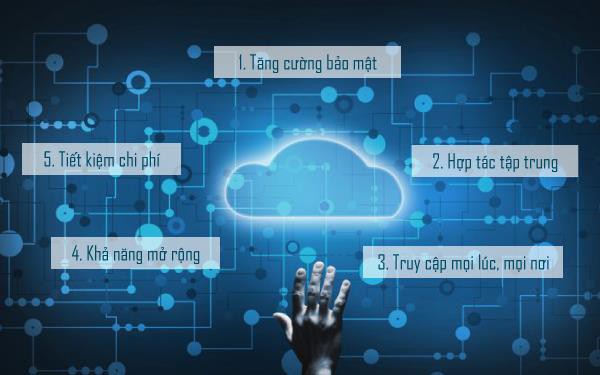 In addition to the ability to focus on cooperation, the communication between colleagues and superiors is increased speed and efficiency significantly. Everyone has the ability to access the same data anytime, anywhere in real time, helping to improve the cohesion and consistency of work.
As businesses grow and change, Cloud Server can shrink and expand rapidly to meet demand. No requirement of time-consuming software installation costs, Cloud Server helps businesses maximize cost of infrastructure, IT personnel and system maintenance. Providers like BizFly Cloud Server will help businesses focus on core businesses, Cloud Server will be "cared and cared" thoroughly by suppliers.
Although the cost for deploying applications to Cloud Server is usually quite large, but it is impossible not to deploy applications to Cloud Server, at this time the BizFly Pre-built application add-on on Cloud Server is the optimal solution. Best.
BizFly Pre-built application simplifies installation of applications on cloud servers with just one click, minimizing installation time, optimizing productivity for businesses.
Users will skip installing the application inside the virtual server, instead of just clicking once, the server will launch WordPress, MySQL and other applications (like Mangento, VestaCP, CWP, CPanel, GitLab, Sentry , Docker, Redis, Memcache, NextCloud, OwnCloud, WordPress, LAMP, LEMP, Joomla, …) almost instantly.
Once the applications have been installed, Cloud Server is ready to operate, now the enterprise needs to ensure that the system does not encounter downtime because the huge amount of requests are sent at the same time with another add-on: BizFly Load Balancer.
When the system has too many users, a single server does not meet the huge amount of requests sent at the same time. Enterprises need to share the work of the current server with other servers.
At this time, BizFly Load Balancer will effectively distribute incoming traffic on a server group, increase availability and reliability as well as simplify the process of managing and maintaining the system for businesses.
BizFly Load Balancer acts as a reverse proxy used for the purpose of distributing network traffic or applications on multiple servers, using only servers that are running efficiently and in a state that is readily available.
However, in the course of operation, businesses will inevitably make errors that cause serious incidents that may appear at any time. To detect and prevent incidents, it is necessary to integrate BizFly Alert monitoring system.
The monitoring system is responsible for controlling the technology used by the company, including hardware, network, communications, operating systems, applications, etc. The monitoring system will analyze performance and performance. Productivity of technology is being used, and detection and warning of possible errors.
An optimal system can monitor devices, infrastructure, applications, services and even business processes. Enterprises will no longer have to spend too much time checking the system regularly, reducing the psychological burden of always updating the system situation in real time and not missing any important information.
Located in BizFly Cloud ecosystem operated by VCCorp, BizFly Cloud Server provides virtual server services deployed on OpenStack platform and is now a prestigious partner of many large units such as kenh14.vn, Topica, VTV, GenK, Dantri … For readers interested in BizFly Cloud Server, you can access at:
Website: https://cloud.bizfly.vn/cloud-server/
Support hotline: 024 7302 8888/028 7302 8888