Old computers are often slow and upgrading components such as RAM, CPU and hard drive can alleviate performance problems. However, the best solution to bring new life to your old computer is to install a lightweight Linux distribution.
10 speeding tips for old computers
Linux distributions come in a variety of varieties, so you will have many choices for older computers. If you have an Atom-powered netbook, a Pentium 4 desktop, a Core 2 Duo laptop, etc., instead of removing it, try a lightweight Linux distro for a new experience. This article will introduce you to 17 Linux distributions that bring "new breath" to your old computer.
Top 22 most compact Linux versions
1. Xubuntu
2. Lubuntu
3. Puppy Linux
4. Macpup Linux
5. SliTaz
6. CrunchBang
7. Legacy OS
8. Arch Linux
9. Porteus
10. Trisquel Mini
11. Linux Lite
12. Bodhi Linux
13. Zorin OS
14. ArchBang
15. Tiny Core Linux
16. Elive
17. watts
18. Peppermint
19. LXLE
20. CrunchBang ++
21. antiX Linux
22. SparkyLinux
1. Xubuntu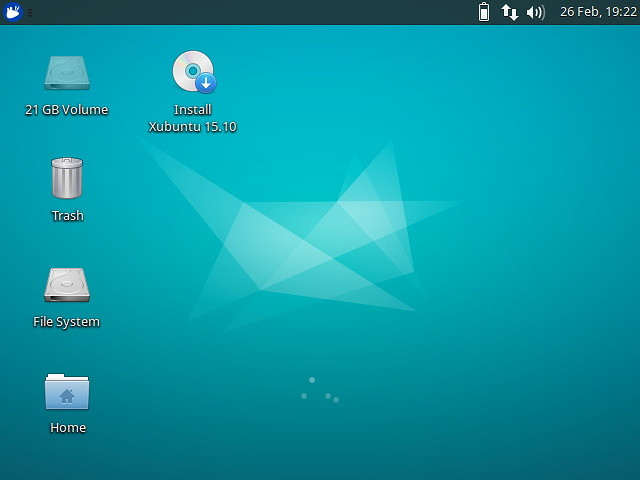 Xubuntu is a derivative of Ubuntu using the Xfce desktop environment. Although Xubuntu is not as attractive as GNOME, it provides a flexible experience. With Xubuntu you only need 256MB of memory and with Minimal CD the size is reduced to 128MB. In addition, it also has an early installation that only requires 512MB of memory.
As a derivative of Ubuntu, Xubuntu has access to the entire Canonical repository. This is a great distribution that provides a range of features and applications with low system resource consumption.
2. Lubuntu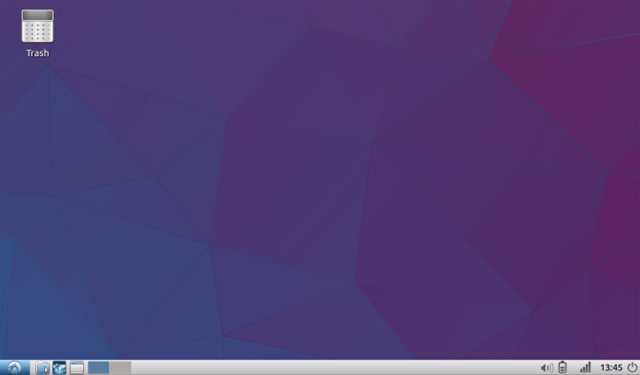 Lubuntu claims to be a "light, fast, and easy to use" distribution. Like Xubuntu it is a derivative of Linux, it has access to the full Canonical repository. Although Xubuntu uses the Xfce desktop environment, Lubuntu is used for LXDE desktop. To install this distribution, you only need 1GB of RAM if you use services like YouTube and Facebook ,, and if you only use programs like LibreOffice and web browser, you only need to use 512MB of RAM.
The minimum specifications for a CPU running Lubuntu are Pentium M or 4 or AMD K8. In addition, Lubuntu has a lot of applications including LXTask system screen, Gnome disk utility and MTPaint.
3. Puppy Linux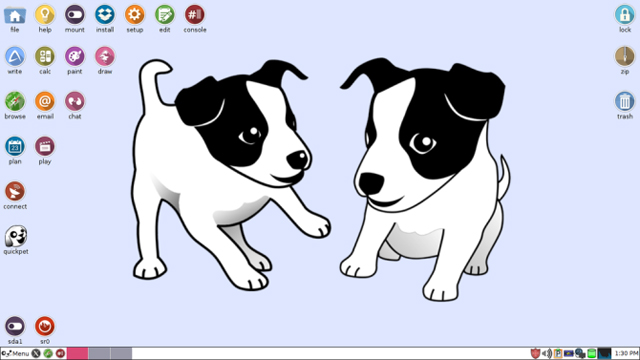 Looking for a fast, easy-to-use distribution, try Puppy Linux, which is the perfect distribution for recovering old computers. Puppy Linux can actually be booted directly from the flash drive or CD. In addition, Puppy Linux can even "live" in memory and the boot time usually takes less than a minute, even on older hardware. The default ISO is about 100 MB and OpenOffice is less than 300 MB (about 256 MB).
Puppy Linux is an excellent distribution, with both a full installation and a live CD used for client computers. You can even use Puppy Linux to remove malware.
Remove malware in your Windows 10 computer
4. Macpup Linux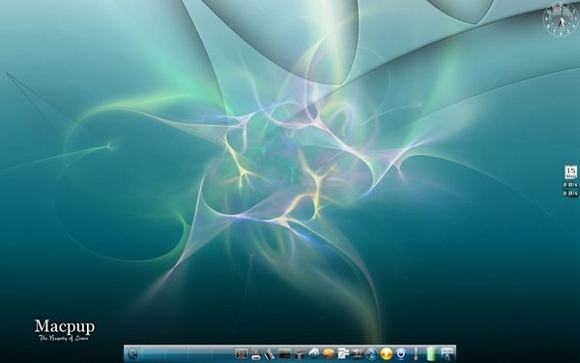 Macpup Linux is a derivative of Puppy Linux so it has similar features. Macpup is small enough to run in RAM, but it is still an official and complete distribution. It includes a range of office applications, multimedia and graphics applications that help turn your old computer hardware into a new computer. Macpup Linux is compatible with the Ubuntu Precise package and even contains Precise Puppy similar applications with Firefox.
5. SliTaz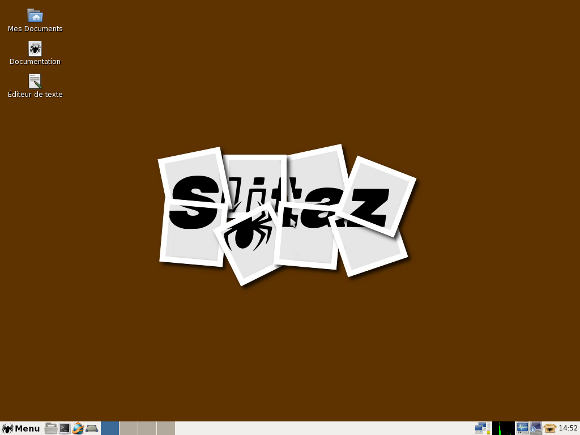 If you're looking to rejuvenate your old computer, try SLiTaz. Although this Linux distribution is lightweight, it still has high security features. To maintain high performance, SLitTaz uses Linux Kernel and GNU software. Because the feature can be installed on traditional hard drives, SliTaz is perfectly suited for live CDs. In addition, SliTaz can be used on everything from old computers to servers or even a small ARM device like the Raspberry Pi.
The original file system is only 100 MB and the ISO image is smaller than 40 MB. Other features include an FTP / web server supported by Busybox, Dropbear SSH client, SQLite and an easy-to-use Openbox desktop running on Xvesa / Xorg.
6. CrunchBang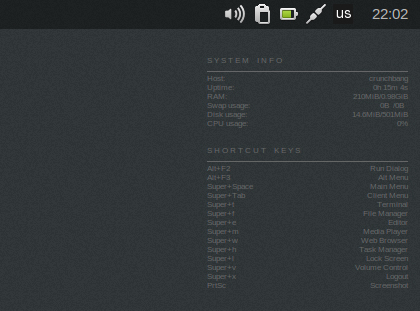 Although CrunchBang is no longer supported, you can still download and install it on your old computer. CrunchBang uses minimal resources, so it can run Openbox window manager and has many pre-installed applications using the GTK + utility tool. Although CrunchBang uses its own archive, there are also many packages from the Debian archive.
As of February 2015, CrunchBang is no longer supported. However, this is a Linux distribution with excellent performance not only for old computer hardware but also for new high performance hardware.
7. Legacy OS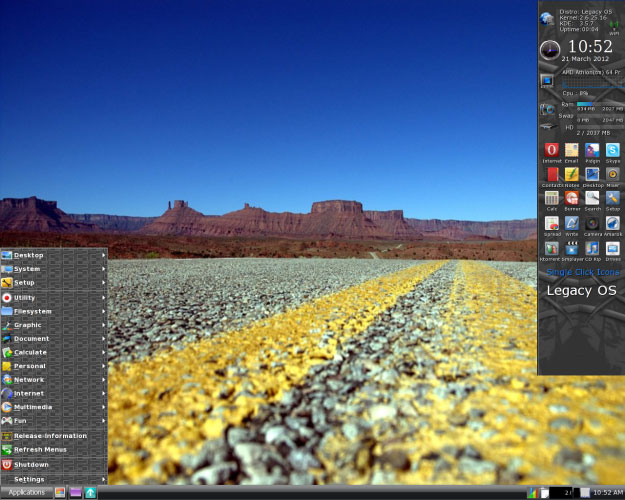 Legacy OS is a great, lightweight Linux distribution derived from Puppy Linux. This versatile distribution has many codec and plugin applications. However, despite its feature-rich environment, Legacy OS is still suitable for older hardware.
It has two versions of Legacy OS 2.1 LTS and 2.1 Gamer. Gamer includes 100 games, HTML5 browser and many other applications on one disc. LTs has over 200 HTML5 applications and browsers on CD. Both are capable of supporting Pentium III processors but they are also great for newer computers.
8. Arch Linux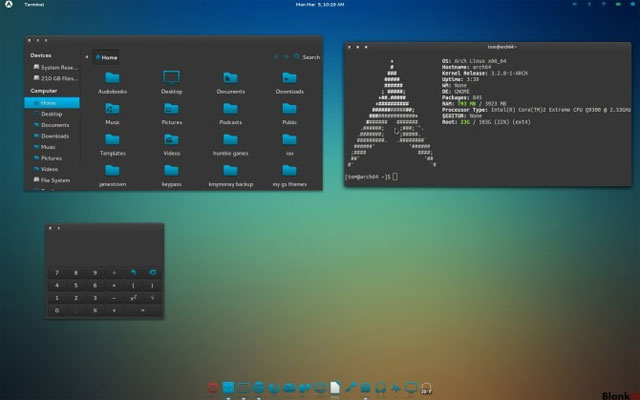 KISS compliant, available for i686 and x86-64, Arch Linux is lightweight and easy to use. Notable derivatives of Arch Linux include BBQLinux, an Android variant, LinHES for HTPC, and Arch Linux ARM that can be installed on a Raspberry Pi. And it is always updated even on old computer hardware.
9. Porteus
Porteus is a complete distribution of Linux optimized for use as a live CD. Although it is optimized for booting from a flash drive or CD, it can also be installed on a hard drive. With 32-bit and 64-bit ports, Porteus is one of the best Linux distributions for old PC hardware and boot time in just 15 seconds. Like many Linux variants used on older PCs, Porteus is capable of running in RAM.
10. Trisquel Mini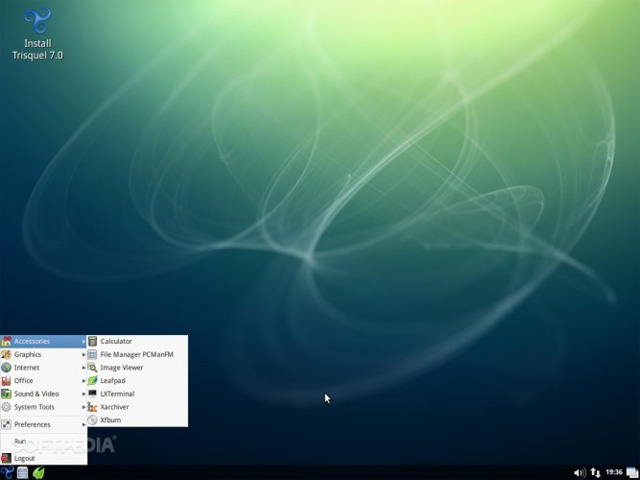 Trisquel is a derivative of Ubuntu LTS. The GNU distribution uses Ubuntu packages with a desktop environment based on the GNOME 3 Flashback platform. Trisquel Mini was built specifically for old netbooks and PCs. The LXDE desktop environment, X Window System graphic display and GTK + ensure that Trisquel runs well even on older hardware.
While Trisquel Mini is a small Linux distribution, it is bundled with applications like AbiWord, GNOME MPlayer and Transmission.
11. Linux Lite
Linux Lite is a good, lightweight Linux distribution. Boasting a "simple, fast and free" distribution, Linux Lite requires very low memory. The included applications include LibdeeOffice and VLC.
12. Bodhi Linux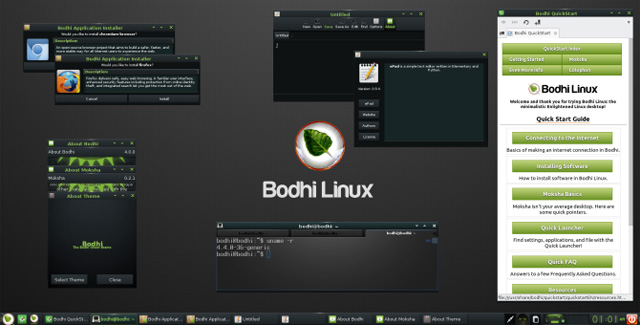 Bodhi Linux is derived from Ubuntu LTS with the main design principle centered around minimalism and Moksha desktop. The default application only takes up 10 MB of space. Minimum system requirements is 128 MB RAM, 4 GB of hard drive space and 500mhz processor. Notably, Bodhi Linux even provides installation instructions on Chromebooks.
13. Zorin OS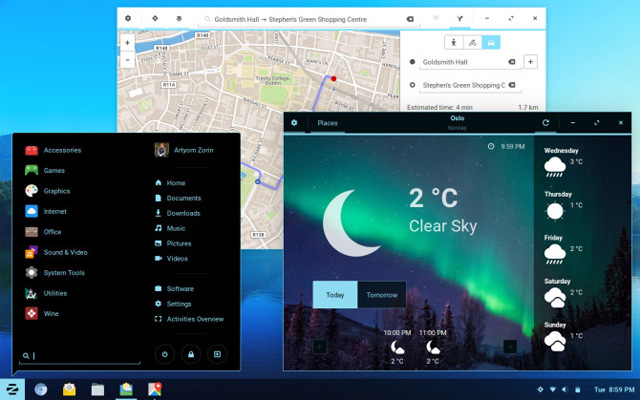 Zorin OS aims to help desktops run faster while improving performance and security for older netbooks and computers. If you intend to switch from Windows, consider Zonin OS, which is a great choice. According to the Zorin OS website, it offers excellent systems such as international space stations.
14. ArchBang
ArchBang is based on Arch Linux and is inspired by CrunchBang, another compact Linux distribution. ArchBang is basically similar to Arch Linux but simple and smaller in size. ArchBang gives users the power and flexibility of Arch Linux but does not require complex setup and installation.
ArchBang works on i686 or X86_64 compatible devices, uses 700MB of disk space and requires only 256MB of memory.
You can use ArchBang as a full-featured desktop operating system or as a portable operating system. ArchBang is extremely fast, stable and always up to date.
Download ArchBang for i686 | x86_64
15. Tiny Core Linux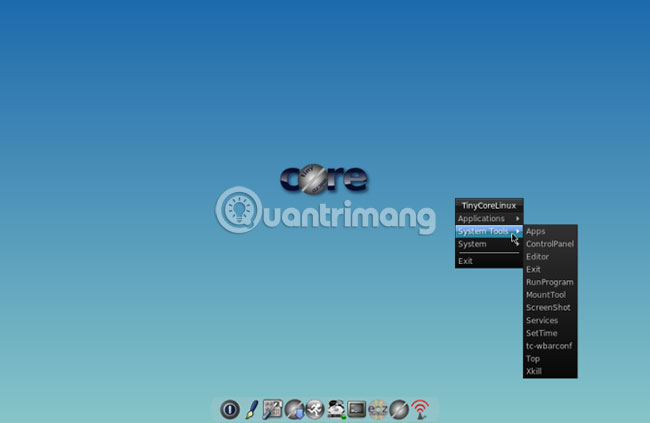 Tiny Core Linux is an extremely compact Linux distribution, developed by Robert Shingledecker, the main developer for the distribution, Damn Small Linux. (The Damn Small Linux website is no longer working, but you can find ISOs online.)
The "TinyCore" installation of Tiny Core Linux, including the base distribution and the standard GUI, is only 16MB in size. Basic installation requires at least 46MB of RAM to run, but if you want to run additional applications and other software, you'll need a bit more RAM. Note that you will need to use an Ethernet cable to connect online with TinyCore because there is no wireless support.
The best option for most people is the "CorePlus" installation, which is 106MB in size. CorePlus has wireless support, non-US keyboard support, plus installation tools for alternative window managers, and many other handy setup tools.
Download TinyCore for x86 | Core Linux for x86.
16. Elive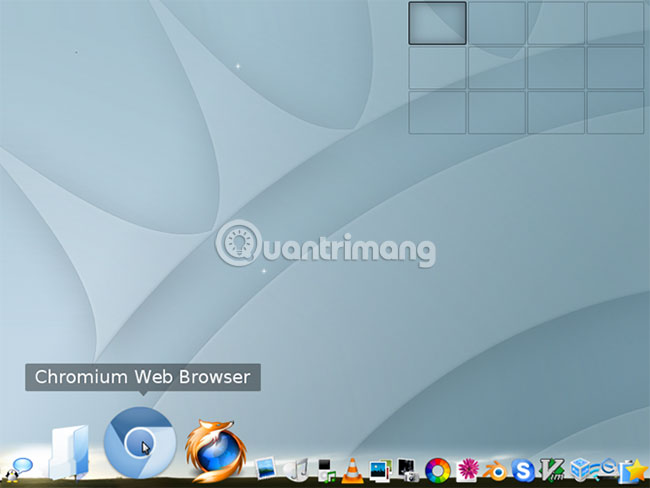 Elive is a lightweight Linux distribution with a custom desktop environment. Based on Debian, Elive comes preinstalled with a variety of handy applications, along with a few games.
Elive is not designed specifically for a specific audience. Anyone who appreciates this distribution can use it.
The Elive desktop environment is a highly customizable version of Enlightenment, providing a gentle and beautiful experience. Elive works well, even on very old hardware. The minimum requirements for Elive are 500MHz CPU speed and 198MB of RAM, plus a 700MB hard drive capacity.
You cannot download Elive directly. The developer may ask you to make a small contribution to maintain the project and download it immediately. If not, you must go to the website, enter your email address and wait for 4 hours.
Windows users must use Elive's USBWriter to create a bootable USB flash drive because the Elive developer thinks other programs make unintended changes to ISO during the burn process. MacOS and Linux users can continue to use Etcher.
Download Elive USBWriter for Windows (Contribute / free).
17. watts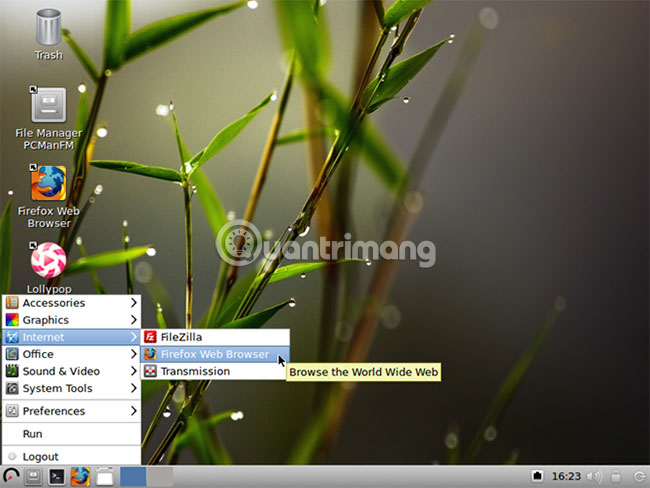 wattOS is an excellent small Linux distribution based on Ubuntu. You can run wattOS from a USB flash drive, CD, DVD or other bootable media. Moreover, wattOS has a kiosk mode or you can install it directly onto the hard drive.
Minimum hardware requirements include an Intel or AMD processor, 700MB and 192MB disk space for the wattOS version of Microwatt. The wattOS LXDE version uses slightly more RAM, but has more customization options and is suitable for everyday desktop environments.
However, the Microwatt version is extremely lightweight. It is based on i3 window manager, does not require a lot of resources and is simple in design.
Download wattOS 32-bit Microwatt version | 64-bit.
Download wattOS 32-bit LXDE version | 64-bit.
18. Peppermint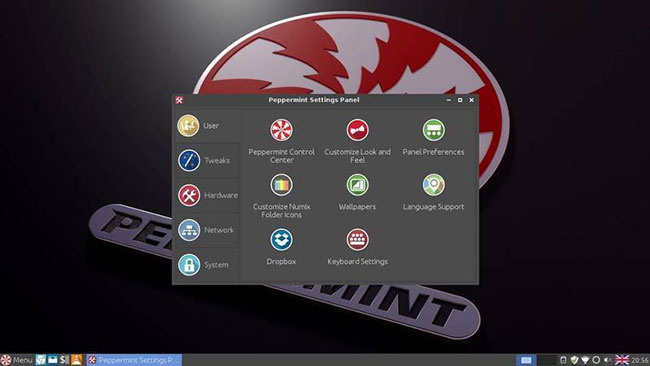 Peppermint is a cloud-focused Linux distribution that doesn't need high-end hardware. It is based on Ubuntu and uses the LXDE desktop environment to give you a smoother experience.
Originally created with a netbook-centric approach, Peppermint developed the ICE application to integrate any web page as a desktop application.
Peppermint also has a standard getting started guide to help new users. There is also a dedicated forum to help troubleshoot and answer your questions.
Minimum system requirements for Peppermint operating system:
RAM: 1GB RAM (2GB recommended)
CPU: Processor based on Intel x86 architecture
Disk space: At least 4GB of free disk space
You can get more information about Peppermint on the official website.
19. LXLE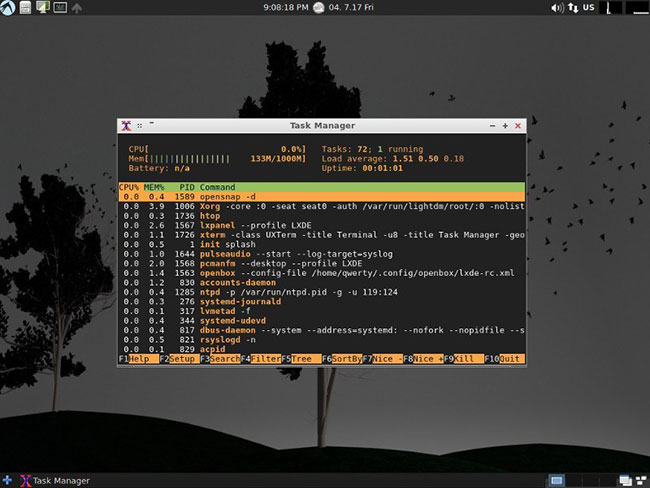 LXLE is actually a version of Lubuntu LTS. That means it's basically Lubuntu but tailored for a specific purpose – to revive old computers in this case.
Despite being a lightweight Linux distribution, LXLE still strives to provide an intuitive and engaging user interface. The system is tuned to improve performance and comes with a range of lightweight applications installed by default.
Minimum hardware requirements for LXLE:
RAM: 512 MB (1GB recommended)
CPU: Pentium 3 (recommended Pentium 4)
Drive capacity: 8GB

Download LXLE.
20. CrunchBang ++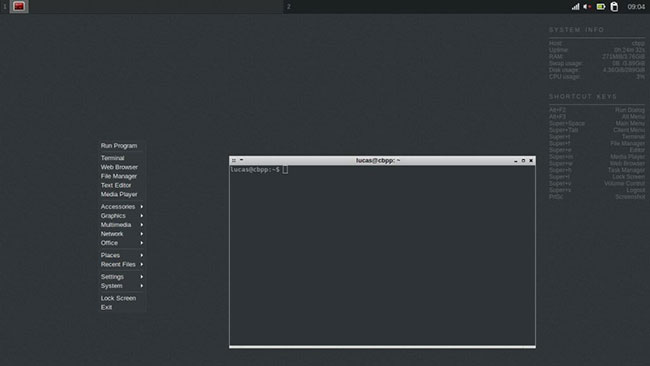 CrunchBang ++ is also known as CBPP or #! ++ or CrunchBang Plus Plus. Crunchbang ++ is a copy of the non-existent Linux Crunchbang distribution, known for its simplicity and light weight. CrunchBang ++ supports old computers and runs without problems. CrunchBang ++ is based on Debian 9 with a minimalist design interface and is built around the Openbox window manager.
This project is continuing with the same goal of providing an easy-to-use and lightweight Linux distribution with good functionality. That's why Crunchbang ++ includes a minimalistic design, a simple and sleek interface.
Some default applications in Crunchbang ++ are Geany IDE, Terminal Terminator emulator, Thunar file manager, GIMP for image editing, Viewnior image viewer, VLC Media Player for music, CD / DVD burning software Xfburn, Iceweasel for web browsing, torrent client Transmission, Gnumeric spreadsheet editor, PDF Evince viewer, gFTP file transfer client, Xchat IRC client, AbiWord.
Minimum hardware requirements for CrunchBang ++:
There are no official hardware recommendations for Crunchbang ++. But ideally, it should work with 512MB of RAM and a Pentium 4 CPU.
Openbox is not very beginner friendly but this does not mean that you should not try Crunchbang ++.

Download Crunchbang ++.
21. antiX Linux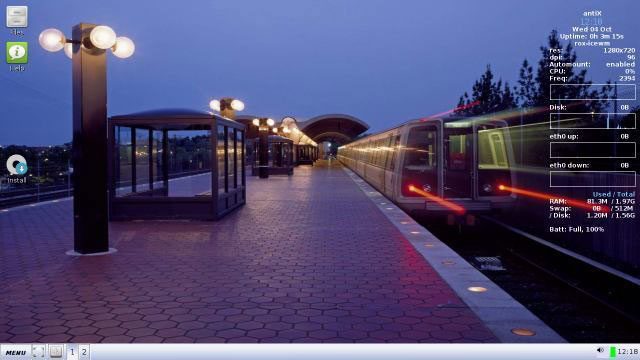 antiX is a lightweight Linux distribution based on Debian Linux. antiX is proud to be a Linux distribution without systemd. If you don't know the term systemd, then antiX doesn't use systemd.
antiX uses icewm window manager to keep the system running on low-end hardware. It does not provide much software by default so the ISO is smaller. You can always download and install additional software later, if you have access to an active Internet connection.
Minimum hardware requirements for AntiX Linux:
RAM: 256MB RAM
CPU: PIII system
Disk space: 2.7GB of disk space

Download antiX Linux.
22. SparkyLinux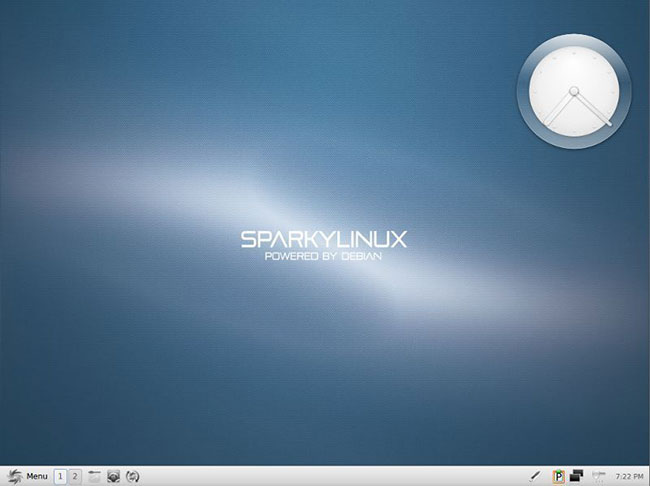 The next position on the list of light Linux distributions in today's article is SparkyLinux. SparkyLinux is one of the lightest Linux distributions for older computers, but it also targets modern computers. Therefore, SparkyLinux has another version loaded with applications and makes the distribution run immediately after installation.
In fact, SparkyLinux is based on the Debian testing branch and it has several desktop environments including LXDE, OpenBox / JWM, e17, MATE, LXQt, Cli and GameOver versions. LXQt is much faster than other options, except for Cli (Command Line Interface).
As mentioned earlier, SparkyLinux has two versions: Full version (full) and Base version (basic). The Full version comes with apps so that users don't have to install them manually, but this option is not for older computers. The Base version doesn't come loaded with heavy applications, so it is light and doesn't use a lot of system resources. However, Sparky has its own repository for installing most applications.
The list of apps installed by default is not the same for Sparky, Full, Base and Gaming versions. Each version is available below on the official download page.
Minimum hardware requirements for SparkyLinux:
RAM: 256MB RAM for LXDE, e17, Openbox, GameOver and 384MB RAM for MATE, LXQt
CPU: i486 / amd64
Disk space: 5GB of disk space

Download SparkyLinux.
You can bring your PC or other old hardware back to work with any of the micro Linux distributions above. These lightweight Linux distributions are a great way for someone who doesn't need a complex operating system to use a computer. These Linux distributions will allow them to surf the web, watch videos, listen to music, check email and create simple documents.
If you are preparing a computer for new to Linux users, please refer to the article: Top Linux distros for newbies. In addition, you can consider 8 reasons to switch from Windows to Linux and convert data and applications from Windows to Linux in just a few minutes. Certainly the transition will be a lot easier!
Wish you find a suitable choice!
See more:
10 Linux distributions for netbooks
8 easy tools to create your own Linux Distro
10 Linux distributions you probably don't know
.