There are words that stand out when you look at the colorful lineup of Porsche that always provides the best satisfaction no matter what choice you make. In particular, the 911, the iconic model representing the brand, has words such as Carrera, Targa, and Turbo that make people who don't know much about cars think, "What is this?"

To put it briefly, these words after the model name can be said to be an indicator of the performance and characteristics of a car. Among the many words that follow 911, if TURBO, which will be explained today, is attached, there is no doubt about its performance.
Porsche fans, and 911 fans there, will be thrilled by the TURBO lettering on the back. Because that means it's actually the most powerful road car you'll enjoy on the road in the 911 lineup. There are also the hardcore version GT3, the track-optimized GT3 RS, and the ultimate GT2 RS, but unlike these, the 911 Turbo is a concept closer to a high-performance GT car rather than a hardcore sports car.

It can be said that it is a supercar in the mask of a beast that can be ridden without much inconvenience in daily life while defeating them with a leisurely pace in the acceleration competition with any other supercar. Like a two-faced beast, the 911 Turbo is loved by many Porsche enthusiasts around the world.
If you can't be satisfied with the ultimate 911 Turbo, there is also a faster 911 Turbo S. It really boasts such a performance that further explanation is meaningless. The 911 Turbo is equipped with a 3.8-liter horizontally opposed six-cylinder turbo engine that produces a maximum output of 572 horsepower and a maximum torque of 76.5 kg.m, and it takes just 2.7 seconds to accelerate from standstill to 100 km/h. This alone is actually great.

However, the Turbo S has the same engine but with higher output. The maximum output is 641 horsepower and the maximum torque is 81.6 kg.m, and the time to reach 100 km/h from a standstill is 2.7 seconds, demonstrating the ability to further process in the medium and high speed acceleration range. Some even say, "If you want to taste the acceleration that transcends time and space, choose the Turbo S."
The turbo lineup also exists in the Panamera, which has become a new milestone in the three-door four-door sports phase. During the recent facelift, the Turbo S, the highest performance model, was added and received attention. The Panamera 4, which has been sold in Korea so far, is equipped with a V6 2.9-liter gasoline turbo engine, with a maximum output of 336 horsepower and a maximum torque of 45.9 kg.m, and it took 5.3 seconds to accelerate from a standstill to 100 km/h. In fact, this level is enough to be used as a general sports sedan.

But the endgame Panamera Turbo S is equipped with a roaring V8 4.0-litre petrol turbo engine. With a maximum output of 642 horsepower and a maximum torque of 83.7 kg.m, it takes just 3.1 seconds to accelerate from a standstill to 100 km/h. It boasts performance that can run almost side-by-side with the 911 Turbo.
The SUV Cayenne also has the Porsche sensibility. The Cayenne, which is popular in Korea, is mainly sold as a basic model equipped with a V6 3.0 liter gasoline turbo engine, but there are also high-performance turbo models. The Turbo S has not yet been introduced, and it is expected to appear with a facelift like the Panamera.

The Cayenne Turbo is equipped with a V8 4.0 liter gasoline turbo engine, boasting a maximum output of 550 horsepower and a maximum torque of 78.6 kg.m. Weighing in at over two tons, the SUV accelerates from standstill to 100 km/h in just 4.1 seconds. If you ignore it as an SUV, you will experience acceleration to the point of being stunned.
The Macan, the younger brother of the Cayenne, also has a turbo lineup. However, the Macan Turbo does not have a V8 engine, but a 2.9-liter V6 gasoline turbo engine. It has a maximum output of 440 horsepower and a maximum torque of 56.1 kg.m, and it takes 4.3 seconds to accelerate from a standstill to 100 km/h.

Although it is equipped with a smaller engine than its brothers, the Macan is evaluated as a model that properly utilizes the characteristics of a mid-size SUV that shows light movements and provides exhilarating driving fun. In addition, the next-generation Macan is attracting attention as an electric version is expected to be released.
Last but not least is the Porsche Taycan, not the internal combustion engine. Since the Taycan is an electric vehicle, it does not have a separate engine, and since there is no engine, there is no turbocharger running. However, the way the Taycan's performance can be expressed is also described by the word Turbo.

The Taycan Turbo S exhibits a maximum output of 625 horsepower and a maximum torque of 107.1 kg.m, and can instantly increase to 761 horsepower when using the overboost mode that draws the maximum output. Acceleration from 0 to 100 km/h takes just 2.5 seconds. It's monstrous speed. If you want to experience the real high performance of Porsche, be sure to test drive the turbo lineup.

writing Journalist Jaehan Kim (visiting editor at Autostadt)
car | The new Taycan with Autostadt
Check out the information about Porsche's first electric car, the Taycan. Porsche Official Dealer Autostadt, Porsche Center Ilsan, Porsche Center Daejeon, Porsche Center Daegu, Porsche Certified Used Cars, Porsche Used Cars, Porsche Taycan, Electric Vehicles, Automobiles, taycan, porsche-autostadt
www.porsche-autostadt.com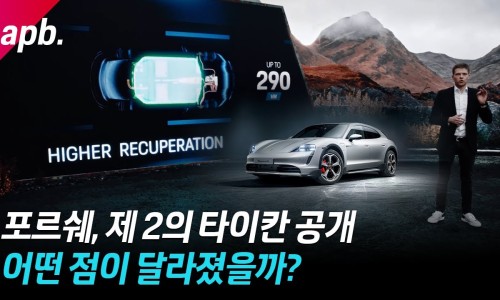 video

Press the button to play in the current screen.
Porsche unveils the second Taycan… What has changed? [아우토슈타트 포르쉐 브리핑 vol.01]
The second version of Porsche's first electric vehicle, the Taycan, has been revealed. What's the biggest difference? I've only picked 5 of them1) Driving ability capable of both on-road and off-road 2) Harmony of Porsche's unique pouring roofline and wagon-shaped silhouette3) Spacious sense of space with increased loading space and increased headroom4) Performance battery …
www.youtube.com
Taycan 01. Gears from Bill Nighy
What is the difference between a regular electric car and the Taycan? This time, we will tell you the secret behind the gear. Bill Nighy's Taycan series continues. Find out the characteristics of the sportiest electric car, the Taycan. [포스트 아우토슈타트]You can view various Porsche information at a glance by searching
pf.kakao.com