BMW's next-generation electric SUV iX will be officially launched in November.

On the 2nd (local time), BMW unveiled the main specifications of its next-generation electric SUV, the iX.

The iX is the first model to be produced based on the new electric vehicle platform newly developed by BMW Group, and its body length and width are X5, height X6, and wheel size are similar to X7. The design incorporates elements of the BMW Vision iNEXT, an electric vehicle concept car unveiled in 2018.

A large, vertical kidney grille is applied to the front, and the grille acts as an intelligence panel with built-in sensors, cameras and radar technology.

The headlamp is the slimmest among all BMW models, and LED is applied as standard, and the 'BMW Laser Light' with matrix function for high beam can be selected as an option. The LED tail lamps on the back are also designed to be very slim, and the blue accents of the BMW i are emphasized.

For the body, intelligent lightweight design using an aluminum space frame structure and carbon cage and optimized aerodynamic structure increase efficiency and extend the mileage.

The battery consists of a total of two types: an 111.5 kWh battery and a 76.6 kWh battery. This battery is expected to be supplied by Samsung SDI or CATL.

On a single charge, the 111.5 kWh battery can travel up to 630 km (391 miles) based on European WLTP, and the 76.6 kWh battery can travel up to 425 km (264 miles).

The estimated mileage of the Model X Refresh, a partially modified model of the Model X unveiled in January, is 579 km (360 miles) for the long-range version and 547 km (340 miles) for the plaid version.
In addition, the iX is equipped with a complex charging unit (CCU), which provides a very high level of charging flexibility. DC power is charged at a rate of up to 200 kW, which allows an 111.5 kWh battery to be charged to 80% in about 35 minutes and a 76.6 kWh battery in about 31 minutes.

Using the fast charger, the 111.5 kWh battery can travel up to 150 km and the 76.6 kWh battery up to 95 km in just 10 minutes.

The fifth-generation eDrive, BMW's electrified powertrain, has been applied. The eDrive is implemented around a drive unit that combines an electric motor, power electronics and transmission in a single housing, beneficially impacting both power density and efficiency, while at the same time making economical use of the footprint between the front and rear axles.

Equipped with an electric all-wheel drive system, it transmits the correct amount of drive torque to the front and rear wheels in all driving situations, and through intelligent control, fully variable power transmission is possible, from high-efficiency pure rear-wheel drive to a front-wheel drive setting that maximizes traction. .

As a result, the xDrive40 develops a maximum output of 326 horsepower and a maximum torque of 64.2 kgf.m, and the xDrive50 produces a maximum output of 523 horsepower and a maximum torque of 78.0 kgf.m. With this power, the xDrive40 takes 6.1 seconds to reach 100 km/h from standstill, and the xDrive50 takes 4.6 seconds.
The top model to be introduced in the future, the iX M60, is expected to produce over 600 horsepower.

The 8th-generation BMW iDrive, the next-generation infotainment system unveiled in April, is installed.

The 8th-generation BMW iDrive features a user-centric next-generation display, hyper-personalized software and driving assistance functions and significantly enhanced connectivity. The BMW Operating System 8 is the best in-vehicle information processing system in BMW history. ) combined with

The biggest change is the BMW curved display that replaced the control buttons. The curved screen is a futuristic interpretation of BMW's driver-centric design. The new display further improves the intuitiveness of touch controls by integrating a 12.3-inch instrument cluster and a 14.9-inch control display and maximizing ergonomics.

The user interface has been optimized to quickly and simply convey vast amounts of information to the driver. Drivers can set the widget they want with the push of a button, and the layout can be selected from Drive, which provides personalized information, Focus, which is suitable for dynamic driving, and Gallery, which focuses on widget content such as maps and media. Do.
After installing the 8th-generation BMW iDrive in the iX for the first time, BMW is planning to apply it to various car models.

The iX is sold in two models, xDrive40 and xDrive50, and the top model iX M60 will be added in the future. The official release will be in November, and production will take place at the Dingolping plant in Germany.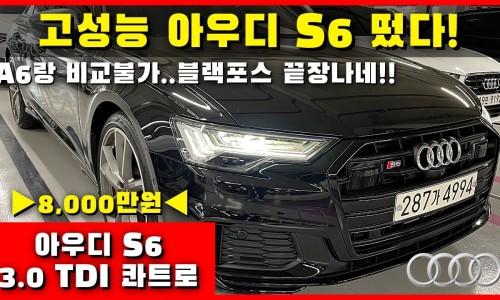 video

Press the button to play in the current screen.
The high-performance Audi S6 is out! Incomparable to A6.. Black Force is awesome!! 'Audi S6 3.0 TDI Quattro' [인증마켓 중고차]
Hello, this is Korea's largest brand official certified car solution – certified market. We are not a place to sell used cars. Only certified cars guaranteed by the brand will be introduced. The vehicle to be introduced this time is the 'Audi S6 3.0 TDI Quattro'. The Audi S6 is based on the A6 with a powerful engine and dynamic design.
youtube.be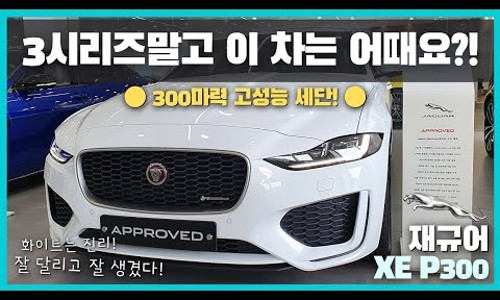 video

Press the button to play in the current screen.
Maximum output of 300 horsepower! How about this car other than the 3 series?! Jaguar XE P300 R-Dynamic HSE AWD [재규어 인증중고차]
Good morning. Brand Certified Used Car Integrated Solution – This is a certified market! Today, I would like to introduce a high-performance sedan that was stocked at the Jaguar Certified Used Yangjae showroom. It is the 'Jaguar XE P300 R-Dynamic' car, which is said to have a maximum output of 300 horsepower. Also, since it is a 4 wheel drive vehicle, it is safe…
youtube.be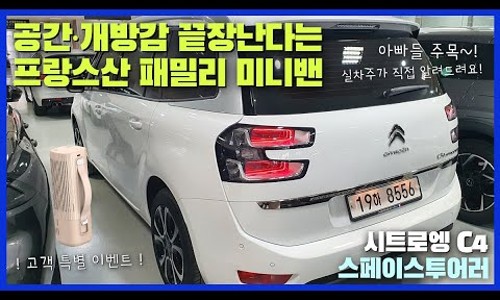 video

Press the button to play in the current screen.
Full flat is also possible! Citroën Grand C4 Space Tourer informed by the actual owner, we recommend a minivan full of spaciousness and open feeling [인증마켓]
Good morning. This is a certified brand-certified used car integrated solution certification market! Today, we would like to introduce a minivan that has a wide space and a sense of openness. Citroen C4 Space Tourer 1.5 BlueHDi Shine Pack is a full-flat vehicle, so I think it's a vehicle optimized for a car park, camping, or family car. Special…
youtube.be

Why did Ssangyong Motor start consignment sales of ultra-compact EVs ahead of the EV launch? – M Auto Daily
[M 오토데일리 이상원기자] Ssangyong Motor announced that it will start consignment sales of Cammsys' ultra-small electric vehicle CEVO-C SE. From July, Ssangyong Motor will sell the 2-seater CEVO-C SE version through 10 Ssangyong dealerships located in major cities nationwide.
www.autodaily.co.kr

GM Korea Plant Supports Children's Health Improvement through Walking Challenge – M AutoDaily
[M오토데일리 박상우 기자] General Motors (GM) Korea plant held a walking challenge for employees to improve the health of vulnerable children in the local community and distributed health kits prepared through donations of challenge participants' steps to 5…
www.autodaily.co.kr

Will Stellantis build a third European battery plant in Italy? – M Auto Daily
[M오토데일리 박상우 기자] Stellantis is pushing for the construction of a battery cell production plant in Italy. On the 1st (local time), Reuters reported, citing a source close to the issue, "Stellaantis CEO Carlos Tavares and John Elkan…
www.autodaily.co.kr

Ssangyong Motor prepares self-rescue plan including up to two years of unpaid leave for half of its employees – M Auto Daily
[M오토데일리 박상우 기자] Ssangyong Motor will implement unpaid leave for half of its employees for up to two years. According to the industry on the 2nd, Ssangyong Motor will not conduct human restructuring to union representatives and team leaders on the 1st for up to two years…
www.autodaily.co.kr