In spring, leisure activities such as camping and car park are active. For this reason, vehicles optimized for leisure activities are attracting attention. Among them, more and more campers are looking for the Ford Ranger, a versatile pickup truck.

The Ford Ranger, which leads the world's largest pickup truck market in the U.S., is a model that has been tested for driving in various environments, harsh climates and terrain in 130 countries and 5 continents around the world, and is designed to be used as a versatile multipurpose vehicle beyond pickup trucks. done.

In particular, it shows a masculine and strong image with a tough and thick exterior design. In addition, the high belt line and the lettering grille on the front of the Ranger Raptor show Ford's identity, reviving the image of a tough pickup truck.
Based on this, Ranger has established itself as a reliable pickup truck for many years in global markets such as Southeast Asia, Australia, and Europe, where there are many off-roads. Through such product power, it has various awards, such as being selected as a pickup truck of the year in the UK and Germany.
The Ranger is equipped with a 2.0 biturbo diesel engine with a maximum output of 213 horsepower and a maximum torque of 51.0 kg.m and a 10-speed automatic transmission to demonstrate powerful driving performance. Here, fuel efficiency is excellent. Wildtrack combined fuel efficiency is 10.0km/L and Raptor is 8.9km/L.

With its powerful driving performance and excellent fuel efficiency, the Ranger is a good alternative for those who want to purchase pickup trucks who prefer diesel engines.
In addition, the Ranger has high traction and load capacity, making it ideal for campers. The Ranger Wildtrack has a towing load of 3.5 tons and a payload of 600 kg, while the Raptor has a towing load of 2.5 tons and a payload of 300 kg.

In particular, the Raptor, which is more specialized in off-road and rough road driving by inheriting the DNA of the Ford Performance team, Ford's high-performance automobile division, is among the performance suspension, Fox shock absorber, high-strength bash plate, all-terrain tires, and 6-mode terrain management system. Through off-road racing mode, Baja mode, etc., it exhibits powerful and stable performance as if driving on-road off-road.
Wildtrack is a pickup truck with lane maintenance assistance, active cruise control, active park assistance, and front sensing system applied, but it helps the driver to drive comfortably and easily even when driving in the city.
The short overhang provides a better angle of entry off-road, and the combination of smart design and engineering keeps the engine's air intakes and other devices out of the way, which is advantageous for crossing.

The wheelbase, which determines the interior space of the vehicle, reaches 3,220mm, and the legroom of the second row seats is large enough for an adult male to sit in a pickup truck.
In addition, Ford Lincoln's latest infotainment system SYNC 3 can be used through an 8-inch display on the center fascia. SYNC 3 can be controlled with a light touch or voice, and various functions such as phone calls and music listening are available.

Above all, it is economical. Although Ford Ranger is an imported car, it is classified as a freight car in Korea, so it can receive several benefits such as an annual automobile tax of 28,500 won and an individual consumption tax exemption.

The Ford Ranger's selling price is 49.9 million won for Wild Track and 63.9 million won for Raptor.
video

Press the button to play on the current screen.
Original 4-door coupe Benz CLS! The combination of design and red color is fantastic! 'Mercedes-Benz CLS 400d 4MATIC' [인증마켓 중고차]
Hello, this is Korea's largest brand official certified car solution-certification market. We are not a place to sell used cars. We only introduce certified cars that are directly guaranteed by the brand. The vehicle we will introduce this time is the'Mercedes-Benz CLS 400d 4MATIC'. The Mercedes CLS is the original model of the four-door coupe sedan, and…
youtu.be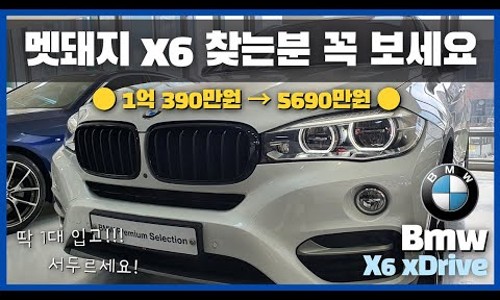 video

Press the button to play on the current screen.
BMW X6, which was once a dream car, is at this price…? I looked at the X6 xDrive 30d, a BMW certified pre-owned car, which fell at half the price!
Good morning. Imported certified used car integrated solution-This is a certification market! Today, we are introducing a luxury SUV vehicle that has a really good cost-performance ratio. This is the BMW X6 car. It was an expensive car that cost over 100 million won, but now it can be purchased at a price of 50 million won! (The cost performance is great…
youtu.be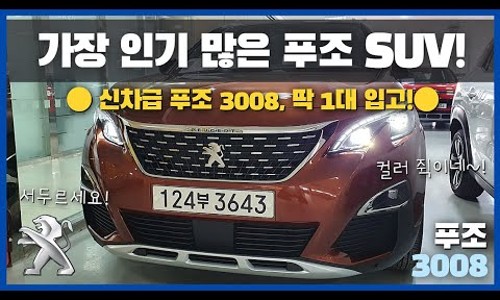 video

Press the button to play on the current screen.
●Only one in stock ● The most popular car in Peugeot certified used! Peugeot 3008 SUV, color and silky are art! [인증마켓 추천차]
Good morning! Brand Certification Used Car Integrated Solution-Certification Market! Today, I would like to take a look at one of the most popular SUVs in the Peugeot Certified Used. It's the Peugeot 3008 SUV, and it's said that there are a lot of people looking for it with a stylish interior and exterior at an accessible price point! Peugeot-Citroen Inn…
youtu.be

Which electric car will be released in the second half of the year amid concerns over the early consumption of subsidies? -M Auto Daily
[M오토데일리 박상우 기자] The government and local governments are busy working to alleviate concerns about the early exhaustion of subsidies for purchasing electric vehicles. The Ministry of Environment is currently working to reassign government subsidies according to electric vehicle demand. assistant…
www.autodaily.co.kr

Korea & Company signed an agreement with KAIST for the 2nd Digital Future Innovation Center. Focusing on the development of future technologies such as AI-M Auto Daily
[M오토데일리 박상우 기자] Korea & Company, a holding company of Hankook Tire & Technology, has signed an agreement with KAIST for the 2nd Digital Future Innovation Center. On the 18th, Korea & Company at Korea Technodome, Yuseong-gu, Daejeon…
www.autodaily.co.kr
Lexus surpasses 2 million units in global cumulative sales of electrified models such as HV and EV-M Auto Daily
[M오토데일리 박상우 기자] Toyota's luxury brand Lexus surpassed 2 million units in global cumulative sales of electrified models 16 years after the launch of the first model. On the 18th, Lexus sold globally electrified models including hybrid cars and electric cars.
www.autodaily.co.kr

Audi Korea recruits'Audi Driving Experience' participants-M Auto Daily
[M 오토데일리 최태인 기자] Audi Korea is recruiting participants of the'Audi Driving Experience' held at the Inje Speedium Racing Track in Gangwon-do from the 28th to the 6th of June. This Audi Driving Experience…
www.autodaily.co.kr