If you can pick one of the most exciting Porsche experiences that the public can enjoy on the highway, I will choose the 911 GT3 without hesitation. Developed from its inception with one goal of improving its performance as a high-performance sports car without affecting daily driving, the GT3 will impress all drivers.

Porsche recently announced some amazing new technologies that are just a source of what makes the 911 GT3 so great. From more than 160 hours of wind tunnel testing to the toughest endurance tests from other manufacturers, we introduce the new 911 GT3, which embodies Porsche's commitment to making the perfect car.

There is no perfect car in the world. However, when asked to pick a car that is close to perfection, there are a few options, and today's 911 GT3 is also a well-qualified car that fits in that category. The new 911 GT3, recently unveiled by Porsche, boasts a majestic performance.

First, let's look at the exterior. Front apron and black spoiler lip in the same exterior color, new lightweight front lid made of carbon fiber reinforced plastic and two air vents. Lightweight material finished glass and 20-inch front and 21-inch rear alloy wheels are among the symbolic elements of the GT3.
Rear panel with added air vent and tail lamp with PORSCHE logo, PASM suspension lowered by 10mm by sport setup, new swan-neck style rear wing made of carbon fiber reinforced plastic, and the center of the GT3. The centralized tail pipe is also a noteworthy factor.

A sports exhaust system made of lightweight stainless steel and a fixed rear spoiler made of carbon fiber reinforced plastic are both standard features.
The interior is also somewhat different from the general 911. Multifunctional sports steering wheel made exclusively for GT3, PDK shift paddle, GT3 exclusive instrument cluster and two high-resolution 7-inch displays, PDK gear lever with manual transmission, Sports Seat Plus with 4-way adjustment, Black interior made of Race-Tex, The 10.9-inch touch screen display, PCM including online navigation, and the optional chrono package stand out.
Aerodynamics design is very important to bring out the performance of a high-performance sports car. The new 911 GT3 is aerodynamically designed, boasting a 50% increase in aerodynamic performance compared to the previous version of the GT3. This will give you more light on the track.

The side skirts and front end are equipped with step-by-step adjustments when used on the race track. The swanneck-type rear spoiler is also designed to generate strong downforce in any driving environment because it operates in a variable manner.
As important to a high-performance car as aerodynamics, it is the engine, the heart that drives the car. The new 911 GT3 is equipped with a fiercely boiled naturally aspirated boxer engine that can rotate up to 9,000 rpm. The maximum output is 510 horsepower and the maximum torque is 48.0 kg.m. Compared to the previous model, the output is 10 horsepower and the torque is increased by 10 Nm.

Accelerating from standstill to 100 km/h takes only 3.4 seconds and reaches a top speed of 320 km/h. With a staggering 128 horsepower per liter, the 911 GT3 has enough engines to qualify as the best sports car in existence.
The 4.0-litre naturally aspirated horizontally opposed engine on the new 911 GT3 is designed exclusively for the GT3. Unlike conventional engines, new pistons and catalytic converters are used. Variable resonance intake manifold technologies, such as Porsche's proud Vario Cam and DFI direct injection technology, are all applied.

An individual throttle valve was also installed to make the output more efficient, and the engine oil supply was also made to use a dry sump method to achieve specifications close to that of a race car. By using the dry sump method, the center of gravity of the engine was also lowered.

The PDK transmission, one of Porsche's other pride, is also not to be missed. The well-known 7-speed PDK transmission continues to be used in the new GT3, and unlike the regular 911 that uses the 8-speed PDK, the 8-speed was removed and 20kg was lost. It reaches the maximum speed in 7th gear and has no overdrive gear. It means that it is a car for running from birth.

In PDK spot mode, it boasts a more dynamic shifting texture. Let's feel the true value of the PDK transmission that shifts at lightning speed. The gear ratio is shorter and perfectly adjusted than the regular 911, so it is optimally equipped to enjoy a fast engine response as it is. Newly tailored shock settings and a high-performance brake system are all one of the basic elements of the GT3.
Porsche introduced the new technologies of the 911 GT3. "The GT3 developed aerodynamics through about 700 simulations." It is a process to make the perfect car.

It's not just this. After rigorous testing by Porsche Institute engineers, the 911 GT3 has also been tested by field test drivers. In order to meet the stringent Porsche standards, more than 600 emissions tests have been conducted since the development stage. In addition, a durability test was conducted to maintain a constant speed of 300 km/h over a continuous section of more than 5,000 km on the Nardo high-speed circuit in Italy. It is said that it has even finished the durability test in high rotation and high speed area.

Porsche's new 911 GT3, a near-perfect machine, is expected to be released in the second half of this year in Korea, and its price starts at 220 million won. The popularity of the 911 GT3 is expected to continue because it has a solid standard specification without any customization.

It is a blessing to be able to purchase a pure sports car that is equipped with a large displacement naturally aspirated engine and can provide more enjoyable driving fun than any other car in these days where electric cars and eco-friendly powertrains are the mainstream.

Written Journalist Kim Jae-han (Visiting Editor at Autostadt)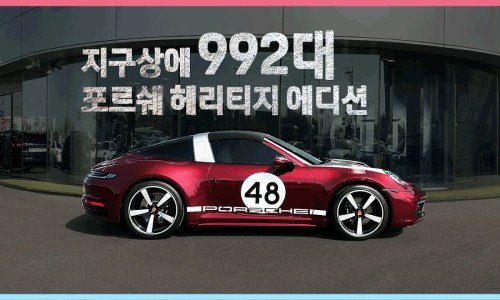 video

Press the button to play on the current screen.
Only 992 units on Earth! Porsche Heritage Edition is in stock.
The 911 Targa 4S Heritage Edition is the only car that can feel both sides of the 911, which started its Porsche history in 1948 in 3562021. #Porsche #911 #Targa #Heritage #Convertible1. Porsche Center 1-1. Ilsan 031.813.09111-2. Daejeon 042.862.0…
www.youtube.com
Opening Porsche Goods Draw in Spring
1. In Kakao Talk [포르쉐 아우토슈타트] Add a channel [포르쉐 굿즈 응모]Click 2. [12~16자리 숫자코드]Keep it well and check the winning code on the lottery date ◈ [포스트 아우토슈타트]Search for a variety of Porsche information at a glance Porsche Center Ilsan 031.813.0911 Porsche Center Daejeon 042.862.0911 Porsche Center Daegu 053.768.0911 Porsche Certified Used Car Center Yangjae 02.667…
pf.kakao.com