Mercedes-Benz's flagship sedan S-Class is drawing a lot of attention ahead of its domestic release.

The new S-Class has already been sold in major countries such as Europe, but in Korea, the diesel models S350d and S450d are expected to be released in March-April, and the gasoline model S580 will be released in May-June. This is because it became difficult to release at once due to the strict authentication process.

The new S-Class is applied with the latest family look of Benz, and the horizontal tail lamp design that can be found in the CLS, GLS, and E-Class facelifts is applied.The overall style and layout such as the rear glass emphasizing the curvature and the license plate located at the top of the trunk are 6th generation. It continues in the same context as the S class.

In addition, by maintaining a larger grille and horizontal bar-shaped slat design on the front, it creates a magnificent atmosphere, and the sharper headlamps and internal graphic changes stand out. The front bumper also looks profound and stylish with wider air intakes and chrome details.

The side part maintains the overall proportions and silhouette, but the dropping line of the existing 6th generation S-class was changed to a line that concisely connects from the headlamp to the tail lamp along the lower belt line, emphasizing the overall volume. The application of hidden door handles is also noticeable.

The rear part shows a more sporty sense by applying horizontal tail lamps such as the new CLS and E-class face lifts, not the existing vertical type.

The body size of the new S-Class is 5,180mm long, 1,920mm wide, 1,505mm high, and 3,105mm wheelbase, which is 40mm longer than the previous one and 15mm wider, and the wheelbase is also 30mm longer, making it much more grand and wider than the previous one. .

The interior follows the interior design and layout of the'Vision EQS Concept' introduced earlier. Benz expresses the interior of the new S-Class as'another space' between home and work, and adds luxury and elegant sensibility through premium materials and colorful lighting, and connected, convenience, and future-oriented parts through advanced infotainment systems. Focused until.

In particular, one of the highlights of the new S-Class is the evolution of digital displays. A 12.3-inch 3D instrument panel was applied to the driver's seat, and a 12.8-inch OLED multi-display in the form of a large tablet was applied in the center of the center fascia.

AR (augmented reality) technology Mounted,Front It enables intuitive judgment, such as indicating the direction to proceed on the real image captured by the camera with an arrow.

In addition, the interactive infotainment system'MBUX (Mercedes Benz User Experience)', well known as the Mercedes Maze, is the latest version and can be operated from the rear seat. It is possible.Up to seven User profiles that can be registered can be unlocked with biometric authentication or PIN code with one of fingerprint, face, and voice.

In particular, the 2nd generation MBUX shows natural and smooth operability through high-performance hardware, and'touch-free' that can be operated with gestures such as hand movements is also possible.

The powertrain is equipped with various eco-friendly lineups such as in-line 6-cylinder gasoline and diesel engine lineup, V8 and V12 engines, as well as 48V mild hybrid and plug-in hybrid. Luxury Maybach, Pure electric vehicle EQS will also be introduced sequentially.

In particular, the in-line six-cylinder engine installed in the new S-Class is characterized by a smooth rotational power comparable to that of a motor. 60% of the total is made of aluminum, and the body shell is 30kg lighter and lighter than before. In addition, the body panel was designed with an aerodynamic structure and a hidden door handle was applied to realize the highest level of air resistance (0.22) coefficient and the highest body stiffness and aerodynamic performance ever.

In addition, the noise reduction glass is specially applied, and the quietness is further improved, and the AIRMATIC suspension, which combines an air spring and an electronically controlled damper, has the best ride ever.

As the domestic supply of the new Mercedes S-Class is less than 10,000 units this year, there is a high possibility that some parts will be delayed.

▼ Motoroid recommended car driver ▼

"Will the Nutria Grill work?" BMW'New 4 Series' landing in Korea
[Motoroid / New Car] BMW Korea officially launches the new BMW 4 Series in Korea with a unique design with a dynamic and elegant style. The new 4 series was first introduced in 2013..
motoroid.tistory.com
Kia's K-series eldest brother'K9·K7′ decides to withdraw from the United States…"Failed to escape from sluggishness"
[Motoroid / Report] Kia Motors will stop selling its flagship sedan K9 (local name K900) and semi-large sedan K7 (local name Kadenza) in the US. According to Kia Motors, from 2021, K900 and Cadenza ceased to be sold in the US market. Now..
motoroid.tistory.com
"A few months waiting for delivery?" Queue exhausted from waiting, leaving to'certified used car' that can be purchased immediately
[Motoroid / Column] The brand-certified used car market is attracting a lot of attention, centering on popular imported car models with high atmospheric demand. This is because the so-called'line up', which delays delivery due to a shortage of supply, has been prolonged…
motoroid.tistory.com
100 million sports car Porsche, sells in Korea
[Motoroid / Report] Porsche, a German luxury sports car brand, is rapidly increasing its supply and sales in the Korean market. Porsche models currently sold in Korea are sports cars 911 and 718, sports sedan Panamera, SUV..
motoroid.tistory.com
Seoul Auto Salon's Flower, Racing Model Special Feature "Pretty Advisory"
[Motoroid / Photo] 2018 Seoul Auto Salon The largest auto tuning and aftermarket exhibition in Korea, '2018 Seoul Auto Salon' was held on the 19th. In this exhibition, 108 companies and 1002 booths were installed, auto tuning, auto elect..
motoroid.tistory.com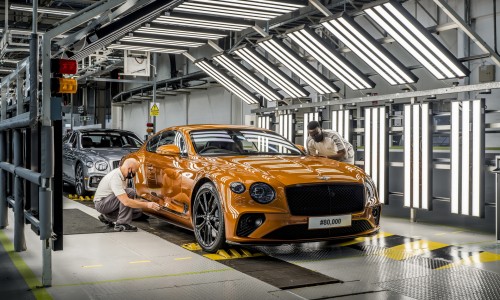 'Bentley Continental GT' surpassed 80,000 units in production…"There is a reason to be loved"
[Motoroid / Auto Inside] The Bentley Continental GT, a luxury grand tourer, surpassed 80,000 units in cumulative production. Bentley Continental GT has evolved and accumulated over 3 generations over 18 years since the first generation model launched in 2003..
motoroid.tistory.com
"Is it cheaper than a domestic car?" Is it worth buying a new car class imported used car that is pouring into certified used cars?
[Motoroid / Column] Premium imported cars with short mileage are pouring into the certified used car market at a lower price than domestic cars. For certified used cars, car brands directly purchase and repair used cars, and up to 200…
motoroid.tistory.com
Vintage Rolex Daytona watch at the top of the "Roll Tech King of the End" auction
[Motoroid / Column] The highly scarce Rolex Daytona (Ref.6264) hit a record high at the Sotheby's online watch auction last month. Rolex Daytona (.. $15,5,723) (about 1.85 billion won)
motoroid.tistory.com