As one of the earliest game types in the history of game development, racing games have always been an important segment in the game market. In China, there were mobile games such as "QQ Speed" and "Run Kart", and later mobile versions of these well-known IPs. However, in the broader overseas market, racing games are still hardcore. Experience simulation mainly, although products in this field do not have a very strong monetization ability.
So, if you want to enter this market, what are the necessary information and related data? What are the leading manufacturers and products in the subdivided fields? How can this type of product better attract users? Today, we have compiled data from SensorTower, udonis, and Game Analytics around racing games covering multiple dimensions, including retention, game duration, stickiness, and payment, for your reference.
2020 Top 10 Mobile Games
1.CSR Racing (NaturalMotionGames)
2.Need for Speed ​​No Limits (Electronic Arts)
3. Hill Climb Racing 2 (Fingersoft)
4. Fun Race 3D (Good Job Games)
5.Asphalt 8: Airborne (Gameloft SE)
6.Traffic Rider (Soner Kara)
7.Nitro Nation Drag & Drift (Creative Mobile Games)
8.Extreme Car Driving Simulator (AxesInMotion)
9.Asphalt 9: Legends (Gameloft SE)
10.Beach Buggy Racing (Vector Unit)
KeyPlayer in the field of racing mobile games in 2020
Gameloft SE
Gameloft has a well-known racing game series "Asphalt" (domestic translation of "wild racing") on the mobile side. At present, this series of fist products are 8th and 9th generation, and they are cross-platform products rather than pure mobile games. According to the data from SensorTower, "Asphalt8" has accumulated more than 100 million downloads on Google Play, of which, in April 2020 alone, it received 4 million downloads and generated 200,000 US dollars; Reached $ 1 million.
Natural Motion Games
Natural Motion Games has a CSR series that can match Gameloft's "Asphalt", including "CSR Racing" and "CSR Racing 2." On Google Play, "CSR Racing" has received 50 million downloads, and the sequel "CSR Racing 2" has more than 10 million downloads. SensorTower data shows that in April 2020, the revenue of "CSR Racing 2" exceeded US $ 3 million.
Soner Kara
Soner Kara has two successful racing games, namely "Traffic Rider" and "Trafic Racer". The former has accumulated more than 100 million downloads on Google Play, and the monthly downloads in April 2020 exceeded 9 million. However, in contrast, its revenue is not outstanding. In April 2020, Soner Kara 's racing game revenue was $ 100,000.
User acquisition of racing games
ASO optimization
To attract more racing game players, it is necessary to link natural volume and paid advertising strategies. For natural volume acquisition, ASO optimization is the best choice, because users often search and download games through the AppStore and Google Play store.
First of all, to give the product an attractive and descriptive name, it is not only related to the brand, but also provides the opportunity to add a few descriptive keywords, and these keywords allow users to more easily find your product. For example, "CSR Racing 2 – # 1 in Car Racing Games" is a good example;
Second, you need to write a fascinating product description and game description, including explanations of the game's main functions and advantages, and keywords that contain high relevance;
Third, carefully design the icon. Study the latest trends and trends in racing categories and products, and allow icons to attract users' attention in the first place;
Finally, it is necessary to design excellent video and screenshot materials, which is also very important for ASO optimization. Good game videos can allow users to perceive the game in advance.
Video ad
Among paid advertisements, video advertising is the most effective for racing games. Generally speaking, 15-30 seconds is a suitable duration, but in some special cases (commentary videos for more complex games), a commercial video for a racing game may take 90 seconds. In addition, for different advertising platforms, video ads may require different sizes and ratios.
Usually, the first few seconds of video advertising are the most important, which can attract the user's attention in a short time, otherwise the user will ignore the advertisement and continue to browse other information. Because racing games are full of intense and exciting experiences, video advertising is the best embodiment of this. It is recommended to show the real actual game experience in the video, supplemented by different visual and sound effects. The last thing to note is the use of "call to action" slogan buttons at the end of the video, such as "download now" and so on.
In terms of advertising channels, in addition to Google and Facebook, other types of channels can also be considered. For example, Apple Search Ads, UnityAds, AppLovin, TikTok, etc. with a high performance index in AppsFlyer.
2020 racing game related data
The next day
Usually, it is a relatively good standard for the secondary stay to reach 35% or more, but if the secondary stay is below 30%, it means that the game may need to be improved. But the bad news is that the next-day retention of racing games is the lowest of all genres. Even the head-racing game secondary retention is generally less than 30%, and the average racing game retention is less than 22%.
Keep for seven days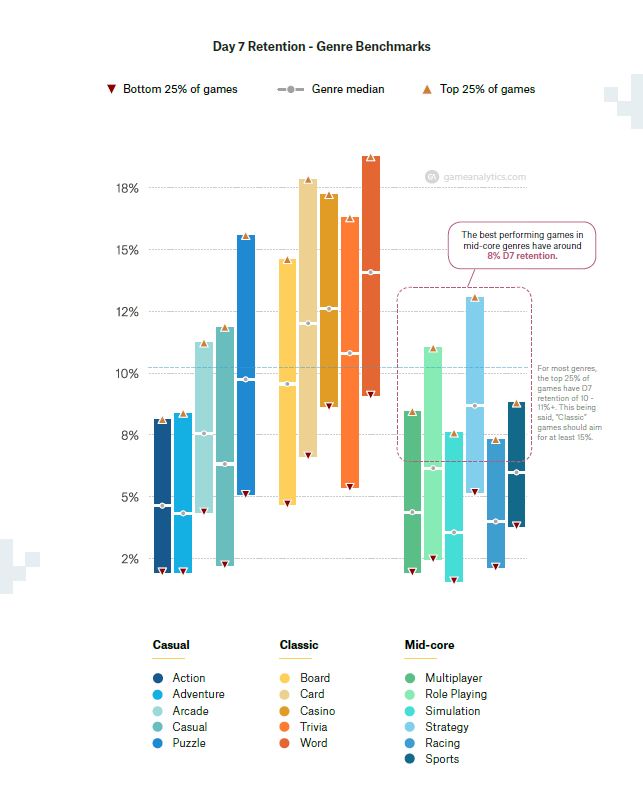 The average data retained on the 7th day is 11%, but the racing game is even lower. The head racing game is also less than 8% on the 7th day, and the ordinary racing game is only 3%.
Retention on the 28th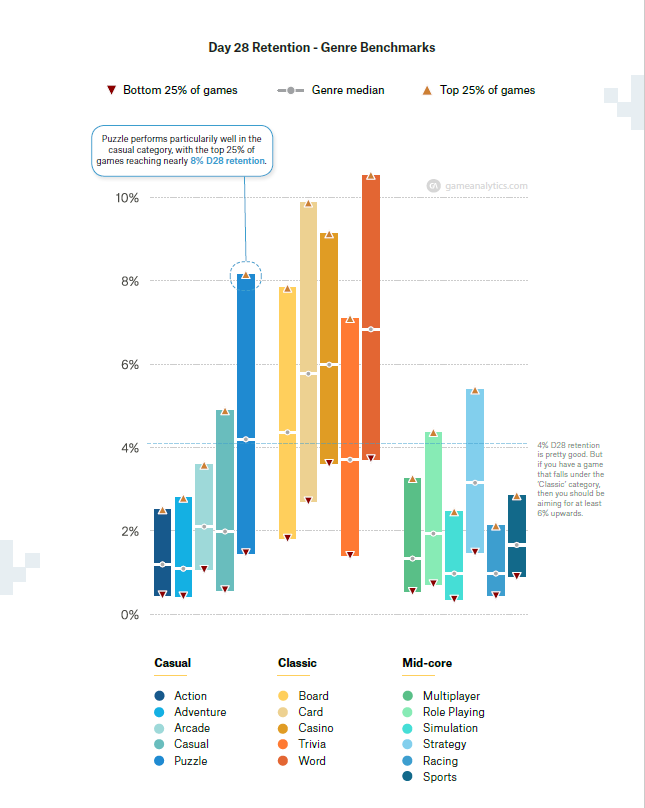 The 28-day retention of racing games is also relatively low. The 28-day retention of head racing games is only slightly higher than 2%, and the 28-day retention of ordinary racing games is less than 1%.
Average duration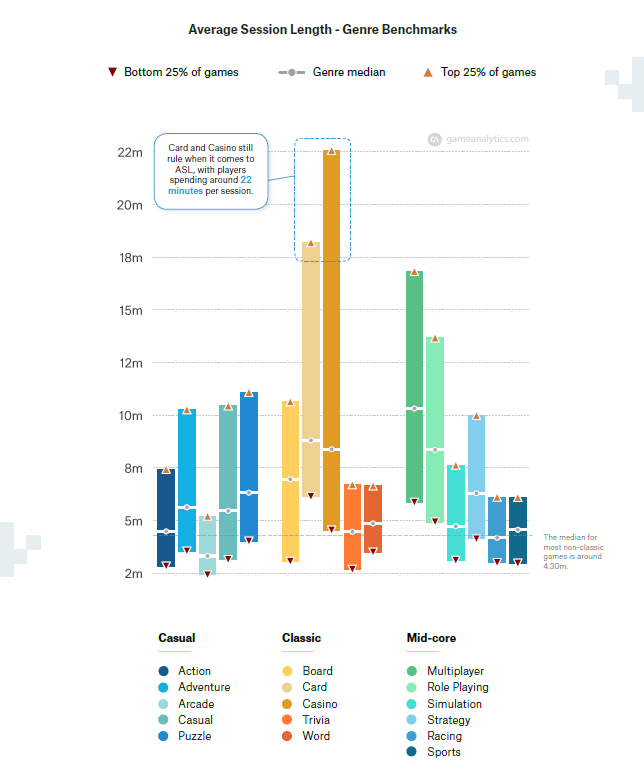 The average playing time of card and betting games is relatively high, and the maximum playing time per player is 22 minutes. The average usage time of players in general racing games is about 4.3 minutes, and the average usage time in head racing games is nearly 6 minutes.
User stickiness
Classical leisure types such as jigsaw puzzles, chessboards, betting and crossword puzzles have the highest stickiness, up to 26%. Among all genres, racing games have the lowest stickiness, with head racing games having a stickiness of 9% and regular racing games of 6%.
ARPPU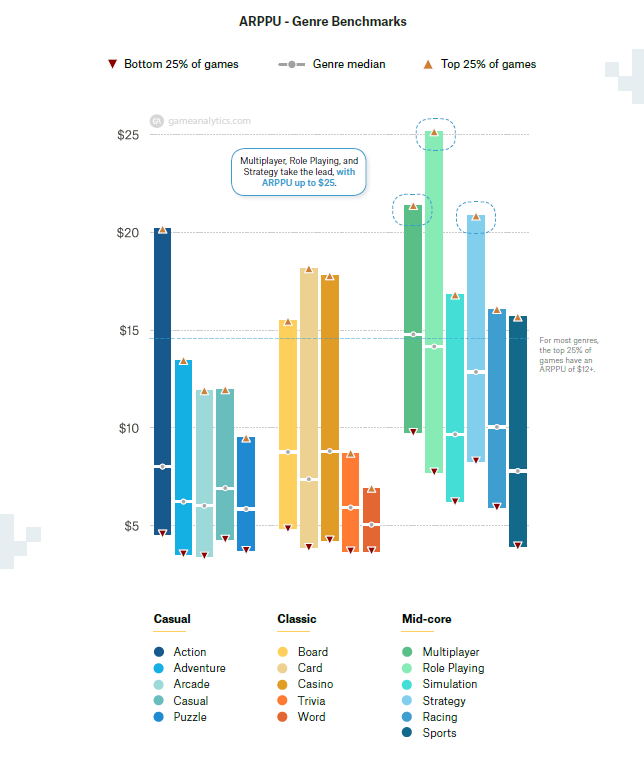 Mid-core games have a higher ARPPU, with the highest role-playing games at $ 25. Normal racing games have an ARPPU of $ 10, while head racing games have an ARPPU of $ 16, which is relatively good by comparison.
ARPDAU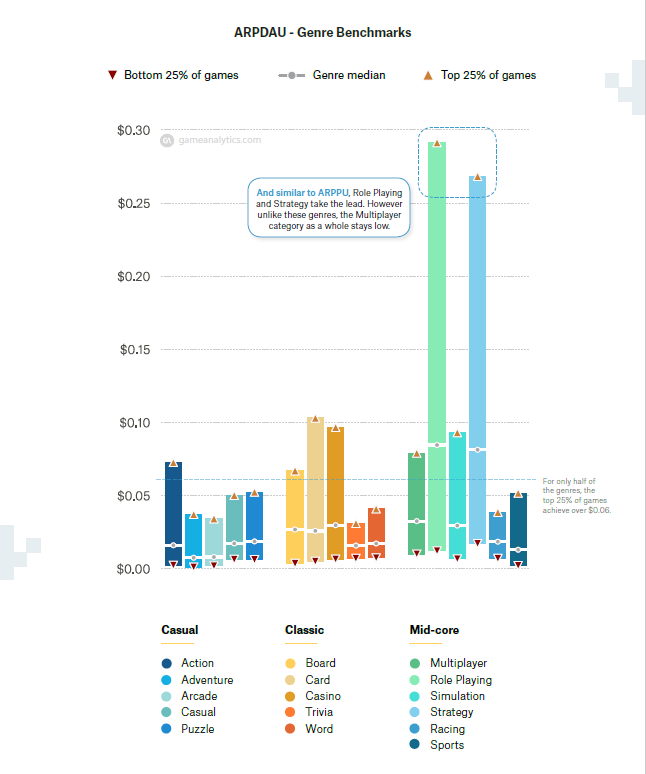 In all genres, the ARPDAU for role-playing and strategy games is the highest, reaching a maximum of 0.3 US dollars; the ARPDAU for racing games is 0.01-0.04 US dollars.
Conversion rates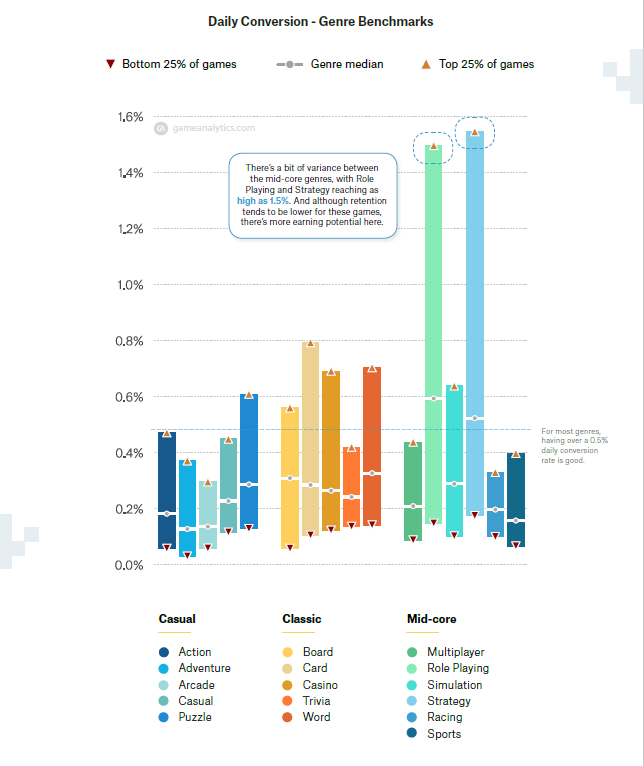 Similar to ARPDAU, role-playing and strategy games have the highest conversion rate among all genres, reaching 1.6%; racing games have a maximum daily conversion rate of 0.3%. For most genres, a conversion rate of 0.5% is a comparison Acceptable standards, so the conversion rate of racing games is low.
Source: Liangjianghu
Original address: https://mp.weixin.qq.com/s/_y1IH4t9RiSsTjZGmRwqMQ
.