As technology advances, it has become a routine for something new or an existing one to disappear. There were many such cases in automobiles. For example, cassette tapes were replaced by CDs, and CDs were replaced by USB or smartphone Bluetooth.

Aside from that, the thick atlas turned into navigation on the central display, the long radio antenna was built into the glass, and the so-called chicken leg window turned into a safety power window. In addition, there is one more item that will be changed in the future only for Hyundai Motors.
From 2018
Hyundai Motor changed the gear selector

Starting with the Palisade, a large SUV launched in December 2018, Hyundai Motor Company changed its gear selector shape in earnest. Previously, a general boot-type transmission was used. As the electronic transmission became a trend, Hyundai Motor Company followed it. Since then, the Sonata DN8, The New Granger, and The New Santa Fe have a button-type transmission, and the upcoming Tucson full-change will also be changed to a button-type transmission.

Kia Motors applied a dial-type transmission to the new Sorento and Carnival 4th generation, starting with the K5 3rd generation, and Genesis also applied a dial-type transmission to the GV80 and G80. However, the Avante launched in March seems to have a policy of mainly applying electronic transmissions to medium-sized or higher grades, as it seems to have applied a general boot-type transmission.
Starting with NE
Plan to apply column type transmission

Hyundai Motor Company is said to change the gear selector again from the electric vehicle model'NE' to be released next year. It has been only 2-3 years since the launch of Palisade. Move the gear transmission from the center console behind the steering wheel. This is the same method used by Mercedes.

If you look at the Mercedes column type transmission, you can raise it deeply to reverse, move it deeply to move forward, raise or lower it slightly to neutral, and park it by pressing the button to the right of the gear selector. Manual mode is performed by paddle shift. The column-type transmission that will be applied to Hyundai is not likely to be much different from that of Mercedes. It is also said that a column type transmission will be applied to future internal combustion engine vehicles.
Via column transmission
Increase customer satisfaction

The reason why Hyundai is changing the gear selector is that the button type and dial type have low satisfaction among consumers. There were many evaluations that the feeling of disparity was severe because of getting used to a general transmission for a long time. For reference, Jaguar and Land Rover also adopted a dial-type transmission and then switched to a lever-type electronic transmission.

Unlike button-type and dial-type, Mercedes-Benz car owners with column-type transmissions are generally satisfied. It is said that it is very comfortable to operate the gears up and down without touching the steering wheel. Hyundai Motor seems to have reflected the satisfaction of Mercedes-Benz owners.
Not only Hyundai
Kia Motors and Genesis are also expected to follow

According to the press release, only Hyundai Motors is mentioned, but subsidiaries Kia Motors and Genesis are also expected to follow column-type transmissions. This is because it is a problem that not only Hyundai Motors, but also Kia Motors and Genesis, and Hyundai Motor Company has followed Kia Motors and Genesis as well.

Kia Motors and Genesis have not yet announced this, Kia Motors is likely to use a column-type transmission in a new electric vehicle that utilizes a dedicated platform to be released next year, and Genesis is also likely to apply a column-type transmission to the G80 electric vehicle that will be released next year.
Interior space design
To change on a grand scale

Looking at the interior of the concept car 45 that became the base of NE, the center console disappeared. This is because the transmission in the center console moves behind the steering wheel and various physical buttons are integrated into the touch display, eliminating the need for a center console.

With the disappearance of the center console that divides the center of the first row, the interior design can be created more freely. When Hyundai Motor Company unveiled the Concept Car 45 last year, it presented the concept of'Style Set Free' in which users can freely decorate the interior space. Of course, whether the center console will actually disappear will be known only when NE is released next year.
Written.
Car Zoom Editorial Department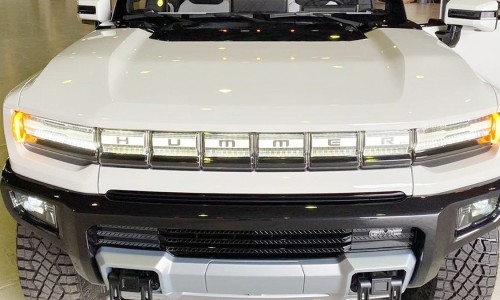 The reason why domestic cars are cursing because of new cars released abroad
Anyone who likes cars will have heard of the brand'Hummer' at least once. This model is a civilized model of the American military vehicle Humbi, and its large size and angular shape that refuses to be compared with other cars are impressive. In Korea, it sold quite a bit more than expected, but GM abandoned the Hummer brand in 2010 due to poor profitability. GMC, a subsidiary of GM, recently unveiled Hummer EV. It has been 10 years since the brand was abandoned. A modern reinterpretation of Hummer in the past, and its personality has been changed from an existing SUV to a pickup truck. When Hummer resurrected after 10 years, netizens
auto.zum.com
Chevrolet Equinox, which said, "When it comes out, I chew it on Hyundai Motors"
(Photo = Report from Naver Namcha Cafe'Namhyun') Every time before launch, I hear the story of "If it comes out well this time, I will eat all of Hyundai Motors unconditionally", but a manufacturer who can't escape the last place if it opens the plate. It's a Chevrolet story. In 2018, GM Korea introduced Equinox to the domestic market, which was in fierce competition with rivals such as Toyota RAV 4 and Honda CR-V in North America. In the US, it was a popular model that sold about 200,000 units a year, so it was a promising vehicle in the Korean market as a key volume model that would ignite Chevrolet sales. But
auto.zum.com