Owning a durable engine and the ability to keep a good price, the old Toyota Hilux is a good suggestion for those who are looking to buy used pickup trucks.
Introduction of Toyota Hilux 2015
Toyota Hilux pickup model has been distributed by the leading Japanese automaker in Vietnam as a complete import unit since 2009. When it appeared to date, Toyota Hilux is increasingly asserting its position in the pickup segment. . 2015 Toyota Hilux is an 8th generation pickup truck that was launched in Vietnam. 2015 Toyota Hilux with a lot of improvements in design, comfort and performance, … compared to the previous versions.
See also: Compare Nissan Navara and Toyota Hilux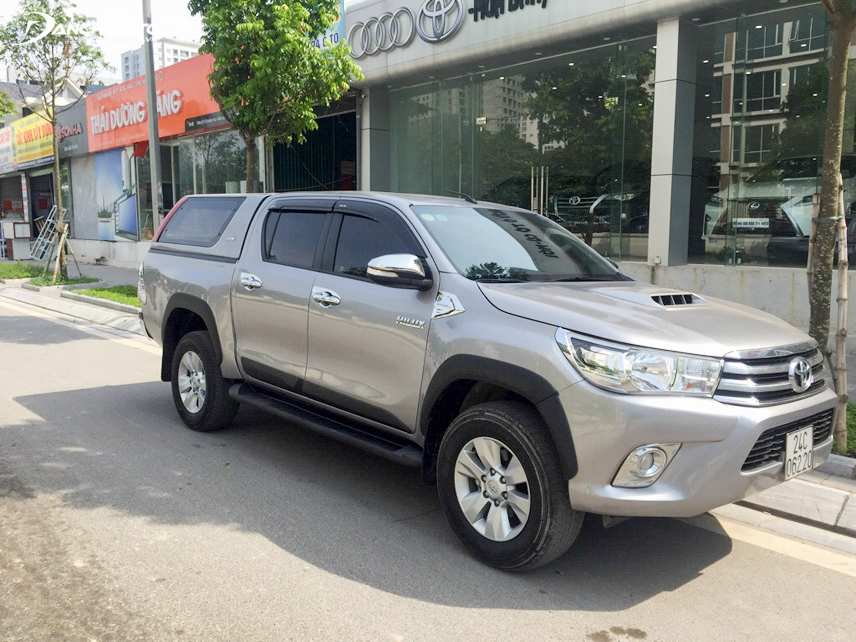 2015 Toyota Hilux old model pickup is quite modern and luxurious design
Old Toyota Hilux 2015 is designed to look more attractive, modern and luxurious. In the pick-up segment, the 2015 Toyota Hilux has always been a favorite and appreciated name. According to user comments 2015 old Hilux review, the car is still quite new and durable. After a period of use less damaged, durable performance, especially the spacious storage compartment. In addition to some exterior influences such as paint color, tires showing signs of aging, the car is basically still new and beautiful. Besides, some interior details also show signs of wear and tear over time such as steering wheel and seat due to regular use.
Review the old Toyota Hilux 2015 in terms of exterior
On the exterior, 2015 Toyota Hilux has a lot of improvements over the previous generation as 2012 Toyota Hilux car, 2013, … Toyota Hilux 2015 is designed in a more modern, luxurious and personality style. The vehicle can be suitable for both personal travel and handling routine cargo handling requirements. It can be said that the old Toyota Hilux 2015 can use goods as well, but the street is still luxurious.
| | |
| --- | --- |
| Parameter size | 2015 Toyota Hilux |
| Length x width x height (mm) | 5,330 x 1,855 x 1,815 |
| Wheelbase (mm) | 3,085 |
| Ground clearance (mm) | 286 |
| Turning radius (m) | 6.2 |
| Tire size | 265 / 65R17 |
Top car
The front end is the part that impresses consumers by the balance, harmony and seamlessness of details. Looking at the front of the car, The old Toyota Hilux 2015 exudes a modern, powerful and charismatic look. The grille with large horizontal bars and shiny chrome plating connected to the front bumper increase the personality of the car.
See also: Compare Ford Ranger and Toyota Hilux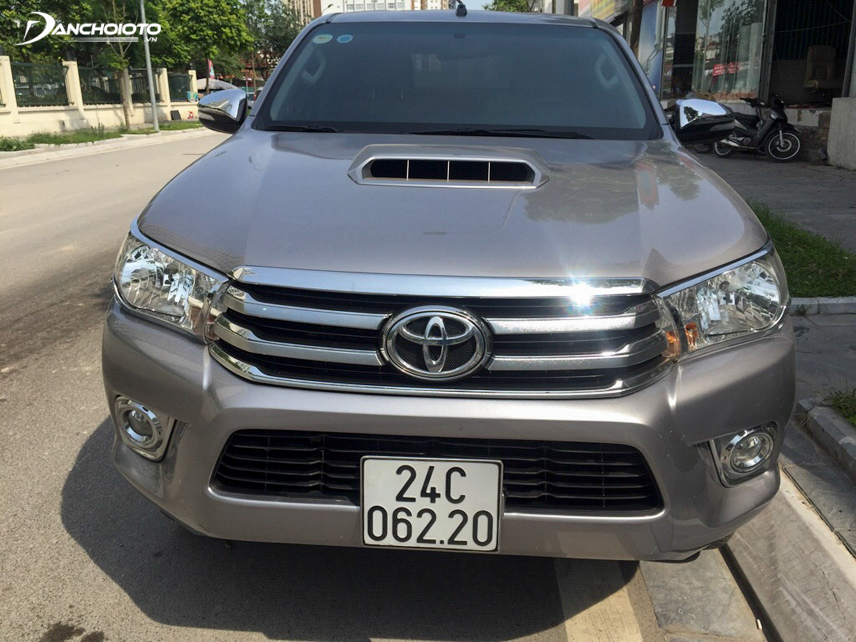 Top car Old Toyota Hilux 2015 is designed in harmony and modern
The bonnet is designed with a high rainbow and in the middle is made a gap to help cool the engine compartment. Running along the capo has two embossed lines connected to the grille to create a harmonious, seamless front end. The system of LED lights and headlights combined with the grille adds to the impression 2015 old Toyota Hilux. The car is equipped with Halogen headlights that can adjust the projection angle and automatically turn on and off, fog lights in the form of round, LED daytime lights.
Vehicle body
Car's body Old Toyota Hilux 2015 uses the Pagoda hood and the wind vents to increase the aerodynamics. In particular, the old Toyota Hilux 2015 was first equipped with the wind direction in both front and rear wheels.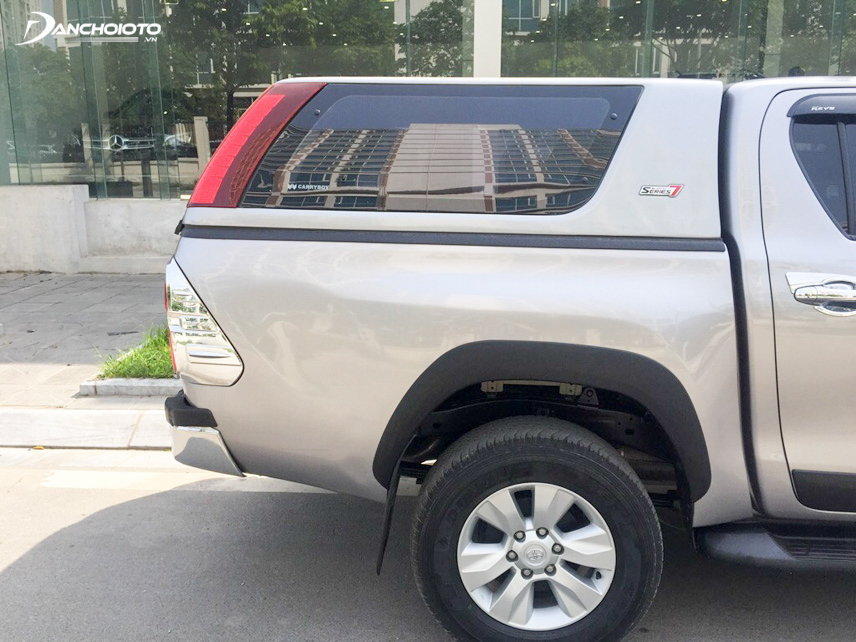 Vehicle body The old Toyota Hilux 2015 looks impressive and powerful
Rear
In this release, the rear of the old Toyota Hilux 2015 is also focused attention and impress the viewer more. The rear of the old Toyota Hilux 2015 is designed to be more harmonious, stronger and more comfortable. The chrome door handles and cargo compartment make the car even more luxurious. On all 2015 Toyota Hilux versions, there is an electric / folding rearview mirror and LED turn signal.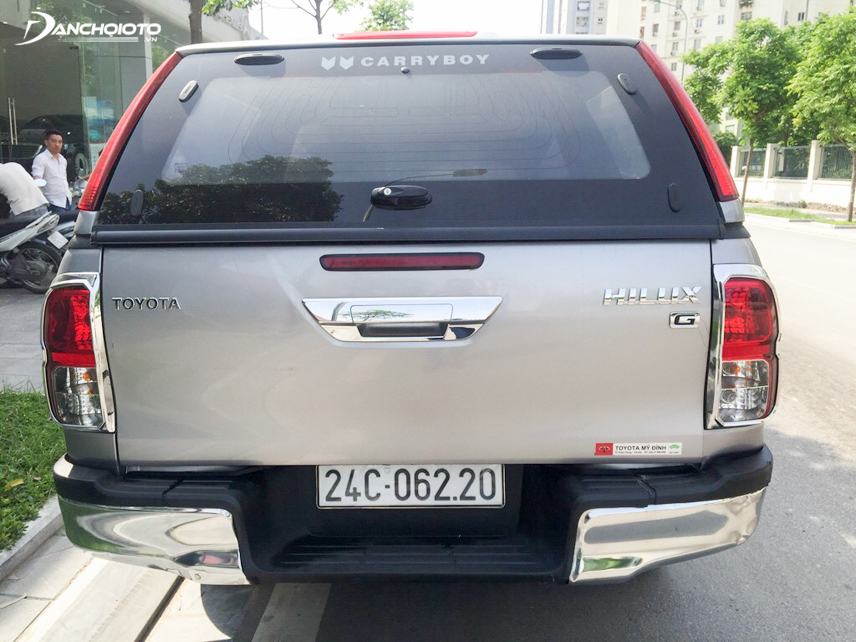 Rear The old Toyota Hilux 2015 is very harmonious and attracts people to look
The wheels of the old Toyota Hilux are made of alloy material with 6 single-spoke and 17 inch size. Part of the door up and down of this model is covered with plastic to increase the elegance while limiting the slippery state when stepping on the vehicle. The rear bumper of the car is designed big and some shiny chrome details look very modern. However, Cons of Toyota Hilux 2015 Old in this part is the circular exhaust that looks quite monotonous.
Review Toyota Hilux 2015 old on the interior
Interior space
Space 2015 Toyota Hilux interior Old is considered spacious and airy with many modern facilities and equipment. Interior parts on the old Toyota Hilux 2015 are arranged in a scientific, harmonious and easy to use manner. Taplo board is designed to be extended to the sides and covered with leather, silver-plated panels with large size. That just makes the cockpit a spacious space while adding luxury. This is a remarkable improvement of 2015 Toyota Hilux interior old compared to the previous generation. Because before, the Hilux interior was not appreciated but also somewhat poor.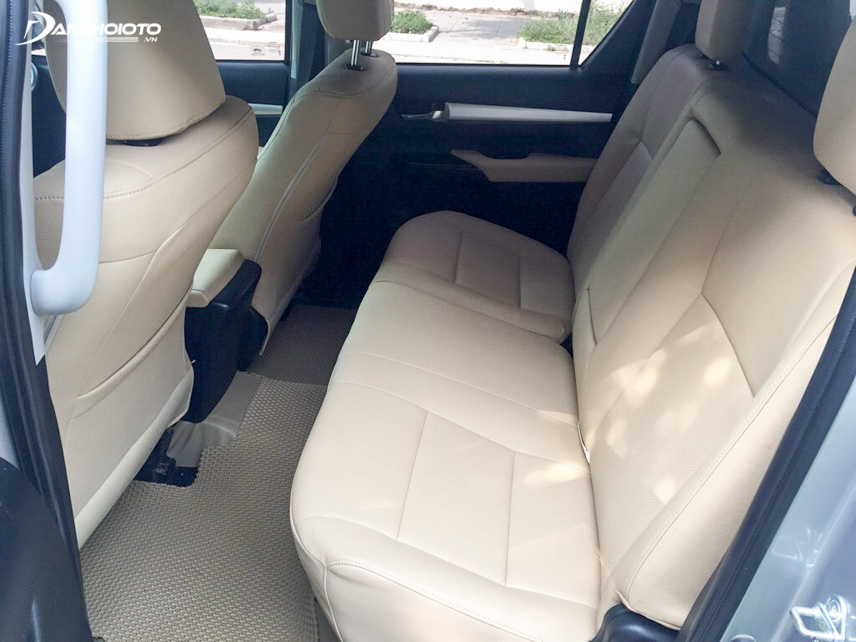 Interior space The old Toyota Hilux 2015 is very spacious
On the board taplo are the central air vents designed to be wide and high to create a comfortable and airy space for the car. Taplo board also has integrated function controls that are neatly organized and easy to use. Cluster of Toyota Hilux 2015 includes 2 large clocks on either side. 4.2 inch multi-information display screen is arranged in a central position. That helps the driver can easily and observe to control the car accurately and safely.
Seat system is covered with leather material, capable of hugging people to help people sit comfortably and comfortably. The driver's seat has an 8-way power adjustment function that helps the maximum seating position to be comfortable, not as hard as previous versions. The rear seats are designed with armrests, cup holders and cushions, making people very satisfied and comfortable. Legroom between the rows of seats is also improved more comfortable than previous generations. However, compared to other competitors in the segment, the distance between the two rows of seats is somewhat more limited.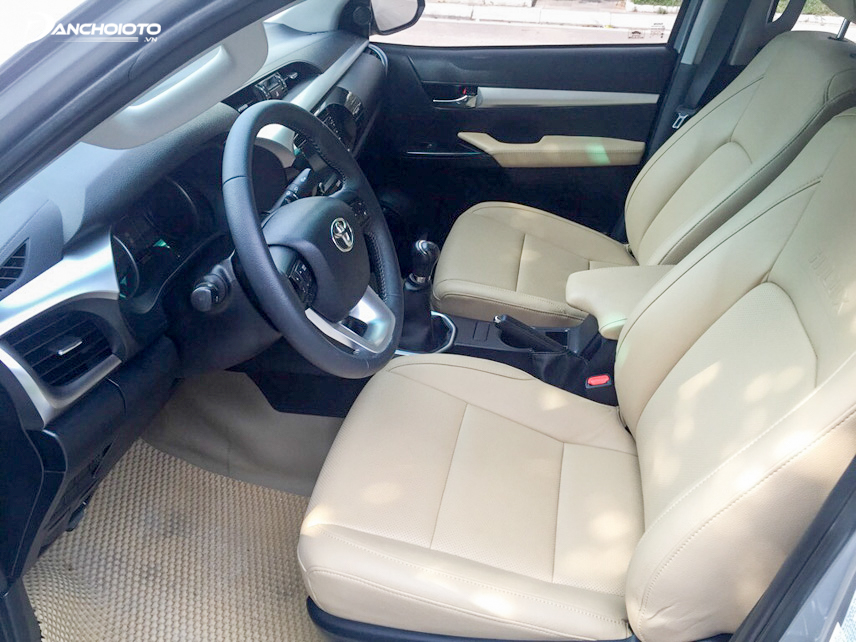 NFurniture Toyota Hilux 2015 old equipped with many modern features
The car steering wheel is completely new design with 3-spoke strong and integrated buttons to control other functions. Moreover, the steering wheel is also supported with 4-way adjustment so that the driver can choose the most suitable position.
Equipped with amenities
The old Toyota Hilux 2015 is fully equipped with its basic amenities. Toyota Hilux's entertainment system includes: CD player, USB / AUX support, Bluetooth and 6-speaker audio system. Air conditioning in this version is also improved with the addition of air vents in the rear seats.
Review the old 2015 Toyota Hilux in terms of engine / performance
Engine
2015 Toyota Hilux old used two engine options 3.0L and 2.5L. In terms of engine power, 2015 Toyota Hilux is not appreciated compared to rivals in the same segment. In this article we will mention the 3.0L engine.
Here it is 2015 Toyota Hilux specifications:
| | |
| --- | --- |
| Technical data | 2015 Toyota Hilux |
| Engine | Diesel, 4 cylinders, 16 valves DOHC, 3.0L |
| Max power | 161 horsepower |
| Torque | 360 Nm |
| Gear | 6-level auto |
Operate
Old Toyota Hilux 2015 gives users a feeling of driving precision and smoothness than previous versions. Old Toyota Hilux 2015 steering wheel uses hydraulic power system, so when turning or turning the driver will feel the weight of the steering wheel. With the use of a 6-speed automatic transmission, the performance of the old Toyota Hilux 2015 is rated very smooth and flexible. Acceleration of the car is relatively good and better sound insulation than previous generations. The cornering feel of the old 2015 Toyota Hilux is also quite good thanks to the electronic balance system.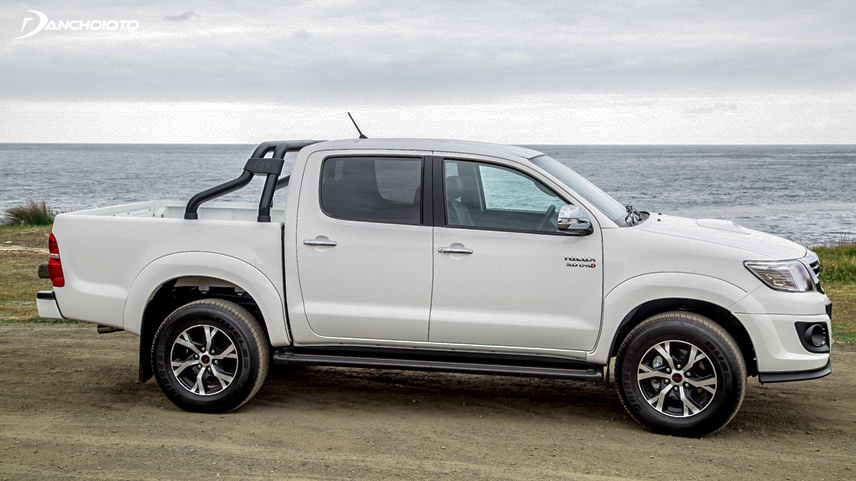 Operability of The old Toyota Hilux 2015 is very smooth and flexible
Old Toyota Hilux 2015 has a fuel consumption of about 7.3 liters / 100km of mixed roads. Thus, compared to the competitors in the segment of fuel consumption capacity of Toyota Hilux 2015 is low. Fuel economy of the old Toyota Hilux 2015 is appreciated.
Evaluate 2015 old Toyota Hilux about safety equipment

Old Toyota Hilux 2015 is equipped with many modern safety features. Compared to previous generations, this version is more invested and more appreciated for its safety.
| | |
| --- | --- |
| Safety equipment | 2015 Toyota Hilux |
| fesdfcxcx | Have |
| Anti-lock braking system | Have |
| Horizontal departure system | Have |
| Active traction control system | Have |
| Air bag | 2 |
| Support electronic brake force | Is not |
| Panoramic camera | Is not |
Should I buy an old Toyota Hilux 2015?
Currently, on the market to buy used cars, there are many used Toyota Hilux 2015 models at different prices. 2015 Toyota Hilux old price will be determined by car value, generation, vehicle version, vehicle quality? Specifically, the price of old Toyota Hilux 2015 is currently ranging from 450 million to 650 million.
With the equipment on the car, the old Toyota Hilux 2015 is absolutely worth the price. If you are in need Buy used pickups then the old Toyota Hilux is one of the top choices. The old Toyota Hilux 2015 is suitable for those who love the strong, modern appearance, frequently moving and carrying many things. However, to ensure the purchase of a quality 2015 Toyota Hilux, the buyer needs to learn and consider carefully.
Phong Vân